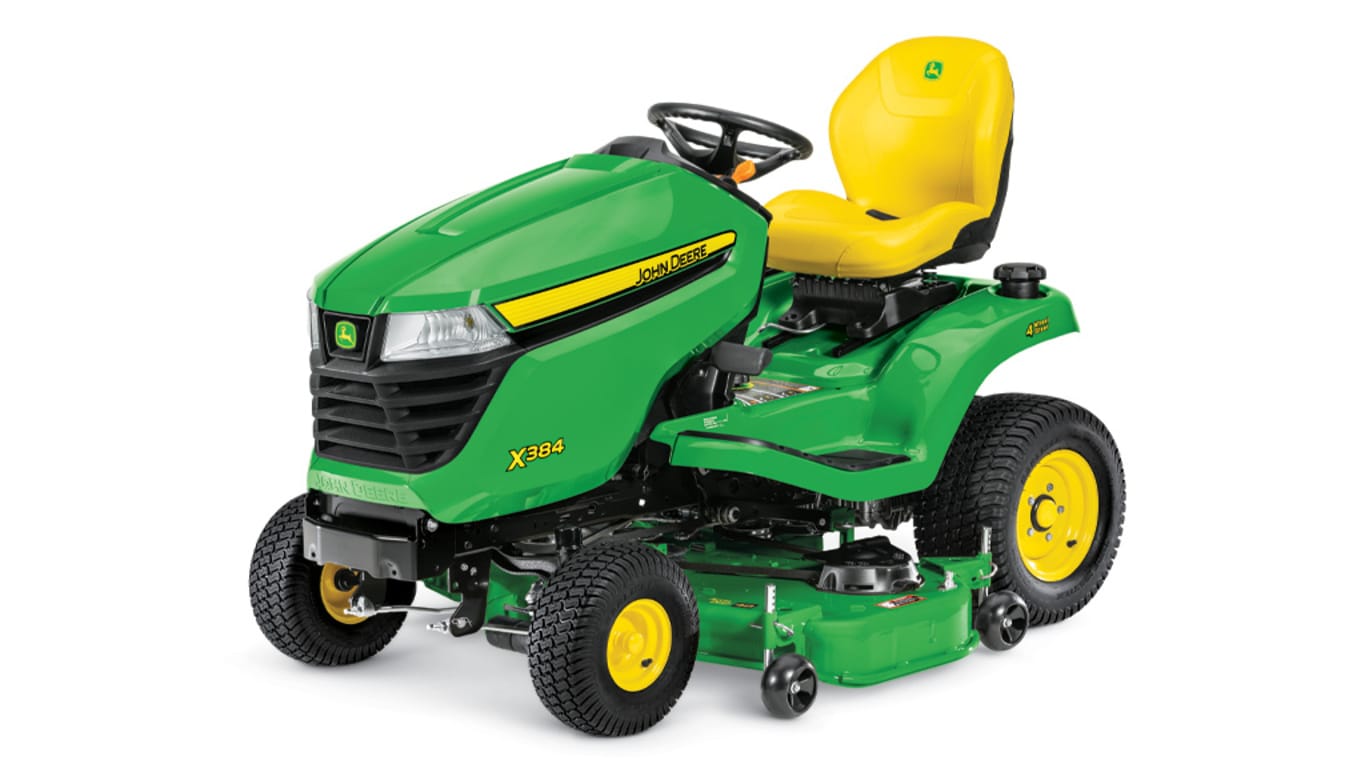 John Deere X384
Lawn Tractor with 48-inch Deck
23-hp (17.2-kW)* iTorque™ Power System
48-in. (122 cm) Accel Deep™ mower deck, compatible with optional MulchControl™ kit with one-touch technology
18-in. cut and sewn seat
4 year/300 hour bumper-to-bumper warranty
Features
Engine is smooth running and reliable V-twin air-cooled design
The tractor is powered by a John Deere iTorque power system, a combination of engine features and an exclusive hood design that provide superior lugging ability, even cooling, and durability.

A 23-hp (17.2-kW) V-twin engine provides plenty of power and torque to handle tough mulching, mowing, and bagging conditions.
Key engine features include:
23 hp (17.2 kW)
Large 44.3 cu in. (726-cc) displacement
V-twin air-cooled design that provides smooth, quiet power
Quality features include:

Cast-iron cylinder liners
Overhead valves
Full-pressure lubrication
Replaceable oil filter

Dual-stage air cleaner V-twin design:

Excellent power and performance
Easy starts
Smooth operation
Flywheel alternator
A flywheel alternator provides plenty of capacity to quickly recharge the battery and power electrical equipment, such as lights or a sprayer:
12-amp charging capacity

Regulated to keep the battery at full charge without risk of overcharging
Fuel tank has large, 3.3-U.S. gal. (12.5-L) capacity
Large fuel tank and convenient fuel gauge minimize the number of stops for fuel and chance of running out of fuel:
Fuel tank has a large, 3.3-U.S. gal. (12.5-L) capacity for more hours of operation between refills.
Large, 3-in. (7.6-cm) diameter fuel tank filler opening makes adding fuel easy.

Located on the left fender
Helps eliminate spillage

Electronic fuel gauge on the dash display allows the operator to easily monitor the amount of fuel in the tank.
48-in. (122-cm) Accel Deep™ (48A) Mower Deck cuts clean and is versatile
The 48-in. (122-cm) Accel Deep Mower Deck is a forged-steel, deep, flat-top design that delivers excellent cut quality, productivity, cleanliness, durability, and versatility. Optimal performance and dispersion of clippings is provided, even at faster mowing speeds or in tall grass:
4.83-in. (12.3-cm) depth throughout the entire deck shell for optimum mowing, mulching, and bagging performance

Optional lever-action or electric one-touch MulchControl™ system provides superior mulching performance and versatility.

Forged-steel design eliminates sharp edges and corners where material can build up and diminish mowing performance
Mower deck is suspended from the vehicle for a smooth and level cut

Adjustable mower wheels, positioned just above ground level, help reduce scalping

0.25-in. (6.4-mm) cut-height increments allow the mower to be set at the desired cut height
Compatible with high-performance Power Flow™ material collection systems
For use on X330, X350, X354, X370, X380, X384, X390, X394, X570, X580, X584, and model year 2016 and newer X590 Tractors
Excellent cut quality
Deep mower-deck forging gives excellent cut quality. It allows the cut and suspended material room to exit the deck without getting recut:
Reducing the amount of recutting enables more power to be used to cut incoming grass, which greatly improves mower capacity.

Helps maintain excellent cut quality at faster mowing speeds

Clean flow of material out of discharge area prevents cut material from interfering with cutting the incoming grass, making it possible for the blades to cut incoming material cleanly.
Even in mulching mode, cut evenness is improved compared to other designs because the additional depth allows for continuous circulation, optimal recutting, and an even distribution of clippings.
Exact Adjust deck-leveling system allows for easy and accurate leveling of the mower deck.
Productivity - getting the job done fast
Deep mower-deck forging gives high productivity, which gets the job done fast. It allows the cut and suspended material room to exit the deck quickly, reducing the amount of recutting so more power is available to process incoming grass:
Greatly improves mower's capacity to maintain excellent mowing performance in difficult mowing conditions and at higher speeds
Large discharge opening is both high and wide to handle more material:
Gives a smooth, even discharge of clippings at all mowing speeds
Reduces the chance of plugging, especially important when operating in wet, thick, or dense grass and when bagging
The 48A Power Flow blower has an inlet housing with over 50 percent greater area than the 48X Power Flow blower used on previous machines.
Cleanliness - for the mower and the operator
The flat-top shape of the deck forging is optimal for keeping itself and the operator clean:
There are few places to catch and hold material on top and underneath the deck.

Top of deck stays cleaner, reducing time and effort needed for cleaning and service
Underside of deck is self-cleaning to maintain optimum performance without buildup of material to interfere with the flow of air and clippings
Less need to clean and remove buildup of material from underside deck

The depth of the Accel Deep mower deck minimizes the amount of material that escapes from the front of the deck:

Limited amount of material to drift onto the operator and mower deck
Even for material discharged out the chute, less recutting results in larger pieces that are less likely to end up on the operator
Mulching prevents the discharge of material completely and MulchControl makes mulching a practical solution for most mowing situations.
Cleaning a mower deck, both top and bottom, is one of the most frequent maintenance activities:
The flat-top design reduces places for material to build up and makes material that does collect easy to remove.
A wash port is provided to make cleaning the underside of the mower deck easy.
Hose connector is included with the mower deck.
Superior durability is designed in
The 48A Mower Deck has strong spindle pockets, to keep the blades aligned, even after years of tough service:
Forged from strong 10-gauge, 0.135-in. (3.4-mm) steel
Ribs in the deck shell add strength where it is needed
The 48A has a 23 percent heavier overall weight than the Edge™ Xtra 48-in. (122-cm) Mower Deck used on previous machines.
Mower wheels are heavy duty:
Provides greater strength and durability for longer, trouble-free life.
Setting wheels to the correct height for the cutting height quick and easy.
Low-tension belt-drive design reduces the side load on engine lower bearings and mower deck bearings for longer life.

The 48A Mower Deck features a 5/8-in. (16-mm) diameter solid-steel rod side bumper that provides extra strength and protection.

Dual-stage E-coat and powder-paint coatings provide extra protection from rust.
Versatility - easy to change between side discharge, mulch, and bagging modes
The 48A Mower Deck is designed for maximum versatility, providing the greatest ease in changing from one mower discharge mode to another:
With an optional MulchControl system installed (along with the special mulching blades), changing from side discharging to mulching or vice versa is done with the simple flip of a lever or push of an electric switch.
The Power Flow rear bagger can be used with MulchControl by simply using the MulchControl lever or electric one-touch switch to move the mulch baffle to the side-discharge position.
7-bu (247-L) Power Flow rear bagger
An optional 7-bu (247-L) rear bagger material collection system (MCS) is available. It provides an efficient means of collecting grass clippings and leaves:
The Power Flow blower and chute are easy to install. The Power Flow blower swings out for easy cleanout and cleanup.
The hopper design provides modern styling, great bagging performance, cleaner operation, and easy-to-empty bags:


7-bu (247-L) capacity
Easy-to-attach Power Flow blower (ordered separately)
Easy-to-attach chute (ordered separately)
Air exhaust duct
Convenient spring-latch
Airflow fill indicator
Quik-Tatch mounting
Sealed hopper top
Loose-knit bags available
Larger 14-bu (493-L) and 19-bu (670-L) MCS are available, in addition to the 7-bu (247-L) MCS, for specific X300 and X500 Series Tractor models.
Mower blades
Side-discharge blades can be used with the Power Flow system when bagging.

Mulching blades are included with the optional MulchControl system. They can be used for mulching, side discharging, and bagging.
Mower blade use chart
| | |
| --- | --- |
| Mode(s) of operation | Mower blade |
| Side discharging mode only | Side-discharge blade (shipped with mower) |
| Mulching mode only | Mulching blade (shipped with MulchControl) |
| Side discharge and mulching | Mulching blade (shipped with MulchControl) |
| Bagging | Either side-discharge or mulching blade |
Four-year or 300-hour bumper-to-bumper warranty is standard
An exclusive 4-year or 300-hour (whichever comes first), single-source, bumper-to-bumper warranty* is standard for all John Deere X300 Series Tractors.
The warranty is hassle free, with one company handling all the paperwork.
Premium features of X300 Series Tractors allow for this longer warranty period, with more coverage than comparable tractors.
*Term limited to years or hours used, whichever comes first, and varies by model. See the LIMITED WARRANTY FOR NEW JOHN DEERE TURF AND UTILITY EQUIPMENT at JohnDeere.com or JohnDeere.ca/TUWarranty for details.
Four-wheel steer gives superior maneuverability and trimming ability
NOTE: In the schematic above, the solid line refers to a four-wheel steer tractor, and the hashed line refers to a two-wheel steer tractor.

Four-wheel steering provides very significant maneuverability and trimming advantages over that of two-wheel-steering-equipped tractors.

For example, with the X384 Select Series™ Tractor equipped with a 48-in. (122-cm) Accel Deep™ Mower (the following numbers correspond to the schematic above):
Uncut circle radius is reduced from 21 in. (53 cm) for a two-wheel steer X380 to only 9 in. (23 cm) for an X384, eliminating or greatly reducing the need to back up when trimming around trees, shrubs, etc.
Interference from the mower and tractor wheels is eliminated because they are several inches away from the object being trimmed around.
Outside turning circle is reduced, reducing the time spent turning and increasing mowing efficiency.
Also, trimming inside curves around flower beds or other landscaping can be done more completely with a four-wheel steer tractor.
Designed for tight turns
The four-wheel steering system is designed for tight turns, leading to greater mowing efficiency:
Caster, camber, and kingpin angles are optimized to reduce effort, especially when going from straight ahead into a turn.

Steering geometry has been designed with the use of 3D modeling, so all four tires are working together.

Sealed ball bearings are used on the torque shaft and the rear spindles to reduce friction.

Small scrub radius, less than 1 in. (2.5 cm) in the rear, reduces scuffing and bump-steer.
Designed for easy steering
Sealed ball bearings are used at critical all-wheel-steer joints for reduced friction, longer life, and less maintenance.
Easy steering is important for an enjoyable mowing experience:
Larger, 14-in. (35.6-cm) diameter steering wheel gives improved leverage for easier turns.

Larger sector gear gives improved (higher) steering ratio.

A higher ratio equals lower steering effort.

Dual drag links help equalize steering loads and greatly reduce steering error.

Ball-joints on both ends of the steering tie rods reduce wear to maintain accurate steering.

Long steering arms improve the mechanical advantage of the steering system through the full range of motion.

The steering shaft rotates on a sealed ball bearing at its lower end, near the pinion gear, to reduce steering effort and provide a smooth feel for the life of the tractor.

The sector gear pivots on a shaft rather than a bushing to ensure proper gear mesh and eliminate binding.

Pivoting of the upper and lower ends of the sector gear shaft on sealed ball bearings reduces steering effort and provides a smooth feel for the life of the tractor.

Greaseable front steering spindles reduce friction and improve wear over time.
MulchControl™ system provides superior mulching performance and rapid conversion
The optional MulchControl system makes mulching more practical for many mowing situations because it not only does an excellent job of mulching, but it also allows the mower to be easily converted for times when it is more desirable to side discharge or collect the lawn material. Advantages of mulching grass clippings include:
Creates a beautiful looking lawn
Smaller grass clippings disappear into the lawn canopy
Reduces fertilizer needs
Grass clippings are not blown onto the operator, driveways, or flower beds
No need to dispose of bags of clippings
How MulchControl works
MulchControl is an innovative, simple design that is easy to use and maintain:
The MulchControl system includes an adjustable MulchControl baffle near the discharge chute and fixed baffles to control the flow of material under the deck.
The MulchControl handle, or an electric one-touch actuator, is on top of the mower deck and is used to open and close the MulchControl baffle.
When the MulchControl baffle is open, most of the material flows freely out the discharge deflector or into a material collection system.
When the MulchControl baffle is closed, material stays within the deck and gets chopped into mulch and deposited in the turf.
MulchControl is well-suited to the following mowing situations:
For operators who usually mulch, but side discharge when grass gets too long
For operators who usually side discharge, but would like to close the chute to control clippings in some areas
For operators who always mulch a main lawn, but often side discharge secondary lawns
For operators who collect clippings but want to go farther before emptying the material collection system
MulchControl puts the operator in control of the clippings.
Electric one-touch MulchControl
Electric one-touch MulchControl systems shift the MulchControl baffle using an electric actuator that is operated by a dash-mounted switch.
Operators can convert between modes without interrupting the mowing process, making it possible to change between modes:
When approaching driveways or flower beds where clippings would be undesirable
When a breeze blows clippings back onto the operator
For side discharge mowing only the areas of the property where grass is too thick for mulching
With 48A and 54A Mower Decks, for collecting only the areas of the property where grass is too tall or thick for mulching
MulchControl limitations
While in the side discharge mode, MulchControl still mulches about one third of the material. Therefore, the side discharge mode is essentially a partial mulch mode. This can be an advantage when side discharging or bagging, as it helps to reduce the amount of material being discharged. Other times this could work as a disadvantage:
When cutting strong southern grasses, such as Zoysia and Bermuda
When cutting in wet, high growth conditions, such as those found in the Pacific Northwest United States
When optimum bagging and lawn clean­up is desired
42A Mower Deck requires a MulchControl baffle be removed to install the bagger chute
When bagging with MulchControl on a 48A or 54A mower deck, the MulchControl baffle can be opened or closed with the Power Flow™ blower installed. The Power Flow blower runs without material when the baffle is closed.
When bagging with MulchControl on a 42A mower deck, the cut-and-throw rear bagger can be used with the MulchControl blades. However, the rear MulchControl baffle (A) needs to be removed to install the bagger chute. The baffle is held in place with two carriage bolts. To return to mulching, the chute needs to be removed and the baffle replaced.
MulchControl compatibility
Each MulchControl system is an optional field-installed attachment and includes everything needed: baffles, mulch blades, a handle (lever action attachments) or an actuator, wiring, and switches (electric one-touch attachments).
Lever-action MulchControl attachments
| | | |
| --- | --- | --- |
| Attachment | Description | Applications |
| BUC10704 | 42-in. (107-cm) Accel Deep MulchControl (lever action) | Model year 2016 and newer X300 Series Tractors, Z300 Series ZTrak™ Mowers |
| BUC10705 | 48-in. (122-cm) Accel Deep MulchControl (lever action) | S240 Lawn Tractor, model year 2016 and newer X300 and X500 Series Tractors, Z300 and Z500 Series ZTrak Mowers |
| BUC10706 | 54-in. (137-cm) Accel Deep MulchControl (lever action) | Model year 2016 and newer X300 and X500 Series Tractors, Z300 and Z500 Series ZTrak Mowers |
Electric one-touch MulchControl attachments
| | | |
| --- | --- | --- |
| Attachment | Description | Applications |
| BUC11632 | 42-in. (107-cm) Accel Deep electric one-touch MulchControl | Model year 2016 and newer X300 Series Tractors* |
| BUC11633 | 48-in. (122-cm) Accel Deep electric one-touch MulchControl | Model year 2016 and newer X300 and X500 Series Tractors* |
| BUC11634 | 54-in. (137-cm) Accel Deep electric one-touch MulchControl | Model year 2016 and newer X300 and X500 Series Tractors* |
*NOTE: Model year 2016-2017 X300 and X500 Series Tractors (X300 serial number 10,001-50,000 and X500 serial number 110,001-130,000) require replacing the tractor wiring harness and dash panel to use an electric MulchControl attachment.
Snow removal is a strength of lawn tractors
An advantage of lawn tractors is their ability to use equipment for snow removal. Lawn tractor owners can add a John Deere snow blower or front blade to make quick work of moving snow whenever the need arises. Weather enclosure and tire-chain attachments add comfort and performance.

Equipment available for snow removal includes:
44-in. (112-cm) Snow Blower
44-in. (112-cm) Front Blade
48-in. (122-cm) Front Blade (X394 Tractor only)
Tire chains or TerraGrip traction belts
Weather enclosure (available for all X300 Series, except the X350R)
Weights
Integrated hydrostatic transaxle efficiently transmits power to wheels
The Tuff Torq® hydrostatic transaxle encloses the hydrostatic pump and motor rotator groups in the same housing with the differential and axle housings. This design is very efficient and reduces the number of sealing surfaces to minimize the potential for leakage.

Combined with the foot controls, the hydrostatic transmission functions similarly to that of an automatic transmission in an automobile, so the term automatic is often used to describe it:
Use of the latest valve designs has significantly reduced the sound level.
Large pump and motor rotating groups ensure long life and efficient operation.
Freewheeling valve
A freewheeling valve control is conveniently located near the tractor rear hitch plate for good visibility and easy operation.

Kanzaki and Tuff Torq are trademarks of Kanzaki Kokyukoki Mfg. Co., Ltd.
Controls and display functions are easy to identify and convenient to use
Controls
The contoured dash has clean, attractive styling and ergonomic controls for easy use:
Controls are color coded and labeled with English words for easy identification by the operator.
Controls are logically placed and easy to reach.
The power take-off (PTO) switch allows the operator to get fingers underneath it, like a T-handle, to pull up for easy activation.
The reverse implement option (RIO) switch is a yellow button.
The latch control on foot-lift models and hydraulic-lift control on power-lift models and the park brake latch are pivot levers for low effort.
Cruise control activation is handled by an automotive-style button.
Separate engine speed and choke controls make starting and warming up the engine easier in cold weather.

The choke lever is spring loaded to eliminate the chance the tractor will be unintentionally operated with the choke partially closed.

Functional design of the throttle and choke controls provides good appearance and a comfortable feel.
Display panel
Instrument display has the look and feel of a modern automobile. A power-up sequence cycles lights and gauges to indicate they are working:
Display features dark-cockpit design to minimize operator distractions.
Display is back lit for night visibility.

Night visibility is especially useful with snow blower use.

Hour meter makes it easy to tell when oil changes and other maintenance should be performed.
Electronic fuel gauge provides real-time fuel level information.

The X350R has a low fuel light, rather than a fuel gauge, to provide the operator with a noticeable warning when low on fuel.

A tachometer graphically displays engine speed.

Target-zone graphics inform the operator of the engine speed range to use for best cut quality.

An indicator tells the operator when the PTO is operating.
Bright caution and stop lights capture the operator's attention when important information is on the instrument cluster.

Damage can be prevented and repair costs can be reduced by addressing problems early.

Operators are advised of what the problem is if they attempt to operate the mower with unsatisfied PTO, seat, or park brake interlocks.

The indicators are also useful to identify the reasons the PTO or engine may have shut off when an interlock is unsatisfied.

Operators are advised if battery voltage is low, normal, or excessive.
The service indicator light illuminates to indicate a diagnostic error code is stored.

Onboard diagnostics provides trouble codes for use by trained technicians.

For example, a technician can test switch functionality and circuit continuity without tools.
Twin Touch™ foot control
Twin Touch foot pedals control the speed and direction of travel:
Automotive-type accelerator control ensures easy operation.
Operator can change direction without lifting foot off the platform.
Large pedal surface gives superior operator comfort.
Cruise control
Cruise control is standard equipment:
To engage, push the cruise-control button and hold until the foot is removed from the forward pedal.
For emergency stop, the cruise control can be released by pushing on the brake pedal or the forward pedal.
Mower deck height adjustment
A rotary dial knob makes adjusting the mower cut height quick and easy:
Provides mower cut heights in 0.25-in. (0.64-cm) increments from 1 in. (2.5 cm) to 4 in. (10.2 cm)
Returns the mower deck to the same preset height each time it is lowered
Storage for the onboard deck-leveling gauge and the Exact Adjust tool is provided in the storage tray under the tractor's seat:
Exact Adjust ports on the fender deck allow for easy and accurate leveling of the mower deck for optimum mowing performance.
Deck-leveling gauge is placed at the appropriate location under the left rear, right rear, and front of the mower deck as the cut height is adjusted using the Exact Adjust tool and front draft arm adjusting nuts.
Foot-pedal lift system
Pushing with the foot to raise the mower or implement is less strenuous for many operators than using a hand-lift lever:
The easy-to-use raised position lock operates similarly to the park brake lock.
The foot pedal is out of the way and not likely to catch on bushes and tree limbs when mowing.
The mower deck returns to the same preset height each time it is lowered.
Adjustable lift-assist spring
NOTE: The adjustable lift-assist spring is standard equipment on tractors with manual foot-lift system that are shipped with the 48-in. (122-cm) and 54-in. (137-cm) side-discharge mowers, and an option for tractors shipped with 42-in. (107-cm) mowers. It is a recommended option for foot-lift tractors sold with the 42-in. (107-cm) mulch mower.
Lift-assist spring is provided on tractors shipped from the factory with a 48-in. (122-cm) or 54-in. (137-cm) side-discharge mower deck, except models with hydraulic lift, and a recommended option for tractors equipped with a 42-in. (107-cm) mulch mower to minimize lift effort.

A spring-assist kit is available for other models for use with front equipment.

Lift effort can be easily adjusted by turning a bolt, located on the tractor front bumper, for optimum performance, depending on the equipment used (mower, front blade, snow blower, etc.).

The mower will not be inadvertently locked in the raised position when mowing through ditches.

When installing or removing a mower or front equipment raised by the foot-lift system, spring tension may be removed from the connection points by pulling rearward on the lift pedal and raising the lift latch to hold the pedal in the rearward position.
Parking brake control
Depressing the brake pedal applies internal wet-disk brakes, which provide better reliability and longer life than external brakes, for safe stopping.

The parking brake control is conveniently located for easy access. It holds the brake pedal securely in the locked position.
Electric PTO clutch is easy and convenient to use
The heavy-duty electric PTO clutch is operated with a convenient dash-mounted switch.
Heavy-duty PTO clutch
The PTO clutch is designed to operate through many on/off cycles.
RIO
Using RIO
CAUTION: Children or bystanders may be injured by rotating blades. Before traveling forward or rearward:
Carefully check the area around the machine.
Disengage the mower before backing up.
NOTE: Operating the mower while backing up is strongly discouraged. RIO should be used only when operating another attachment or when the operator deems it necessary to reposition the machine with the mower engaged.
Stop forward travel. Allow attachment to run.
Look down and behind the machine to be sure that there are no bystanders.
Push and hold in the reverse implement switch while depressing the reverse pedal slightly.
NOTE: If the attachment stops while positioning the machine, return mower engagement (PTO) switch to off position. Repeat this procedure from the beginning.
Release the reverse implement switch and reposition the machine as the machine begins to move rearward.
Resume forward travel. The attachment should continue operating.
Repeat procedure to position the machine again.
Frame is reliable heavy-duty welded steel
The frame is made of heavy formed and welded steel, reinforced in critical areas for even greater strength:
The frame is formed from 12-gauge, 0.105-in. (2.66-mm) thick material for long life.
Standard front bumper and hitch plate are formed from 9-gauge, 0.15-in. (3.8-mm) steel and complete the frame assembly.
Rear hitch plate can support two 42-lb (19-kg) Quik-Tatch weights.

Weight bracket is built into the frame of two-wheel-steer models.
Four-wheel-steer models require the optional weight bracket.
Front axle and wheel spindles are heavy-duty
Front axle is made of nodular cast iron:
Cast-iron front axle is strong and shock resistant.
Cast iron will not yield under heavy loads or impact.
A replaceable bushing is used at axle mounting:
The bushing provides excellent wear resistance.
Grease fittings at each spindle are easy to service.
Front steering spindle diameter is 0.75 in. (19 mm) for strength and long life:
Have strength to handle heavy implements
Provide long life at bearing surfaces
Use sealed precision bearings in front wheels
Rear equipment-mounting system is heavy-duty and easy to use
A heavy-duty equipment mounting system is used:
Includes strong frame mounts with a combination of mounting holes in the tractor hitch plate that accept pins or shoulder bolts to support heavy rear-mounted equipment
Easily attach optional equipment to the tractor
Can bear the load of heavy rear-mounted equipment, such as material collection systems
Modern styling with functional design enhances appearance and performance
Smooth, rounded contours present a modern, styled appearance:
Hood styling incorporates efficient full-length air-intake louvers on each side, rather than on the top.

Cooler engine operation
Lower operator station sound levels

Hot air is vented out the front grille, away from the operator.
The fully enclosed hood is made of molded-in-color material.

Reduces sound
Will not rust or dent

Distinctive grille and large, one-piece fender deck complete the styling package.
Two high-quality headlights give excellent visibility
Headlights are standard equipment on all models:
Two 27-W bulbs provide excellent lighting for good visibility during evening operation.
A headlight position on the ignition switch makes it easy to operate the headlights.
The headlights are designed to provide an optimum lighting pattern for mowing and snow removal.
Operator station is comfortable and convenient
The operator station is designed for operator comfort and ease of using controls:
A large, 14-in. (36-cm) diameter steering wheel is comfortable to use and minimizes steering effort.
Full-length foot mats provide comfort for the operator and protect the footrest area.
Comfortable seat
An 18-in. (46-cm), high-back cut-and-sewn seat delivers a comfortable, smooth ride and excellent support for the operator:
A smoother, more comfortable ride results from the use of more foam than in a form-in-place seat and more side-bolstering to stabilize the operator on uneven terrain.
Improved visual appeal is provided by the thicker cushion, additional bolstering in the seat and back, and an embroidered John Deere logo that makes this upscale seat look as good as it feels.
Long-term pliability and less chance of cracking are advantages of the cut-and-sewn process, which does not require heating during the manufacturing process and gives a more uniform vinyl thickness.
Additional operator support and comfort is available with optional BM23761 armrests.
Reduced cost of repair, should the seat cover be damaged, is available with a replaceable seat cover available from Parts.
Seat travel of 6.6 in. (17 cm) with 15 positions allows the operator to be seated comfortably and easily operate the controls. Seat can be easily adjusted fore and aft by the operator while sitting on the seat.
Adjustable seat suspension
The seat suspension is adjustable, without tools, for the weight of the operator:
Springs are adjustable fore and aft to any of three positions.

No tools required
Allows fine-tuning of the suspension for the operator's weight
Back position for more support for heavier operators

Tool tray is designed into the seat base.

Can be used to store gloves, small tools, etc.
Provides storage location for Exact Adjust tool and deck-leveling gauge
Cup holder and toolbox
A cup holder and toolbox are located on the fender for operator convenience:
The cup holder holds a variety of container sizes.
Toolbox provides convenient storage.

Toolbox cover snaps closed to provide protection for loose tools, cell phones, etc.

Cup holder and toolbox are constructed of durable acrylonitrile butadiene styrene (ABS) plastic.
Removable plug for optional 12-V outlet
A removable plug on the console, in front of the operator, provides a convenient location for the optional 12-V outlet and makes installation easy.
Convenient for plugging in cell phone charger and other electric devices

Can be used to operate electric rear equipment, such as a sprayer or spreader
12-V fast connector
A mid-vehicle, 12-V fast connector, located under the tractor's fuse box, is included as standard equipment to reduce initial installation time for some attachments that operate on 12-V power from the tractor:
The four-cavity connector includes battery, ground, and key switch terminals and is turned on and off with the ignition switch.
Serviceability is convenient with easy-open hood
The one-piece hood opens easily to permit checking and servicing the engine:
Important service points are located within easy reach.
A service-interval decal is provided inside the tractor hood for convenience when servicing the tractor.
The engine fuel and oil filters, the oil check/fill tube, and the oil drain tube are exposed for serviceability when the hood is opened.
Quick response (QR) codes link to owner information web pages
John Deere riding lawn mowers are supported by owner information web pages that include links to:
Safety and how-to videos
Operator's manuals
Parts catalog
Maintenance reminder sheets
Attachments
Warranty statements
To speed access to owner information web pages, a QR code is printed onto a PIN label located under the hood on trim side of the steering pedestal. Since each vehicle model has its own web page, the links are specific to the owner's model. The QR code also includes the vehicle's unique PIN which allows for additional customization of the owner information web page in the future.
Exact Adjust ports and onboard deck-leveling tools make precise deck adjustments easy
A mower deck must be level side-to-side and properly adjusted front-to-rear to give the best cutting performance. A removable onboard deck-leveling gauge and a hex-key tool are provided to make adjustment easy. They are securely stored under the tractor seat.

Exact Adjust leveling ports are provided on each side of the operator platform above the mower-level adjusting bolts. With the hex-shaped tool, they provide convenient access to allow quick and easy adjustment of the mower for the best-cut quality of cut.

The Exact Adjust feature is standard on all Select Series™ X300 and X500 Tractors:
There is no need to reach under the fender deck while making the mower-level adjustment.
Onboard deck-leveling gauge, Exact Adjust ports, and the hex tool work together.

Level the mower deck side to side
Set the correct amount of rake (front-to-back deck orientation)
Calibrate the cutting height to the cut-height adjusting knob setting

Exact Adjust simplifies leveling the mower deck if equipped with a Power Flow™ blower.

To give the best cut, mower level should be adjusted if alternately mowing with and without blower installed. The Exact Adjust feature makes this easy.
Consult the operator's manual for the correct adjusting procedures for each tractor model. Basic adjusting steps to properly level the mower deck include:
Park the tractor on a level surface.
Inflate tires to the correct pressure.
Consult the label for the cutting-height knob that is located on the console of the machine. This label shows deck-leveling position and location of deck-leveling adjustment points.
Set mower cutting-height knob to the correct deck-leveling position.
Adjust mower wheels as necessary so they do not contact the ground surface.
Remove the onboard deck-leveling gauge that is located under the seat.
Using the Exact Adjust ports and tool, adjust mower deck side-to-side level so the deck-leveling gauge just slips under the left and right lower deck rim at the designated adjustment points. The location of adjustment points varies slightly between decks.

Left- and right-rear adjustment points are under the deck rim near the rear mower wheels, if equipped.

Adjust mower deck front-to-back level, if necessary.

Loosen rear nuts equally on each side of front lift rod.
Turn front nut equally on each side clockwise to raise front of mower or counterclockwise to lower it until gauge just slips under the front adjustment point.
Tighten rear nuts after adjustment is complete.

Return the gauge to its storage position.
NOTE: The adjusting tool supplied with the tractor is an 8-mm ball-hex key, part number M162737. The rounded end allows for some misalignment with the bolt as the deck is adjusted.
Help maintain your mower and lawn with the MowerPlus™ app and connector
Overview
Keep a mower running its best and know how it mows with the John Deere MowerPlus app. Simply scan the mower's barcode to get custom information about the mower.
Benefits
Engine hours, fuel level, and battery health (as compatible)
Mowing history with time, distance, area, and speed
Current day and five-day weather forecast based on location
Walk-through setup guides
Expert mowing tips
Useful attachments for future purchase
Periodic maintenance reminders
Safety instructions
To download the free MowerPlus app, visit the Apple® App Store® or Google Play™ store.
Additional details
MowerPlus connectors (sold separately)
Three MowerPlus connectors are available to transmit vehicle information to the MowerPlus app.
BUC10510 MowerPlus Hour Meter Connector is for use with:
Model year 2003 to 2020 100 Series Tractors, including all models with an E, D, LA, or L prefix
Model year 2015 to 2020 S240 Tractors (serial number -880,000)
S100, S110, S140, and S220 Tractors
BUC10929 MowerPlus Deluxe Smart Connector is for use with:
All S120, S130, S160, S170, and S180 Tractors
Model year 2021 and newer S240 Tractors (serial number 880,001-)
Model year 2021 and newer Z515E, Z530M, Z530R, and Z545R (serial number 010,001-)
BUC10537 MowerPlus Smart Connector is for use with:
Model year 2016 and newer Select Series X300 and X500 Tractors
All the MowerPlus connectors transmit engine hour information to the app, making it easy to track maintenance intervals. The MowerPlus Smart Connector and MowerPlus Deluxe Smart Connector also transmit the fuel level.
MowerPlus connectors require the MowerPlus app on a mobile device to use. The John Deere MowerPlus app and operating system requirements can be found in the mobile device's app store. The MowerPlus app is only available in the English language, and it is not available in all countries. BUC10510 MowerPlus Hour Meter Connector requires iOS® version 10 or higher and is not compatible with Android™ operating systems.
Apple and App Store are trademarks of Apple, Inc. Google Play and Android are trademarks of Google LLC. iOS is a trademark of Cisco Technology, Inc. used under license by Apple Inc.
Specs & Compare
ADD MODEL

Key Specs

X384
Current Model
Engine power
23 hp
17.2 kW
Oil change
No-tools oil drain with replaceable filter
Engine manufacturer/model
FR691V
Transaxle type
K58 hydrostatic integrated with transaxle
Transaxle control
Twin Touch™ pedals
Rear tires
20x10-10
Lift system type
Foot pedal with adjustable spring assist
Cutting width
Accel Deep™ mower deck, 48 in.
122 cm
U.S. warranty
4 year/300 hour bumper-to-bumper* (*Term limited to years or hours used, whichever comes first, and varies by model. See the LIMITED WARRANTY FOR NEW JOHN DEERE TURF AND UTILITY EQUIPMENT at JohnDeere.com or JohnDeere.ca/TUWarranty for details.)

Engine

Power
23 hp
17.2 kW
Displacement
44.3 cu in.
726 cc
Manufacturer/model
FR691V
Type
Overhead valve, full-pressure lube, oil filter
Cylinders
V-twin, cast-iron liners
Governor
Mechanical
Choke/speed control
Separate levers, automatic choke return
Cooling method
Air
Air cleaner
Dry, replaceable
Oil change
No-tools oil drain with replaceable filter

Fuel system

Type
Gasoline
Fuel delivery
Pulse pump, carburetor
Fuel gauge
Gauge on dash
Fuel tank location
Rear
Fuel fill opening
On left fender, 3 in.
7.6 cm
Fuel tank capacity
3.3 U.S. gal.
12.5 L

Electrical system

Battery
12 V
340 CCA
Charging system
Flywheel alternator, regulated, 12 amp
Engine starter
Bendix
Hour meter
Yes
Headlights
Two standard, incandescent, 27 W
Taillights or reflector
No
Backup lights
No
Rear work lights
No
12-V outlet
Optional

Transaxle

Type
K58 hydrostatic integrated with transaxle
Control
Twin Touch™ pedals
Cruise control
Yes, button on dash
Oil cooler
Fins and fan on transaxle
Oil filter
Internal, not replaceable
Differential lock
No
Forward speed
0-5.9 mph
0-9.5 km/h
Reverse speed
0-3.5 mph
0-5.6 km/h
Brakes
Internal wet disc

Chassis

Frame
Welded heavy-duty
Primer/paint
E-coat/powder
Weight bracket
Optional front and rear
Receiver hitch
No
Front axle
Cast iron front axle, front wheel ball bearings
Spindle bushings
No
Front tires
15x6-6
Rear tires
20x10-10
Hood material
Fully enclosed, molded-in color material reduces sound, will not rust or dent
Fender deck material
Stamped steel
Floor mats
Sure-grip rubber
Storage
Yes, under seat and covered toolbox
Service interval decal
Yes
Fender handles/grips
No
Cup holder
Yes
Equipment mounting
Yes, heavy duty
Maximum towing capacity
600 lb
272 kg

Steering

Type
Manual, sector and pinion
Four-wheel steer
Yes
Steering wheel
Large, 14 in.
35.6 cm
Tilt steering wheel
No
Turning radius
15 in.
38.1 cm
Uncut circle radius
9 in.
22.9 cm

Seat

Type
Cut-and-sewn high-back
Seat back height
18 in.
46 cm
Armrests
Optional
Fore-aft adjustment
While seated, ball bearing slide rail, 15-position, 6.6 in.
17 cm
Seat suspension
Tilt, two coil springs, three-position no-tools adjustment for operator weight

Lift system

Type
Foot pedal with adjustable spring assist
Hydraulic outlets
No
Mower cut height
13 positions, 1-4 in.
2.5-10.2 cm
Cut height increments
0.25 in.
0.64 cm
Preset cut height
Yes

Mower deck

Type
Side discharge
Cutting width
Accel Deep™ mower deck, 48 in.
122 cm
Construction
Forged steel deck shell
Mower deck material
10 gauge
0.135 in.
3.4 mm
Mower wash port
Yes
Mower drive system
Electric power take-off (PTO) clutch, in-line belt
Mower wheels
Four
Mower wheel adjustment
Seven-position, spring-loaded pin
Mower level adjustment
Exact Adjust ports and onboard deck-leveling gauge

Mower attachability

Type
Roll under tractor
Front draft arms
Attached with spring pins at two points
Rear draft arms
Quick-pull pins
Mower wheels rotate
Yes, 90 degrees for easy mower removal
Drive system
Dual belt

Safety

Meets ANSI standard
Yes
Meets OPEI standard
Yes
Backup protection
Reverse Implement Option (RIO)
Safety video
Yes

Buyer's notes

Notes
Fully enclosed, molded-in color material reduces sound, will not rust or dent
4-wheel steering for unmatched maneuverability and trimming capability
Durable E-coat primer and powder-paint finish
Warranty
4 year/300 hour bumper-to-bumper* (*Term limited to years or hours used, whichever comes first, and varies by model. See the LIMITED WARRANTY FOR NEW JOHN DEERE TURF AND UTILITY EQUIPMENT at JohnDeere.com or JohnDeere.ca/TUWarranty for details.)

Optional equipment

Mowers
48A (standard)
Rear bagger
7, 19 bu
247, 670 L
Powered material collection
Power Flow™ blower
Mulching system
Yes, MulchControl™
Front thatcher
38, 46, 54 in.
96.5, 116.8, 137.2 cm
Front blade
44 in.
111.8 cm
Mid-mount blade
Snow blower
Two-stage, 44 in.
111.8 cm
Rotary broom
Rotary tiller
Sleeve hitch
3-point hitch
Rear power take-off (PTO)
Plow, moldboard
Box scraper
Cultivator
Rear blade
Disk harrow
Landscape rake
Sprayer
Tow-behind, 15 U.S. gal.
56.8 L
Tow-behind, 25 U.S. gal.
94.6 L
Mounted, 25 U.S. gal.
Spreader
Tow-behind, 125 lb
57.7 kg
Tow-behind, 175 lb
79.4 kg
Mounted, 125 lb
Front bumper
Styled bumper option
Brush guard
Yes
Weather protection
Weather enclosure
Sun canopy
Yes
Rear receiver hitch
Bucket holder
Yes, double bucket
Grass striping
Lawn striping kit
Tractor shovel
40 in.
101.6 cm
Front loader
Other equipment
Tow-behind tools
16

Dimensions

Height
49 in.
1244 mm
Overall length
71.5 in.
1817 mm
Wheelbase
49.4 in.
1255 mm
Width with mower
62.6 in.
1590 mm
Width with mower (deflector raised for storage)
52.6 in.
1335 mm
Width without mower
40.9 in.
1040 mm
Weight
Mower, no fuel: 700 lb
318 kg

Additional information

Manufacturing location
Horicon, Wisconsin, USA
Date collected
3-Oct-22
Reviews
Zer0turn
Location: Wisconsin
Length of Ownership: 3months
Usage: Weekly

Not that cool. Zero turn next time
Does cut down steering but still not that great. Could use power steering as well
Rich Poughkeepsie
Location: Poughkeepsie NY
Length of Ownership: 6months
Usage: Weekly

4 wheel turn us great
I only have 1 season on the tractor but I love the power it has and the 4 wheel turn us great to navigate my tard.
Tapper
Location: Illinois
Length of Ownership: 1yearOrLonger
Usage: Weekly

Good Design
Recently did the annual maintenance package, the dealer found a warranty issue and fixed it proactively
Jumpman5484
Location: Hibbing MN
Length of Ownership: 3months
Usage: Weekly

Best Tractor is Green!
Purchased a new X384 with snowblower, bagger and mowing deck. Tackles Minnesota snowfall with ease. The best machines are still green and yellow!
JRP1
Location: Upper Providence Township, PA
Length of Ownership: 3months
Usage:

So far, so good!
Waited 3 months for delivery, but my lawn cutting chore is now faster and almost enjoyable. Every lawn tractor sold should have all-wheel steering.
srhalfacre
Location: Port Angeles, WA
Length of Ownership: 3months
Usage: Weekly

Great maneuverability and operator comfort!
I purchased this lawn tractor in May 2021, to mow our 2.33 acre property, with a significant slope and lots of fences, trees, rocks and other obstacles. The X384 has plenty of power to mow up hill with my 275# weight in the seat and the 4-wheel steering is fantastic and allows me to easily mow right up to the obstacles with minimal effort. The seat is also very comfortable. Overall, I am very pleased with my X384 and would highly recommend it to anyone with a similar mowing environment.
Grandpa
Location: Missouri
Length of Ownership: 1yearOrLonger
Usage: Weekly

Love the 4-wheel steering
First, let me clarify - I have the X324, I put this review under X384 because the X384 looks like the newer version of the X324. The 4-Wheel Steering mows around a fire hydrant without backing up. It is a fun to drive. Zero-turn mowers often leave skid marks in grass when mowing around trees because the tires skid somewhat when turning that sharp - by using 4-wheel steering, John Deere has created a machine that turns almost as sharp as a zero-turn without requireing two hands to steer it and maintaing the towing ability of a lawn tractor. After 5 years of use, all I have done is routine maintenance and one headlight bulb change. Do yourself a favor - Test drive a 4-wheel steer model before you buy anything else.
Pros:
4-wheel steering
dependable/reliable
fun to drive
power to spare
made in usa
Cons:
GLK80
Location: Granite Falls,NC
Length of Ownership: 1yearOrLonger
Usage: Weekly

Outstanding Lawn tractor
Over the years, I have owned many lawn tractors. They all accomplished what I needed them to do, but the overall quality just was not there. I can say with certainty that the John Deere X384 is the best lawn tractor I've ever owned. I bought this tractor in March of 2019 and have a year of use on it now. The cut quality is superior, regardless of the type of terrain its being used in. The engine delivers plenty of power. The four wheel steer allows for easy maneuvering around obstacles, without having to back up to get a better angle around what you're mowing. Maintenance is also convenient and designed in a way where changing oil will not make a mess. I ordered the mower the the power flow blower and bagging system and have been very pleased with its performance. Overall, this lawn tractor is well worth the investment and does not disappoint.
Pros:
CharlieB
Location: South Bend, IN
Length of Ownership: 1month
Usage: Weekly

Mowing Dream
I've mowed three times so far with the new X384 and am very impressed. The mower turns on a dime and the steering is so easy it's hard to tell that it isn't power steering. The tires are very easy on the turf, yet the ride is more comparable to a garden tractor, meaning less bumps are felt and the power to mow and get up hills is impressive. I've also experimented with some light towing and have been very pleased so far. The quality of cut is above average for a 48" deck, and the power to the blades is more than sufficient. The deck will devour tall grass without bogging down the engine.
Pros:
easy mower deck height adjusting system
powerful mower
comes with deck leveling tool
Cons:
choke and throttle levers take some getting used t
plastic hood