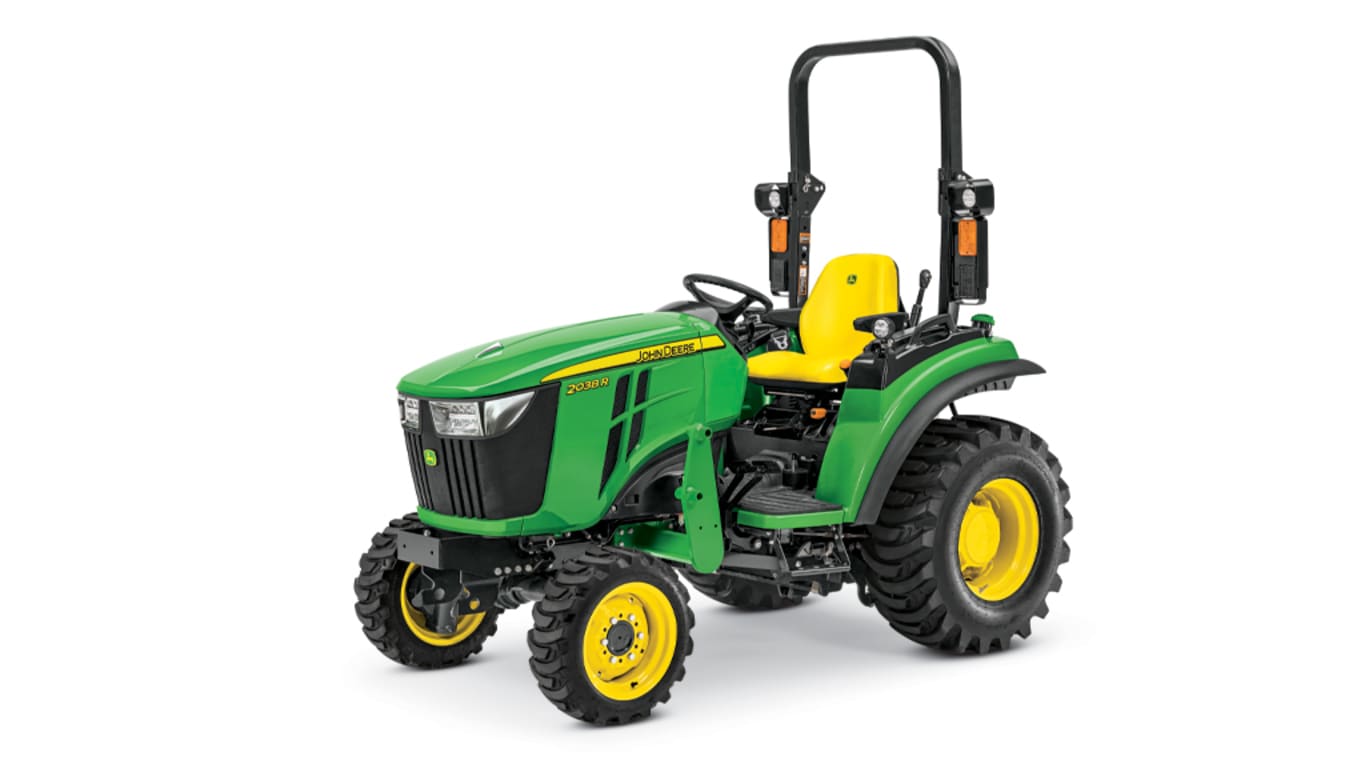 John Deere 2038R
Compact Tractor
Standard LED headlights and fender lights
Comfortable, marine-grade seat stays in top condition
Larger, heavier frame for added stability
Up to 72" AutoConnect™ mid-mower deck can be installed or removed in under 5 minutes
Features
Powerful, high-torque diesel engine delivers superb efficiency
2032R
The 1.642-L (100.2-cu in.) displacement, liquid-cooled 3TNV88C-NJT Yanmar® diesel engine provides 22.9 kW ( 30.7 hp) to the 2032R.
| | | | | | | |
| --- | --- | --- | --- | --- | --- | --- |
| Model | Number of cylinders | Engine displacement | Aspiration | Gross engine power* | Gross engine PS* | Power take-off (PTO) power* |
| 2032R | 3 | 1.642 L (110.2 cu in.) | Natural | 22.9 kW (30.7 hp) | 31.2 PS | 18 kW (24.2 hp) |
*Engine kW (hp), gross SAE J1995: 22.9 (30.7) at 2500 rpm, PS
Displacement, L (cu in).: 1.642 (100.2)
2038R
The 1.568-L (95.8-cu in.) displacement, turbocharged liquid-cooled 3TNV86T-NJT Yanmar diesel engine provides 27.4 kW ( 36.7 hp) to the 2038R.
| | | | | | | |
| --- | --- | --- | --- | --- | --- | --- |
| Model | Number of cylinders | Engine displacement | Aspiration | Gross engine power* | Gross engine PS* | PTO power* |
| 2038R | 3 | 1.568 L (95.8 cu in.) | Turbocharged | 27.4 kW (36.7 hp) | 37.2 PS | 22.7 kW (30.4 hp) |
*Engine kW (hp), gross SAE J1995: 27.4 (36.7) at 2500 rpm, PS
Displacement, L (cu in.): 1.568 (95.8)
The engine uses the latest technologies to optimize fuel economy, improve control and accuracy, and reduce environmental impact.
The common rail system (CRS) optimizes fuel economy and reduces operating costs. High-pressure injection atomizes fuel into finer particles which burn more completely. It results in improved fuel economy and a lower cost of operation.
The electronic control unit (ECU) provides optimum fuel control and accuracy. ECU monitors and controls the engine. It continuously monitors engine conditions and adjusts the fuel delivery accordingly to ensure optimum performance and emissions.
The engine comes with an aftertreatment system. The system operates automatically. The exhaust filter consists of a diesel particulate filter (DPF) which captures particulate matter (PM) contained in the exhaust gas. Using a natural cleaning process, most of the PM trapped in the exhaust filter is eliminated by the heat of the exhaust stream generated by normal use. In situations of low temperature, engine speed or load factor, an active cleaning cycle is initiated. In this cleaning cycle, the exhaust gas temperature is raised by injecting additional fuel during the exhaust stroke of normal vehicle operation to the diesel oxidation catalyst (DOC).
After many hours of use, the exhaust filter may require an ash removal service.
Parked filter cleaning
In some instances where passive and active filter cleaning have not fully cleaned the particulate matter from the system, a parked filter cleaning may need to take place. Most likely, the only time a parked filter cleaning will need to occur is when automatic filter cleaning has been disabled for an extended period of time and multiple warnings to engage filter cleaning were ignored or if the tractor has been used during light load conditions. Additionally, when the automatic filter cleaning process has been deliberately interrupted multiple times, or if active filter cleaning has failed numerous times due to a failed component, a parked filter cleaning may be requested. In these rare instances the operator will have to park the tractor and start the filter cleaning process.
The parked filter cleaning process needs to be activated based on usage and operation of the tractor. The process will take approximately 30 minutes. See operator's manual for more details.
The emissions system on this engine constantly monitors the soot level of the tractor, making sure the tractor is always in peak performance condition. This ensures high performance at all times.
NOTE: Number of hours since last regeneration and soot level percentage viewable on LCD display.
For more information regarding Environmental Protection Agency (EPA) regulations and the technology behind John Deere Integrated Emissions Control systems, click here.
Yanmar TNV Series engine offers these features:
Economical cast-in-block cylinder design for good cooling and long life
Direct fuel injection

Improves starting
Injects fuel directly on top of pistons for more efficient combustion
Develops more horsepower per gallon of fuel than indirect injection engines

Aluminum alloy pistons are lightweight to reduce connecting rod bearing loads and provide good heat transfer characteristics

Design permits tighter tolerances and neutralizes expansion of the piston, which reduces blow-by and noise from piston slap
Top rings are higher on the piston and a thinner head gasket is used to greatly reduce the volume of unburned waste gases and increase combustion efficiency

Timing gears and injector drive gears have a helical profile to reduce engine noise
Auto-bleed fuel system

There is no need to prime the system if the tractor runs out of fuel
The system self-primes the injection pump, lines and injectors, providing fast fuel recovery for easier starting

High-capacity lubrication system provides filtered oil, under pressure, to all engine bearings for long life
Fuel filter with replaceable element
Water separator with additional replaceable filter element
See-through coolant recovery tank permits operator to check coolant level without removing radiator cap
Dry-type air cleaner with safety element

Dual element design for added engine protection
Air cleaner service indicator is standard equipment on all models and alerts the operator on the instrument panels

Easy access to engine check and fill points on the right-hand side of the tractor by removing the side panels
Yanmar is a trademark of Yanmar Co., Ltd.
DOC/DPF
Depending on the load that the tractor is under, as well as ambient temperature, humidity, and engine speed, the DPF may build up with particulate matter, thus requiring cleaning. Filter cleaning is determined by one of three conditions:
A prescribed time-based estimation of needed filter cleaning
DOC/DPF pressure sensors
A particulate matter buildup estimation based on load conditions
Once one of the three conditions have been met, filter cleaning will occur. There are three different types of filter cleaning processes:
Passive filter cleaning
Active filter cleaning
Parked filter cleaning
Passive filter cleaning
Passive filter cleaning occurs naturally when the engine is generating enough heat to oxidize particulate matter. This automatic process occurs continuously during normal operating conditions. No tractor icons or symbols appear on the display during passive filter cleaning.
NOTE: Passive filter cleaning requires no operator involvement, and there is no interruption to tractor operation.
Active filter cleaning
If conditions (temperature, load, or speed) for passive filter cleaning cannot be achieved, then particulate matter is removed using active filter cleaner.
To achieve the required conditions, exhaust temperature management (ETM) manages the initiation and duration of active filter cleaning. ETM can adjust numerous engine parameters and/or inject a small quantity of fuel into the exhaust stream for a short duration. The fuel turns to vapor and chemically reacts with the catalysts in the DOC to create heat to oxidize particulate matter.
It is important to note that at no time is fuel in the DOC/DPF ignited, and there is no interruption to tractor operation.
Like passive filter cleaning, active filter cleaning requires no operator involvement, and there is no interruption to tractor operation.
Easy-to-use hydrostatic transmission (HST) increases productivity
The 2032R and 2038R Tractors are equipped with a two-range hydrostatic transmission (HST) incorporated in a die-cast aluminum transmission case. Fluid under pressure transmits engine power to the drive wheels via a closed-loop pump and motor arrangement. Infinite ground speeds allow the operator to match the speed of the tractor to the job.
No clutching for fast and easy direction changes
Twin Touch™ foot pedals for quick and easy forward/reverse operation
Transmission oil cooler cools transmission oil for longer transmission life
Safety features of the HST transmission include:
The tractor will only start with the range lever in neutral

If the range lever is in gear when the key is turned to the start position, the instrument panel instructs the operator to shift to neutral

The engine will shut off if the operator leaves the seat and the power take-off (PTO) is engaged
Twin Touch foot controls
Key John Deere advantages – John Deere's Twin Touch foot controls offer several key advantages over competitive HST models tractors.
Some competitive hydrostatic tractors use a treadle pedal (toe-heel) design foot control for operation of the HST

Requires the operator to use both toe and heel to change direction, resulting in increased operator fatigue
The Twin Touch configuration also makes it easier to inch the tractor forward or rearward (i.e., when attaching to implements)
Integrated hydrostatic pump and motor
Sauer-Danfoss® manufacturer provides the integrated pump and motor; this assures that the components are matched to each other, providing maximum efficiency
Provides strength and durability needed for operating such attachments as loaders and backhoes
One reservoir (with one check-point and fill point) for the transmission, differential, and hydraulic system speeds up daily maintenance
Mechanically actuated by Twin Touch foot pedals allow the operator to select both directions of travel and speed with the touch of a toe
Cruise control
An electronic cruise control is standard equipment on the 2032R and 2038R Tractors. Cruise control is electronically engaged and disengaged using a toggle switch located on the right-hand console.
Maintains desired forward speed without having to touch the forward pedal
To disengage the cruise control, either apply pressure to the brake pedal or disengage the cruise control switch
Sauer-Danfoss is a trademark of Sauer-Danfoss Incorporated.
Operator station is comfortable and convenient
The operator station has been designed to allow for greater operator comfort and increased visibility. The ergonomic layout and convenient color coded controls allow for easy identification and operation. The design of the operator station allows operators to sit "in" as opposed to "on" which provides comfort and increased stability.
Below are other key features of the 2032R and 2038R Tractor operator's station:
Sloping hood design provides improved visibility
Plenty of room for comfortable operation
Cup holder, multiple storage compartments and a 12V outlet ensures an organized operator station
Rubberized floor mat design to reduce vibration and noise
Step-through operator platform makes getting on and off the tractor easy
Fender-mounted handrails, large and easy to grab, assist the operator when getting on and off the tractor
Controls have been raised and integrated into the fender for operator comfort and ease of use
Large, easy to read decals provide clear instructions for experienced and even non experienced operators
Front horizontal exhaust for increased operator visibility
If the operator leaves the tractor seat when the transmission, mid PTO, or rear PTO is engaged, the engine will shut down

For applications where out-of-seat PTO operation is required, the following criteria must be met: transmission in neutral, park brake engaged, and PTO selector set to rear only. See operator's manual for specific instructions.

Specially designed panels route hot air flow from the engine compartment under the tractor instead of directly onto the operator
Left-side step
The left-side step allows for easy access on and off the tractor
Foot platform has a non-skid surface
Premium seat
The thick, soft padding on this seat provides a smooth and comfortable ride with added weather resistance from marine grade vinyl that is easy to clean. A high, scalloped back makes it easier for the operator to turn to view rear implements.
Seat adjusts fore/aft for operator convenience
Seat flips forward for protection from the elements
High seat back and armrests are in base equipment and allow for a more comfortable operation
Retractable seat belt feature prevents the seat belt from becoming tangled in the seat suspension and controls
Key features of the operator's station include:
Tilt steering wheel design in base equipment on the 2032R and 2038R Tractors

Allows the operator to adjust the steering wheel to the most comfortable position
Provides additional clearance for the operator to enter and exit the tractor
Provides easy return to the fully raised position
Provides plenty of room for comfortable operation
Easy-fold ROPS allows tractor to be used or stored in low clearance environments
Optional iMatch™ Quick-Hitch feature allows for easy implement hookup
One of the greatest operator concerns involves difficulty in attaching tractor implements. John Deere has addressed this issue with the iMatch Quick-Hitch.
The iMatch Quick-Hitch provides easy hookup and a guaranteed fit for all Category 1 implements that are designed to meet the American Society of Agricultural and Biological Engineers (ASABE) Category 1 Standard S278.6 for quick-attach hitches.
All implements require a set of bushings in order for the attachment to fit and work properly with the iMatch Quick-Hitch. One set of bushings comes with the iMatch Quick-Hitch.
NOTE: The bushing set can be seen in the picture above. These bushings allow the hooks on the iMatch and the pins on the implement to fit together properly. All other implements (box blades, tillers, rear blades, etc.) will require a set of bushings to enlarge the pin to fit with the iMatch hooks. Bushings of different lengths can be found in the parts system or through a bushing supplier (see dimensions below).
Upper bushing

Inside diameter: 1.93-1.95 cm (0.76-0.77 in.)
Outside diameter: 3.15-3.18 cm (1.24-1.25 in.)

Lower bushings

Inside diameter: 2.24-2.26 cm (0.88 to 0.89 in.)
Outside diameter: 3.63-3.66 cm (1.43 to 1.44 in.)
CommandCut™ controls allows quick and accurate height of cut adjustments
The 2032R and 2038R tractors features the CommandCut™ mower deck lift system, which allows quick and accurate adjustments of the mower deck with the turn of a dial and the bump of a lever. Control callouts make operation simple and repeatable. The height of cut setting dial and raise/lower lever are conveniently located on the right-hand console and easily accessible by the operator. Some of the key benefits of this system are:
Installing CommandCut™ only requires a simple calibration after installation. It is a true "plug-and-play" system as no controller programming is required.
Inhibits PTO operation when mower deck is in the install position to prevent PTO driveling and mower deck blade damage
Eliminates the need for hydraulic power and components, thus dedicating all hydraulic capacity to other implements or tract functions

Fewer hydraulic components means fewer hydraulic leaks, especially when working on sensitive turf

Precise height of cut with no drift or leakdown

System can be calibrated to different tire sizes to maintain precision

Minimum effort required to set height of cut and to raise/lower the mower deck which reduces operator fatigue
Easy to read graphical interface on the instrument panel allows operator to glance at the desired height of cut while staying focused on mowing
Built in transport lock can be activated from the seat by turning the height of cut dial to position 6 and raising the deck to the highest position
Excellent serviceability and diagnostics reduce operational cost and improves productivity
Regular service and maintenance are essential to the performance, productivity, and longevity of the tractor.
Tractors are equipped with extensive onboard self-diagnostic capabilities and are fully compatible with the John Deere-exclusive ServiceADVISOR™ system.
Four quarter turn fasteners allow operators to easily remove the engine side panels without tools to access to the engine compartment.
Easy access to regular service points minimizes service time
Daily service checks, such as checking the engine oil or water separator, can be done without opening the hood or removing the tractor side panels
Tractors are equipped with an electronic air filter restriction indicator that alerts the operator when the air filter needs to be cleaned or changed
Daily service requirements are minimal and simple to accomplish. Most service interval requirements can be performed with a basic understanding of procedures and common tools.
All external engine, fuel and transmission filters are easily accessible
Increased service intervals lessen overall cost of ownership
Hydraulic oil service interval increased to 1200 hours when using Hy-Gard™ products
Hydraulic oil filter will need to be changed every 400 hours
Fuel tank is located on the rear of the tractor to allow for easy access when fueling
Gas-lift hood support eliminates the need for a mechanical prop rod
All items in the daily service schedule can be performed without the use of tools:
Engine oil, hydraulic oil, coolant level, and the water separator can be conveniently accessed
The engine can be easily accessed by simply raising the hood for more periodic maintenance checks
NOTE: Always refer to the operator's manual for complete maintenance and service recommendations.
Specs & Compare
ADD MODEL

Key Specs

2038R
Current Model
Engine power (gross)
SAE J1995 rated power: 27.4 kW
36.7 hp
37.2 PS at 2500 rpm
Power take-off (PTO) power
22.7 kW
30.4 hp
Steering hydraulics
15 L/min
4 gpm
Implement hydraulics
20.2 L/min
5.3 gpm
Hitch type
Category 1
Lift capacity, 24-in. behind link arms
615 kg
1356 lb
Standard transmission; forward/reverse
Hydrostatic transmission (HST)
Cruise control
Standard
Approximate shipping weight (open-station; cab)
Open station: 1320 kg
2910 lb
Cab: Not applicable
Wheelbase
1723 mm
67.8 in.

Engine

Family
Manufacturer
Yanmar®
Engine model
3TNV88C-NJT
Engine power (gross)
SAE J1995 rated power: 27.4 kW
36.7 hp
37.2 PS at 2500 rpm
Power take-off (PTO) power
22.7 kW
30.4 hp
Rated engine speed
2500 rpm
Type
Direct Injection
Injection pump type
Direct Injection
Aspiration
Turbocharged
Emissions compliance
Final Tier 4
Cylinders/displacement
Three cylinders: 1.568 L
95.8 cu in.
Number of cylinders
Three
Cylinder liners
Cast-in-block
Bore and stroke
86x90 mm
3.39x3.54 in.
Compression ratio
19.1:1
Lubrication
Pressurized
Cooling system
Water pump
Air cleaner
Dual element
Engine torque at rated speed
104.7 Nm
77.2 lb-ft
Fuel tank capacity
32 L
8.5 U.S. gal.

Electrical

Battery size
500 CCA
Alternator (12-V)
85 amp
Starter size
1.4 kW
1.9 hp

Fuel system

Type
Direct Injection
Fuel consumption

Transmission

Standard transmission; forward/reverse
Hydrostatic transmission (HST)
Optional transmission; forward/reverse
Left-hand reverser
Transmission gear ranges
Final drive
Spur gear
Brakes
Wet disc
Steering
Power steering
Clutch, wet/dry
Clutch disk diameter wet clutch
Axle capacity
Front
880 kg
1940 lb
Rear
1800 kg
3968 lb

Creeper
No
Cruise control
Standard
Differential lock
Yes
Drawbar maximum vertical load

Hydraulics

Type
Open center
Pump rated output
Steering
15 L/min
4 gpm
Implement
20.2 L/min
5.3 gpm
35.2 L/min
9.3 gpm
Pump type
Dual gear
Maximum operating pressure
172 bar
2495 psi
Draft control sensing
Position control
Remote control valves available
Up to three

3-point hitch

Type
Category 1
Lift capacity, 24-in. behind link arms
615 kg
1356 lb

Power take-off (PTO)

Standard
Rear: 543 rpm
Mid: 1998 rpm
Optional
Control
Independent
Clutch
Wet disc
Brake (for mid and rear PTO)
Wet disc
Engagement method

Fluid capacities

Crankcase with filter
4.5 L
4.8 qt
Transmission and hydraulic system

Final drive

Type
Spur Gear
Differential lock
Yes

Operator station

Rollover protective structure
Type
Foldable
ASABE S478
Platform - flat/straddle
Semi-flat
Gear shift location - console/floor

Cab

Compliance
Visibility
Air conditioning, temperature differential
Doors
Noise rating
Seat equipment

Dimensions

Height
Wheelbase
1723 mm
67.8 in.
Front axle clearance
Turning radius with brakes
2.46 m
8.07 ft
Turning radius without brakes
Limited slip differential
Approximate shipping weight (open-station; cab)
Open station: 1320 kg
2910 lb
Cab: Not applicable

Tires

Front
R1 Ag 7.00-12
R3 Turf 23x8.50-14
R4 Industrial 23x8.50-14
R3 Turf Radial 200/60 R15
Rear
R1 Ag 12.4-16
R3 Turf 14-17.5
R4 Industrial 14-17.5
R3 Turf Radial 300/70 R20
Front tread range
Rear tread spacing

Miscellaneous

Toolbox
Yes
Tilt steering wheel
Yes
12-V Outlet
Yes

Additional information
Offers & Discounts
Save $2,500 with cash purchase1
on New John Deere 2038R Compact Tractors
Save $2,5001 on the purchase of 2038R Compact Tractors
Offer available

28 October 2023

through

31 January 2024
1Offer valid on qualifying purchases made 28 October 2023 through 31 January 2024. Prices and models may vary by dealer. Save $2,500 USD on 2038R only. This offer cannot be combined with regular installment options. Sales to government agencies, company direct sales or other individuals or entities participating in any John Deere Special Discount Program or Rental Business Program are not eligible. Some restrictions apply. See participating dealer for details and other financing options. Offer is available only at participating United States dealers. Prices and savings are in U.S. dollars.
Reviews
TH165
Location: Gulf Coast
Length of Ownership: 1yearOrLonger
Usage: Weekly

First review was great, but now?
Initially I was very happy with my 2038, but as many have noted, there are issues with the Command Cut system. Frequently drifts off the set cut height….very frustrating. Have not had a chance to get it into the dealer to be checked out due to needing it to work, but will be doing so soon now that cooler weather is here. Hoping I will not get slammed with big repair bills like others have described. We will see.,….,
Benjamin
Location: Madison WI
Length of Ownership: 1yearOrLonger
Usage: Weekly

Command Cut
Used command cut for 1 acre for 3 months, worked well. Fourth month several issues. I paid thousands of dollars for a reputation based on experience. Deere knows they are having issues with command cut, but.....I just want to cut my grass and haven't been able to because of a poor design.
Kern farms
Location: Helena Ohio
Length of Ownership: 1yearOrLonger
Usage: Weekly

Well Designed Tractor
I've had my 2038r for 3 years now. Mostly used for mowing. I just bought a 72" reverse rotation woods tiller and it run it 8" deep in hard soil with no problem. I have picked up a 1100# beam with the 220r loader on front with a counter weight on back. I've only had one problem with the electric lift for the deck. Deere replaced the sensor and all is good. Although it's precise on electric lift for height adjustment I do think response should be faster. Sometimes I have to stop to let deck raise or lower to catch up while moving. Other than that it's a well built machine.
charles76
Location: Florida
Length of Ownership: 1yearOrLonger
Usage: Weekly

2038R is the perfect tractor :-)
This beginner-friendly little tractor is a beast! Have had mine for 2 years and have had zero issues. I mow and maintain about 5 acres. Mostly used for mowing, moving mulch, and tilling our 2 acres worth of gardens. Front end loader is super useful for moving dirt and mulch. The cut quality is amazing on the 60" deck. The quick disconnect deck is easy to remove if you need to work in rough areas. Runs my 6ft rear PTO tiller with ease. This tractor is big and powerful enough to do most any job, yet small enough to get into the small areas. I have had no issues whatsoever with my tractor but I'm happy to know the warranty is there should I need it. It has never failed me. As with all equipment, preventative maintenance is key. This is a serious tool. Treat it right and it will treat you right. Our local dealer is amazing and very supportive. Replaced my orange compact tractor with a green one and I'm so glad I did! I highly recommend the 2038R if you need a tough little multi-use tractor. In my opinion this is one of their best tractors. More powerful than the smaller tractors and very versatile; This tractor is flexible, powerful, and compact. Ready to go? Go Green! You won't regret it!
woodridgeacresowner
Location: IA
Length of Ownership: 1month
Usage: Weekly

Great compact machine
The 2038R is a great mid sized compact tractor. The seat and posture is comfortable and allows the operator convenient access to all of the controls. The engine has ample power and is easily able to utilize 6' attachments. The base tractor is a good value but when the 220R loader and a mower deck is added the cost increases significantly. The size of the machine allows it to be capable but still maneuverable enough for smaller acreage owners with 4-10 acres.
Pros:
size
capability
comfortability
Cons:
rops height can hit low tree branches
Docc
Location: AsheVille, nc
Length of Ownership: 6months
Usage: Weekly

First time tractor owner
First tractor ever! So far still learning about the tractor! My only issue so far is the key is the wrong place. I'm a big guy from top to bottom and left to right... extremely fuel efficient... going to use my bush hog this weekend...
jd2038r
Location: bend, or
Length of Ownership: 1yearOrLonger
Usage: Daily

nice tractor
Nice tractor, plenty of power for what I need. Only two issues so far one; loader holes for the bucket are a bit to wide and require effect to install and remove attachments. The second issue is my fault, but had to LOL when I saw 8 lbs shot put ball video being dropped on hood. What they should've used was a rock, that's a bit more realistic scenerio and will crack that plastic $480.00 hood every time.
dhorning
Location:
Length of Ownership: 1yearOrLonger
Usage: Weekly

Very happy with my 2038r
Plenty of power, easy to use, fuel efficient, and the perfect size. 60 inch deck and 220R loader
B2038r
Location: Saskatchewan
Length of Ownership: 1yearOrLonger
Usage: Weekly

Very happy so far!
I use the tractor for many different things from plowing snow with 66in blade on front with 54in blower on back. To loader work and running a stump grinder and it doesn't have any issues.
Pros:
great pto grunt
smooth and strong 3pt
easy to use
great instrument panel
Cons:
no jd 3rd function valve kit for loader
complete removal of front 3pt to us loader
key should be moved to avoid hitting
Videos