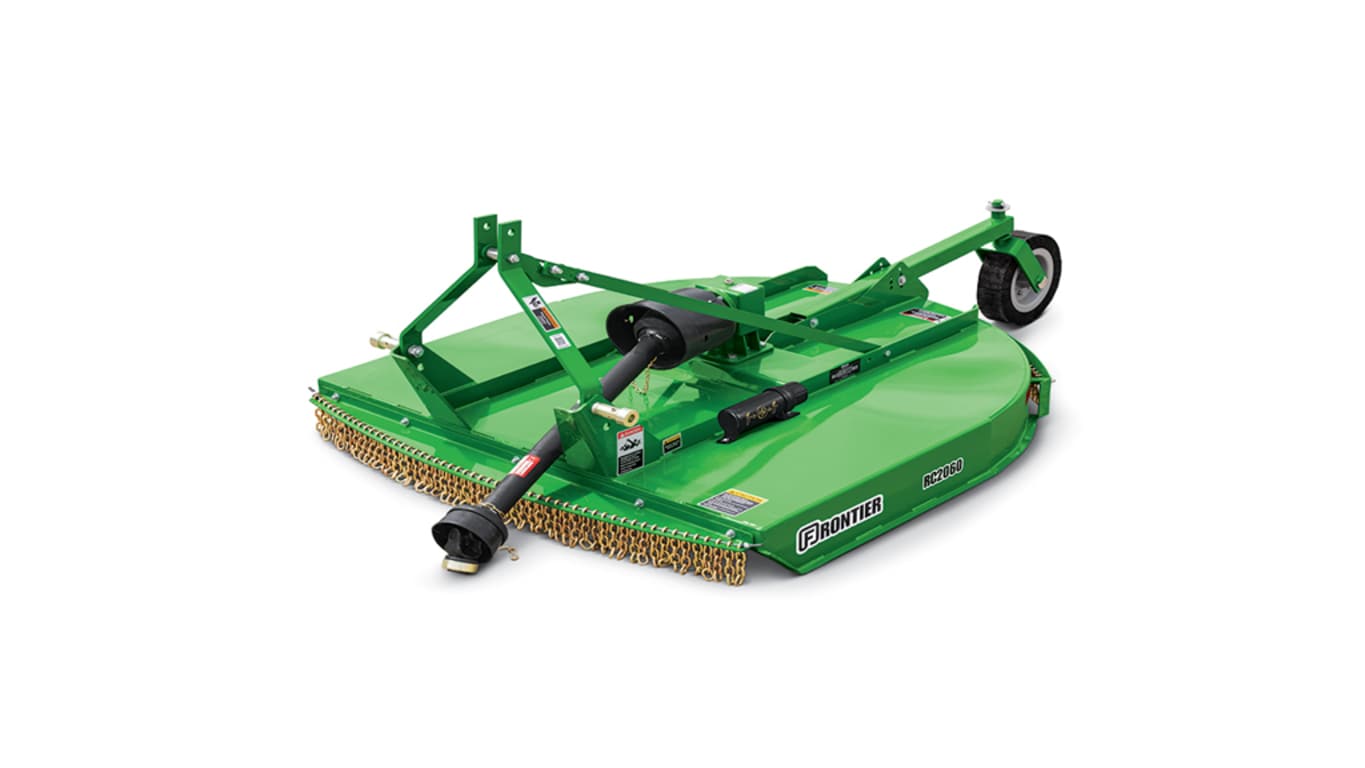 John Deere RC20 Series
Rotary Cutters
Easy-to-maneuver
Adjustable cutting height
Balanced blade pan
Puncture-resistant rear tires
Features
Easy-to-maneuver deck
The round-back deck design on the RC20 Series Rotary Cutter enables easy maneuvering into tight corners and around trees, fences, and other hard-to-reach areas.
Deck deflectors offered in chain or rubber
The front deck and deflector support are flush with the deck on the RC20 Series Rotary Cutters. This allows water and debris an unrestricted exit off the top of the deck.
These deflectors are available in:
Rubber or chain on the front
Metal or chain on the rear
Adjustable cutting height
Adjusting the cutting height is easy. Along with adjusting a tractor's three-point linkage, simply move the support bar to the desired cutting height.
The RC20 Series Rotary Cutters go as low as 3.8 cm (1.5 in.) or as high as 22.9 cm (9 in.).
Balanced blade pan reduces vibrations
There is one standard blade pan for all four sizes of the RC20 Series Rotary Cutters. The blade pan is stamped instead of fabricated and is statically balanced to reduce vibration.
The blade bar is thicker for added durability.
Reversible hitch accommodates many types of tractor hookups
The lower hitching point on the RC20 Series Rotary Cutter accommodates a reversible front hitch for smaller or older tractors.
Lower lip (Z-profile) increases durability and strength
The RC20 Series Rotary Cutters have a lower lip (Z-profile), which extends from the skid shoes to where the apron opens up. This Z-profile increases the overall durability and strength of the rotary cutter.
Puncture-resistant rear tires
Choose a laminated or solid rubber rear tire for the RC20 Series Rotary Cutter. Both are puncture resistant.
The laminated tire is longer lasting and provides more support when working in sandy or lighter soil conditions.
iMatch™ hitch system provides quick and easy connections
The iMatch hitch system converts a tractor's 3-point hitch to fixed hooks and attaching points for a super-quick connection (the iMatch hitch is sold separately).
Specs & Compare
Dimensions

RC20 Series
Current Model
Overall width
129 cm
51 in.
Overall length
220 cm
87 in.

Weight

Tractor compatibility

PTO horsepower
13-33 kW
18-45 hp
Tractor PTO
540 rpm
PTO category
ASAE 3

Gear case

Driveline

Hitch

Type
Lift-type
Category
Cat. 1, adaptable to Cat. 2
iMatch? compatible
Yes
AutoHitch? compatible
Yes

Deck

Thickness
11 gauge
3 mm
0.12
Shape
Flat-open round back
Type
Single

Skirt

Capacity

Cutting width
122 cm
48 in.
Cutting height
4-23 cm
1.5-9 in.
Cutting diameter
0-2.5 cm
0-1 in.
Cutting chamber depth
19 cm
7.5 in.

Blades

Tip speed
66.5) m/s
13,090 fpm
Type
Heat treated, suction
Thickness
13 mm
0.5 in.
Width
76 mm
3 in.

Blade holder

Type
Round pan-type
Diameter
567 mm
22.3 in.

Wheels

Quantity
1
Type
Solid rubber or laminated
Diameter laminated
381 mm
15 in.
Width laminated
95 mm
3.75 in.
Diameter rubber
381 mm
15 in.
Width rubber
95 mm
3.75 in.

Safety

Markings
Standard
Front deflector
Standard
Rear deflector
Standard

Set-up time

Warranty

Time period
1 year
Gearbox
1 year

Additional information