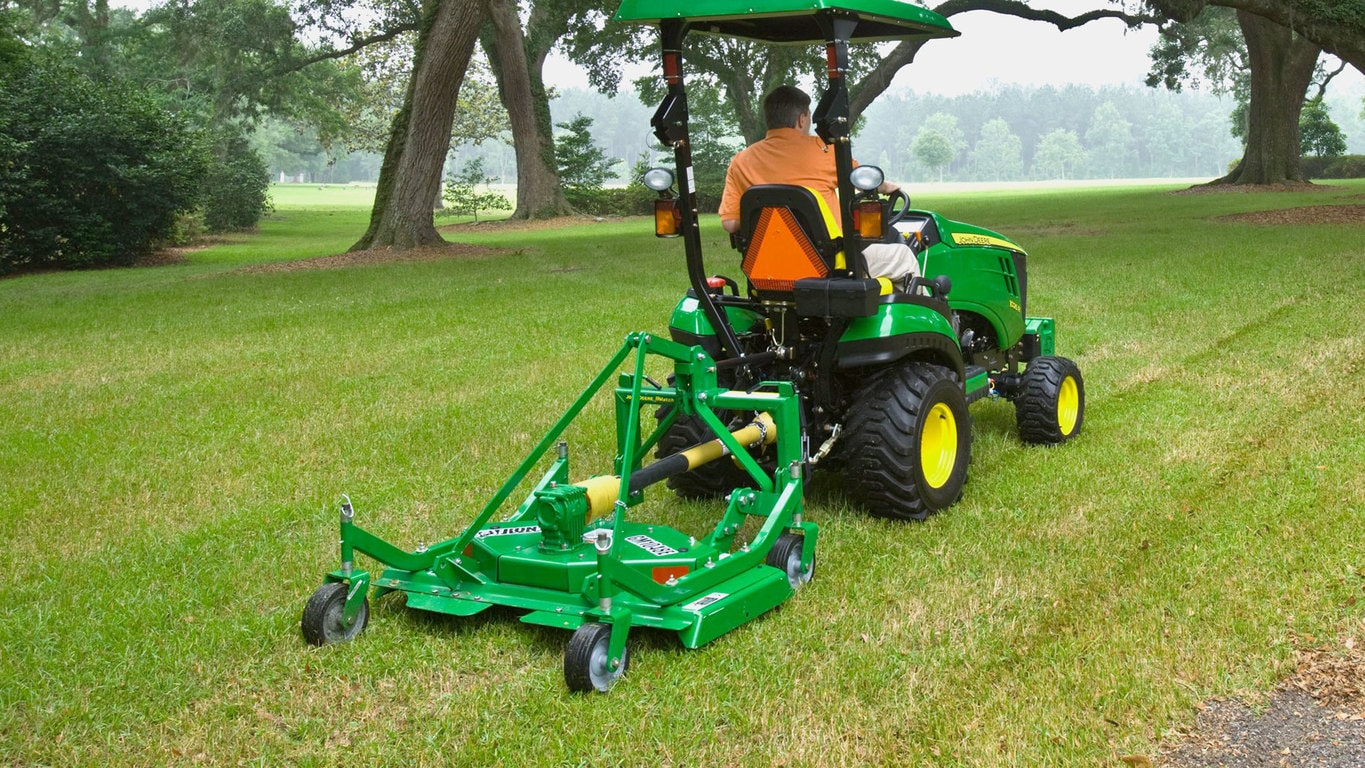 John Deere GM10E Series
Grooming Mower
Maintain a clean and level look with efficient Grooming Mowers. Designed to give a smooth cut on lawns, sporting fields, and golf courses.
11-gauge, 3.03-mm (0.12-in.) reinforced deck
Single belt drive with an automatic belt idler
Spindle shafts greased from the top for easy service
Spacers for quick and easy height adjustment from 2.5 cm (1 in.) to 10.2 cm (4 in.)
iMatch™ quick-hitch compatible with conversion kit
Features
Gearbox
The GM10 Series Mowers come with a 22.4-kW (30-hp) rugged gearbox. Cooling fins help extend the life of the gearbox.
Choose from various cutting blades
To meet specific mowing needs, choose from two blade types:
Low lift
High lift (standard)
Swivel tires
These rear-discharge mowers are equipped with four swivel wheels that follow ground contours and prevent scalping. Stamped, steel-reinforced wheel arms maintain a consistent cutting height.
iMatch™ quick-hitch conversion kits for grooming mowers
The GM10, GM10E, and GM20 Grooming Mowers are only compatible with iMatch using a kit (code 9630).
Mulching kits for grooming mowers
A mulching kit is available as an attachment for field conversion. The mulching kit includes unique mulching blades, baffles, and guard supports to produce smaller clippings, which decompose faster than clippings that haven't been mulched.
Operators should follow the one-third rule for cutting height when mulching in grass.
This mulching kit also does an excellent job when mulching leaves.
Anti-scalping roller conversion kits for GM10E, GM11, and GM20 Series Grooming Mowers
An anti-scalping roller kit can be ordered as an attachment for field conversion for FM and GM Series Grooming Mowers when it is not standard equipment. The roller is attached to the front of the cutting deck to help reduce scalping.
Each kit contains one roller.
Specs & Compare
Dimensions

GM10E Series
Current Model
Overall machine width
129.5 cm
51 in.
Cutting width
121.9 cm
48 in.
Cutting height
2.5-10.2 cm
1-4 in.

Weight

Operational
154.2 kg
340 lb
Shipping
180.5 kg
398 lb

Tractor requirements

PTO horsepower
11.9-22.4 kW
16-30 hp
PTO rpm
540 rpm

Hitch

Category
Cat. 1
iMatch™ compatible

Deck

Thickness
11 gauge
3.03 mm
0.1196 in.
Discharge
Rear

Gearbox

Mower deck horsepower
22.4 kW
30 hp
Ratio

Blade

Quantity
Three
Tip speed, average fpm
4019.7 m/min
13188 fpm
Spindles
Quantity
Three


Overlap
--
Dimensions
Composition
Heat treated alloy steel

Caster wheels

Quantity
Four
Solid
Size
21.3x8.1 cm
8.4x3.2 in.
Yes
Pnuematic
Bearings

Belts

Type
BX
Quantity
One
Adjustment
Spring loaded idler

Set-up time

Warranty

Machine
1 year
Gearbox
1 year

Additional information