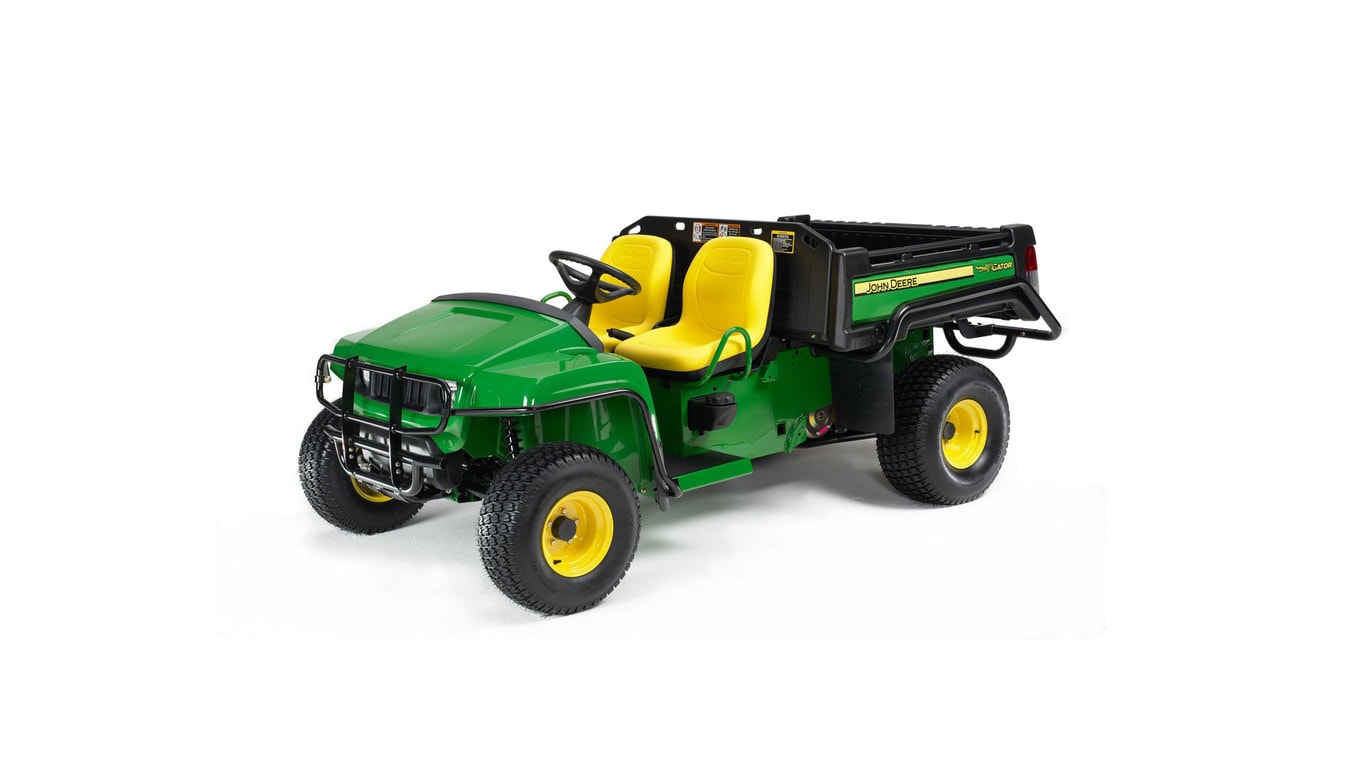 John Deere TX Turf
Utility Vehicle
Overhead valve design for greater efficiency
Four-wheel hydraulic disk brakes
Wide wheel stance and a low center of gravity
The Cayman Turf tire is four-ply rated
Features
Powered by 10.1-kW (13.5-hp)*, 401-cc (24.5-cu in.), single-cylinder, four-cycle gas engine
The Gator™ TX Turf is powered by a 10.1-kW (13.5-hp)*, 401-cc (24.5-cu in.), single-cylinder, four-cycle gas engine.
*The engine horsepower information is provided by the engine manufacturer to be used for comparison purposes only. The actual operating horsepower will be less.
Overhead valve design for greater efficiency and fuel economy
Full-pressure lubrication system with a replaceable filter
Replaceable single-element air cleaner with remote intake
Large-capacity muffler for low sound levels
Pedal start, which provides the ultimate in operator convenience
Electronic ignition switch, which allows pedal start and provides reliable starts and less servicing
Low fuel consumption and a large 18.9 L (5 U.S. gal.) fuel tank reduce fueling frequency; consumption at half load and average speed is 1.3 L/h (0.35 U.S. gph)
Precision-engineered drive system
On the Gator™ TX Turf, power is transmitted from the engine through a continuously variable clutch system to a transaxle and finally to the rear axle.
Key elements of the drive system are as follows:
Variable speed drive
The variable-speed drive consists of two clutches connected by a drive belt:
Drive clutch is attached to and rotated by the engine.
Driven clutch is attached to and drives the transaxle.
Features include:
Infinite selection of speeds (0 km/h to 25 km/h [0 mph to 15.5 mph])
No shifting necessary as operator increases speed
Easy operation
Adjusts speed to the load to avoid bogging down when going up a hill or through challenging conditions because the wrong gear was selected.

Clutches are tuned to provide engine braking when going downhill if the throttle remains engaged.
Here is how the variable-speed drive works:
As the engine speed increases, the spring-loaded drive clutch is closed by weights being forced out by centrifugal force.
As the drive clutch closes, the belt rides up to the largest diameter of the drive clutch and forces open the driven clutch.
With the belt running in the smallest diameter of the driven clutch, the speed being transferred to the transaxle is increased.
The driven clutch is designed to sense varying loads (inclines, mud, etc.) and constantly adjusts the drive speed upward or downward, so the engine rpm remains constant at constant throttle position.
Transaxle
The transaxle is fully enclosed and runs in oil for reliability.
The differential design reduces scuffing of the turf during turns because the inside wheels turn slower than the outside wheels (other vehicles that have a solid axle shaft must skid the inside wheel when making a turn).
Helical gears are used to reduce transmission noise.
The neutral start safety interlock is provided for the engine ignition system.
Heavy-duty rear-axle housings
Large, sealed bearings are located inside the housing for better protection. One-piece forged axles are splined for maximum strength:
Large sealed bearings for better protection and load-carrying capabilities
Forged-splined shaft for increased torsional strength
Nodular cast-iron housing for increased durability
Flotation tires minimize ground compaction to save turf and prevent ruts in soft ground
One type of flotation tire is available for the Gator™ TX Turf:
Product attributes:
The turf tire is four-ply rated, and has an enhanced blend of material and more content that yields significantly more useful life

This tread pattern gives all traditional series models a more aggressive showroom appeal

Each tire combines superb puncture resistance with a tread designed for maximum traction and performance
All tires offer a wide profile and are designed to be inflated at a low psi.
Provides good flotation and traction in mud, sand, and other wet or soft areas
Flexes over bumps and ruts for a smoother, more comfortable ride
Minimizes ground compaction to save turf and prevent ruts in soft ground
Wheels/tires

Code

TX Turf

Turf, front pair (two 22x9.50-10 4PR)
Turf, rear pair (two 24x12.00-10 4PR)

1015

X
NOTE: John Deere recommends that all four or six (6x4 Gator™ models) tires be the same. Although the wheel and tire sizes remain the same, current tires should not be mixed with existing tires. The existing tires will remain available to service existing Gator utility vehicles.
Features operating conveniences such as professional high-back seats, cup holders, 12-V outlet, and fuel gauge
Numerous features offer the operator and passenger a smooth, comfortable ride and provide many operating conveniences.

NOTE: Shown with the optional front bumper, brush guard, front fender guard, and floor mat.
Side-by-side bucket seating provides room for one operator and one passenger
Hip restraints serve as a handhold and help to keep the operator and passenger in their seats over rough terrain
Both seats tilt forward for dry storage and ease of service
Choice of adjustable or non-adjustable driver's seat
Hour-meter is standard to assist in maintaining regular service intervals
Integrated cup holders
A 12-V outlet is located on the instrument panel.
The control location and walk-through platform provide easy entry/exit for the operator and passenger.
Park brake indicator light, hour-meter, and in-tank fuel gauge are standard equipment
Glove box is located in the dash to provide a convenient storage area for small tools and the operator's manual
Grab bar is provided for the passenger
Center-mounted key switch
Additional storage is provided between the seats
Specs & Compare
Key Specs

TX Turf
Current Model
Engine power
10.1 kW
13.5 hp
Cargo box dimensions
1143 x 305 x 1320 mm
45 x 12 x 52 in.
Cargo box capacity (weight)
272 kg
600 lb
Towing capacity
454 kg
1000 lb
Front suspension
Independent spring-over-shock, single A-arm
Rear suspension
Two high-floatation, low pressure tires (solid axles)
Final drive
Fully enclosed; oil bath
Four wheel drive
No
Fuel capacity
18.9 L
5 U.S. gal.

Engine

Type
Four-cycle gas
Displacement
400 cc
24.4 cu in.
Power
10.1 kW
13.5 hp
Cooling system
Air

Drivetrain

Transmission
Continuously Variable Transmission (CVT)
Final drive
Fully enclosed; oil bath
Four wheel drive
No
Traction assist
No
Descent control
No

Suspension

Front
Independent spring-over-shock, single A-arm
Rear
Two high-floatation, low pressure tires (solid axles)

Brakes

Type
Wet disk in transaxle
Park brake
Wet disk, hand operated

Tires / Wheels

Front
Two 22x9.5-10 4PR turf on steel wheels
Rear
Two 24x12-10 4PR turf on steel wheels

Dimensions / Capacities

Wheelbase
1955.8 mm
77 in.
Weight
Dry: 501 kg
1105 lb
Length
2745.7 mm
108.1 in.
Width
1525 mm
60 in.
Height
1108 mm
43.6 in.
Tread centers
Front: 1270 mm
50 in.
Rear: 1220 mm
48 in.
Ground clearance
145 mm
5.7 in.
Fuel capacity
18.9 L
5 U.S. gal.
Cargo box dimensions
1143 x 305 x 1320 mm
45 x 12 x 52 in.
Cargo box capacity (weight)
272 kg
600 lb
Payload capacity
454 kg
1000 lb
Towing capacity
454 kg
1000 lb
Hitch
Standard: receiver hitch, 5.1 cm
2 in.

Features

Color
Green/yellow
Power steering
No
Battery / Alternator / Power port
Battery: 12 V 340 CCA
Alternator: 16.6 amp
DC outlet: 12 V
Instrumentation
Fuel gauge, hour meter
Storage
Cup holders, glove box
Seating
Bucket seats

Additional information

Country of Manufacture
U.S.
Date collected
8-Jun-22