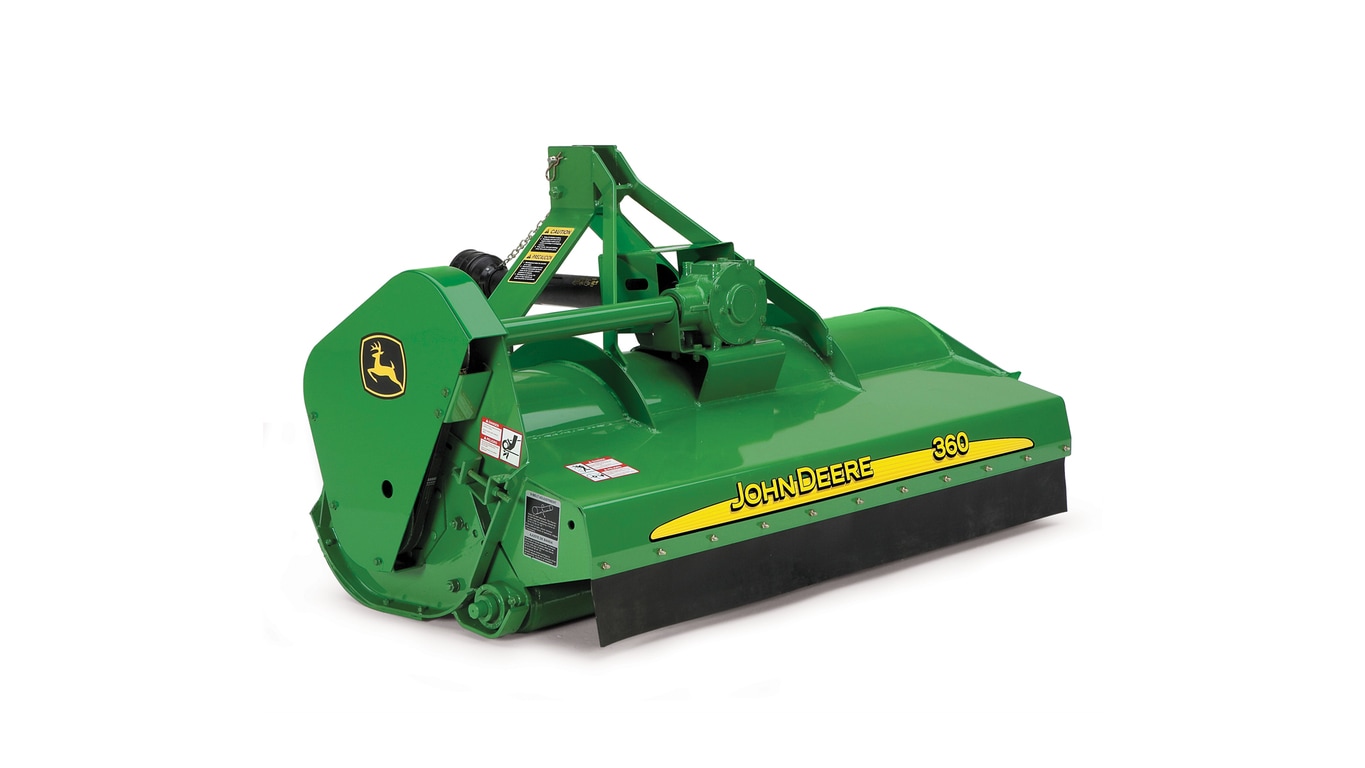 John Deere 360
Flail Mower
Heavy-duty gearbox and drive shaft
Heavy-duty hood and end plates
Reliable, heavy-duty HC section belts
Features
Heavy-duty gearbox and drive shaft
All John Deere flail mowers feature this rugged, heavy-duty gearbox with a continuous 65-hp rating and an intermittent 90-hp rating. Another feature included is a five-year, unlimited-hour warranty.
Base equipment side-slicer knives or optional smooth-cut knives available
Base equipment side-slicer knives are good all-purpose knives. They provide aggressive cutting action in tough conditions.
The side-slicer knife characteristics are as follows:
Knives are made of heat-treated alloy steel for durability.
Individual knife weight, along with the centrifugal force created, provides an aggressive cutting action.
Edges are ground to provide a sharp cutting surface and reduced horsepower requirements.
Smooth-cut knives can be ordered as an option:
Smooth-cut knives utilize the same mountings as the side-slicer knives.
These optional knives are good for grassy, weedy conditions and are self-cleaning.
Knives can also be resharpened for added wear life.
Heavy-duty hood and end plates
The hood and end plates are designed for heavy-duty applications:
Hood is made of 0.48-cm (0.188-in.) thick steel to resist denting and wear.
End plates are made of 0.64-cm (0.250-in.) thick steel to provide structural support and resistance to side thrusts.
Full-length torque tube helps prevent twisting when operating on uneven ground.
Tractor hookup
All machines have a Category 2/1 3-point hitch. Bushings or reversible pins are included for Category 2/1 compatibility.
The 360, 370, and 390 Mowers with centrally mounted hitches are suited for normal cutting conditions:
360 Mower is compatible with quick-coupler Category 1 only.

370 and 390 Mowers are compatible with quick-coupler Category 1 and 2.
The 390 Mower with a 30.5-cm or 66-cm (12-in. or 26-in.) hitch offset to the right is ideal for trimming along walls, buildings, trees with low-lying branches, fences, or orchards.
Specs & Compare
ADD MODEL

Key Specs

360
Current Model
Cutting width
Cutting height
Blades - Number
Blades - Type
Rotor - Diameter
PTO
Tractor horsepower required - Minimum
Tractor horsepower required - Maximum
Quick-coupler compatible
Weight - Approximate

Machine

Cutting width


1.5 m
58.5 in.
Cutting height
13 to 127 mm
0.5 to 5 in.
Hood thickness
4.8 mm
0.19 in.

Blades

Number
108 (54 pairs)
Type
Heat-treated Reversible Side-slice (Optional Smooth-cut Cupped Knives)
Tip speed

Rotor

Speed
1,850 rpm
Diameter
114 mm
4.5 in.

Drives

PTO
540 rpm
Gear case (cont. rating)
Belts
Heavy-duty HC section
Gauge roller
140 mm
5.5 in.

Tractor HP Required

Minimum
22 kW
30 hp
Maximum
56 kW
75 hp

3-Point Hitch

Dimensions

Overall width
1.8 m
69 in.
Overall height
0.99 m
39 in.
Overall length
1 m
40 in.

Weight

Additional information