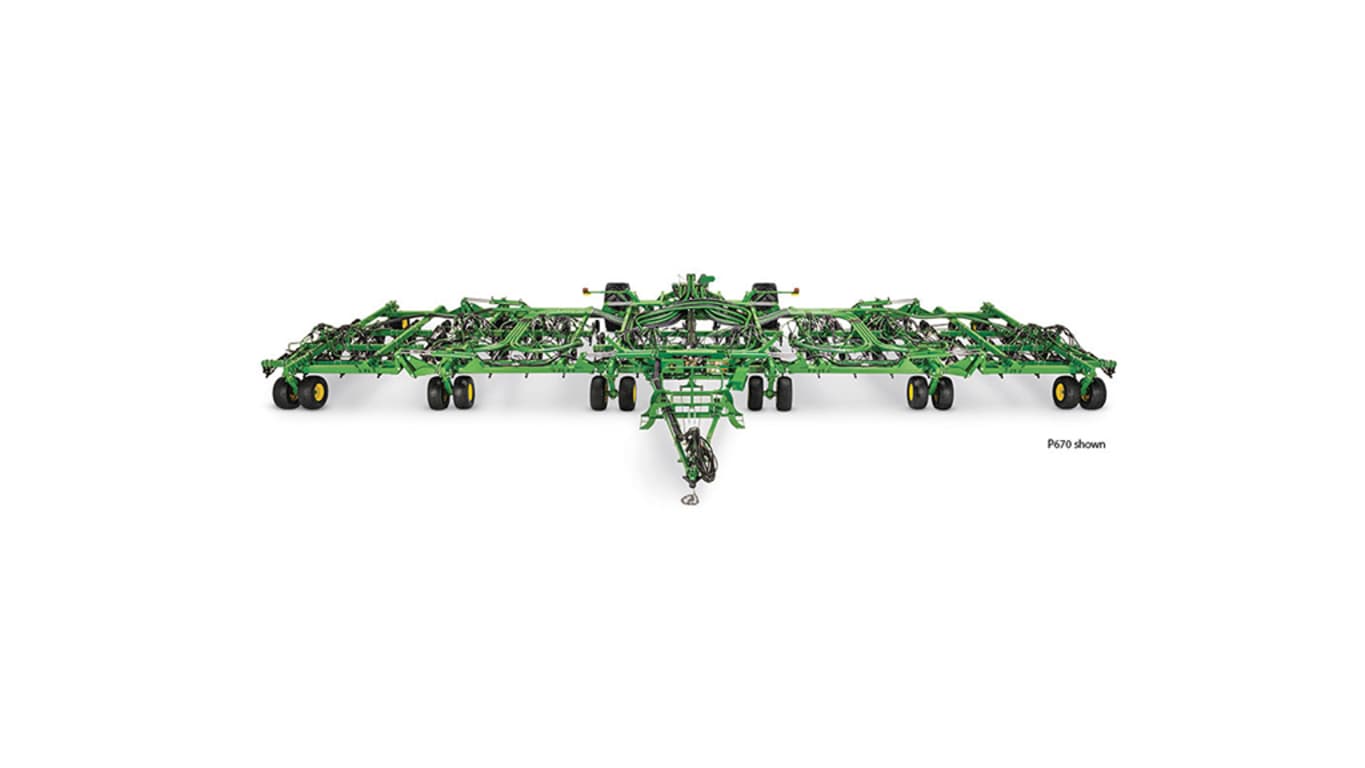 John Deere P680
Precision Air Hoe Drill
80 ft. working width at 12-in. spacing
Dual Knife Openers
Relative Flow™ blockage monitoring
Uniform seed and fertilizer placement with a consistent 0.75-in. vertical and 1.5-in. horizontal spread.
Features
Consistent performance across all soil conditions with the P600 opener
The P600 Precision Air Hoe Drill opener provides exceptional agronomic performance across all soil and field conditions. Its double knife design places nutrients right where your crop needs it without compromising safety. The fixed relationship between seed and fertilizer minimizes row-to-row variability, allowing for an even crop at emergence and at harvest. With its maintenance-free pivot point, extended wear knives, and quick-change depth settings, it is also easy to use and economical to maintain.
Integrated insights from the complete John Deere seeding solution
With John Deere 9R Tractors, C-Series Carts, P600 Precision Air Hoe Drills, and John Deere Operations Center™ application, you have all the insights you need to maximize profitability and understand your seeding operation. All of this comes in an easy-to-use format combined with wireless data transfer, so you spend more time working on what matters.
Increased productivity from larger width offerings
With both 24.4-m and 27.4-m (80-ft and 90-ft) working widths available, the P600 allows you to be more productive than ever before. The P690 is 9 percent more productive than the previous largest offering from John Deere, the P576. In the real world 9 percent means it takes five fewer passes to seed a 64.75-ha (160-acre) field than the P576.
Technology that pays
The John Deere seeding solution gives you the tools to maximize profitability in your operation. Features like RelativeFlow™ sensors and John Deere ActiveCal™ sensors provide peace of mind that you did the best job possible when seeding. John Deere Operations Center™ application gives you the full picture of your operation, providing you the power to make informed choices.