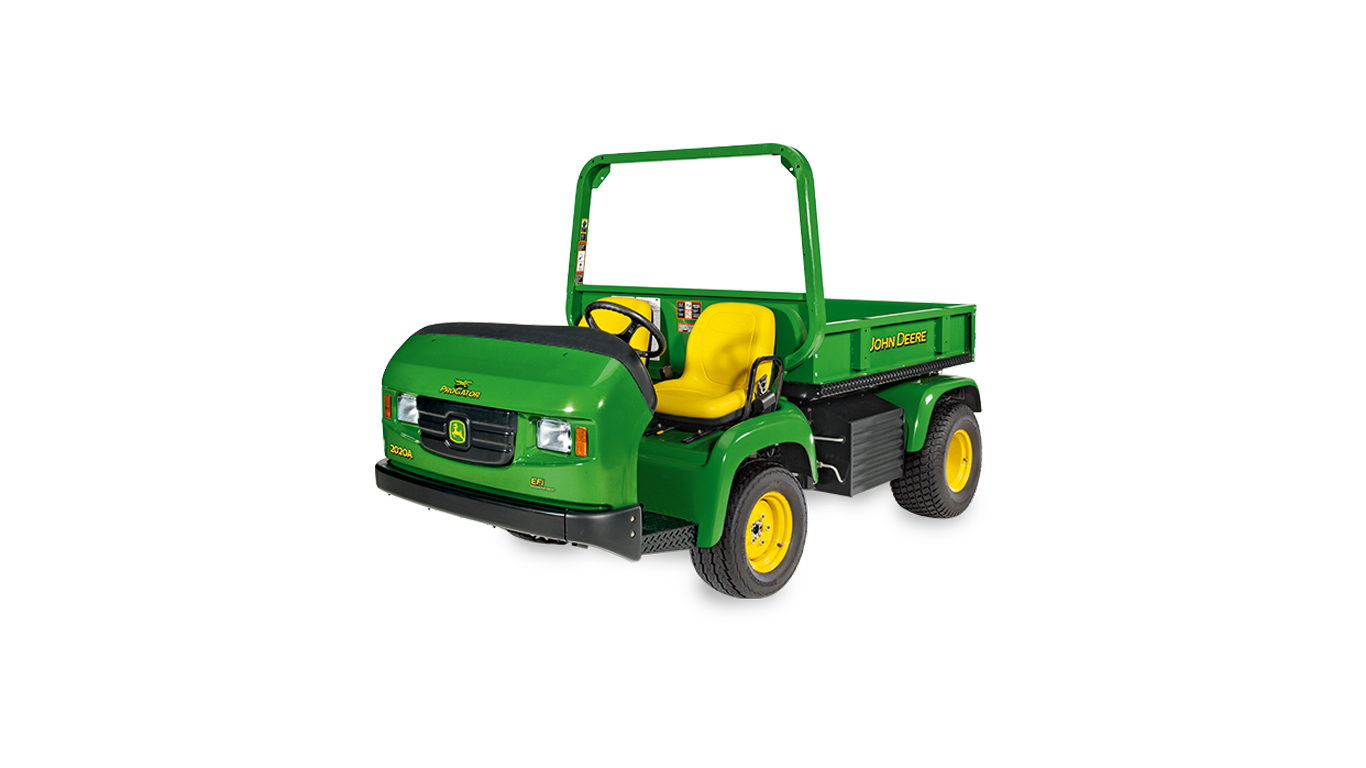 John Deere 2030A
ProGator™ Utility Vehicle
High-torque diesel engine
Thick 7-gauge steel frame
Car-like transmission
New disc brakes
Features
ProGator™ roof kit with mirror and rear panel kit
The ProGator™ 2020A, 2030A, 2020A GPS, and 2030A GPS now feature an optional roof with rear view mirror and separately a rear panel with glass. The roof provides overhead relief from the sun and rain while performing golf course and sports turf tasks. Easy install and high functionality make this a must for every grower.
Whether spraying, topdressing or hauling, these kits will make the job easier.
Design:
The roof kit is designed to fit onto either a four-post rollover protective structure (ROPS) or standard ROPS. It offers shade for the operator from the sun and provides an environment conducive to viewing displays used for spraying activities. The rear view mirror is part of the kit and increases the viewable area behind the vehicle and aids in viewing the right side boom when the HD200/HD300 Sprayer is installed.
The rear panel kit is designed to be used in conjunction with the roof kit, or separately by itself. Operators can expect some noise dampening and relief from chaff and airborne debris when using the rear panel kit.
Flip-up seats
Flip-up seats are now available.

Flip-up seats are standard for both passenger and driver sides.
Standard for 2030A, 2020A, 2030A GPS, and 2020A GPS models.
Easy to flip up to keep seat clean and dry.
Tier IV compliant engine
Tier IV compliant engine

An increase of 1.12kw (1.5 hp) over previous model year.

Exhaust muffler has been rerouted.
Muffler is now oriented in a horizontal position that will eliminate browning of turf when unit is parked on turf when running
Air cleaner position and indicator
New air cleaner

Serviceable without raising vehicle bed.
Increased from a 101.6-mm (4-in.) filter to a 127-mm (5-in.) filter.

Air restriction indicator

Has been moved to the right side of unit, now found outside of frame.
Easier access for daily check and evaluation activities.
High-payload capacity to handle the tough tasks
Maintaining a golf course is a very demanding job, from filling bunkers to hauling landscape rock to spraying 1135 L (300 gal.) of water on fairways. Demanding jobs require rugged vehicles that are up to the challenge of high payload capacities, and the ProGator™ 2030A Utility Vehicle delivers.
The ProGator 2030A offers a versatile package, including attachments that can be removed and installed in minutes without tools, such as the SelectSpray™ Series, TD100 topdresser, and cargo box. Optional heavy-duty front and rear suspensions, when combined with the four-post rollover protective structure (ROPS) and wide rear tire kit, provide payload capacity that exceeds two tons. Payload capacities are as follows:
| | |
| --- | --- |
| Capacities | ProGator 2030A |
| Payload capacity (including 90.7-kg (200-lb) operator, 90..7-kg (200-lb) passenger, and loaded attachment), kg (lb) |   |
| Two-wheel drive (2WD) with standard suspension and two-post ROPS | 1,594 kg (3,514 lb) |
| Four-wheel drive (4WD) with standard suspension and two-post ROPS | 1,535 kg (3,384 lb) |
| 2WD with heavy-duty suspension, wide rear tire kit, and four-post ROPS | 1,930 kg (4,255 lb) |
| 4WD with heavy-duty suspension, wide rear tire kit, and four-post ROPS | 1,871 kg (4,135 lb) |
Powerful 17.6-kW (23.6 hp)*, 1115-cc diesel engine for heavy-duty work
Working with higher payloads requires a tough power plant. A powerful 17.6-kW (23.6-hp), 1115-cc diesel engine is the heart and soul of this strong package. Featuring a liquid-cooled system, overhead valves, and full-pressure lubrication, this diesel engine provides power in a reliable and durable package.
The engine package features a large 30.3-L (8-US gal.), Environmental Protection Agency (EPA)-compliant fuel tank, providing plenty of on-board fuel for those long days of spraying fairways and roughs with minimal stops to refuel. And on those long days, operators appreciate comfort and minimized vibration. The engine mounting system is rubber isolated to reduce vibration at the operator station, enhancing operator comfort for the long haul. Automatic glow plugs and direct fuel injection provide for more efficient combustion and easier starting on cold, early mornings.
To protect the engine, a canister-style, replaceable air filter and standard rain cap limits the amount of debris and water exposure, leading to long, durable life. When working in tough, dusty environments, a standard air-restriction indicator provides guidance as to when the air filter may be plugged.
* Engine horsepower is provided by the engine manufacturer for comparison purposes only. Actual operating horsepower will be less.
Hydraulically actuated front and rear disk brakes for plenty of stopping power
The ProGator™ Utility Vehicle features a premium disk braking system that consists of four, 190.5-mm (7.5-in.), disks. The disks are cast from vibration-resistant G3000 grey iron and four identical single-piston floating calipers. The brakes are hydraulically actuated for easy pedal effort and excellent performance.
The service linings are constructed of a proprietary noise-resistant organic blend for an excellent mix of life and performance. Brake pedal feel is enhanced with large caliper pistons and flexible brake lines improve routing efficiency and allow for ease of service.
The parking brake lever is conveniently located in the center of the operator station and features a pistol grip handle for maximum comfort and ease of use. The parking brake system utilizes a ball ramp-style mechanism, meaning no adjustment at the mechanism itself, only at the equalizer.
Zero grease points on two-wheel drive (2WD) machines for quick and easy maintenance
Routine maintenance can often require additional hours for a technician. With sealed bearings throughout the machine, the ProGator™ Utility Vehicles will save the technician plenty of time. 2WD machines feature all sealed bearings and no grease zerks, while four-wheel drive (4WD) machines have only three grease points on the 4WD shaft.
Filling brake fluid is also quick and easy and requires no tools. The front grille of the ProGator is removed simply by pulling it outward from the front of the machine, providing easy access to the brake fluid reservoir. All other daily service points are accessed by simply lifting the cargo box and securing with the lift cylinder safety support. This provides quick access to the coolant level check, engine oil dipstick, and air-restriction indicator.
Easy-to-use cargo box with optional bedliner for tough hauling tasks
The ProGator™ heavy-duty utility vehicles feature an optional cargo box for hauling items on the golf course. The cargo box attaches to the ProGator easily, utilizing only two rear pivot pins and one lift cylinder pin. This allows quick and easy changes between ProGator attachments.
A 16-gauge steel frame provides added strength and durability. A standard hydraulic lift and lower cylinder allow for easy lifting of the cargo box to dump sand and other items from the cargo box quickly and easily.
The optional tailgate release kit allows for a dump truck mode, where the tailgate automatically opens from the bottom when the tailgate is raised to allow items to flow out of the box. The tailgate then automatically closes when the box is lowered for fast and efficient operation.
For normal tailgate operation, opening and closing the tailgate is easier than ever. An innovative retractable pin system is the key. A spring-loaded L-pin is located on each end of the cargo box.
To open the cargo box, simply pull the L-pins inward and lower the tailgate. Closing the tailgate is even easier. The angled striker plate design allows the L-pins to automatically retract when shutting the tailgate. When the cargo box is fully closed, the springs will pull the pins into their locking position. This allows for a one-handed closing of the tailgate, similar to that of a pick-up truck.
A bedliner can be ordered as an optional attachment for the ProGator machines. The high-density polyethylene bedliner is stamped with the John Deere logo and protects the steel cargo box and paint from dirt and debris.
The bedliner is designed to wrap around the bottom of the tailgate, preventing gravel and other debris from getting trapped under the bedliner. The bedliner ribs are tapered, allowing materials to flow freely out of the cargo box when it is lifted or being cleaned.
Large, turf-friendly wheels and tires
These are the largest standard-sized tires in the market for optimum ground clearance, traction performance, and weight distribution:
Front 23x10.50-12 steering tires
Rear 26x12.00-12 drive tires
Optional 26x14.00-12 rear drive tires for a wider footprint and increased load carrying capacity when using sprayers and topdressers
4-ply ratings that improve wear characteristics and provide extra protection against flat tires
Versatile turf tread design for good traction without damaging the turf
Additional tire and wheel options for turf applications
Smooth front 22x9.50-12 front steering tires offer reduced turf damage. Traction in some conditions will be limited.
Smooth rear 26x14.00-12 rear drive tires for a wider footprint where the least amount of turf damage is required, which is helpful for sprayer applications on the greens. Traction in some conditions will be limited.
Fairway rear 26x14.00-12 drive tires offer a wide footprint with minimal turf damage when sprayers or topdressers are used.
4-ply ratings offer increased load carrying capacity with improved wear characteristics and provide extra protection against flat tires.
Required tire option can be declared during machine configuration.
Specs & Compare
ADD MODEL

Key Specs

2030A
Current Model
Maximum speed (standard tires)
30.7 km/h
19.1 mph
Displacement
1006 cc
61.4 cu in.
Horsepower
At 3200 rpm: 16.5 kW
22.1 hp
*Engine hp is provided by the mfr for comparison purposes only. Actual operating hp will be less. Refer to engine manufacturer's website for additional information.
Maximum gross vehicle weight (4WD with heavy-duty suspension, wide rear tire, and four-post ROPS)
2841 kg
6264 lb
Transmission configuration
Five-speed synchro-mesh with five forward gears and one reverse gear
Turning circle clearance (Inside diameter - 2WD)
Raidus: 431.8 mm
17 in.

Engine

Manufacturer/model
Horsepower
At 3200 rpm: 16.5 kW
22.1 hp
*Engine hp is provided by the mfr for comparison purposes only. Actual operating hp will be less. Refer to engine manufacturer's website for additional information.
Configuration
3-cylinder liquid-cooled diesel
High idle speed
3450 rpm
Displacement
1006 cc
61.4 cu in.

Transmission

Manufacturer
Kanzaki
Configuration
Five-speed synchro-mesh with five forward gears and one reverse gear
Maximum speed (standard tires)
30.7 km/h
19.1 mph
4WD options
Manual engage on demand

Dimensions

Ground clearance (unloaded)
168 mm
6.6 in.
Bed height (loaded)
832 mm
32.75 in.
Wheelbase
167.6 cm
66 in.
Wheel tread, front
123.2 cm
48.5 in.
Wheel tread, rear standard
129 cm
50.8 in.
Width, overall (standard tires)
158.6 cm
62.4 in.
Length, overall (standard tires)
319.2 cm
125.7 in.
Length, overall with box
328.5 cm
129.3 in.
Length, overall without box
319.2 cm
125.7 in.
Height, overall
193.6 cm
76.25 in.

Steering

Turning circle clearance

Inside diameter - 2WD
Raidus: 431.8 mm
17 in.
Inside diameter - 4WD
Radius: 1752 mm
69 in.

Capacities

Maximum gross vehicle weight(includes 200-lb operator, 200-lb passenger, loaded attachment)
2WD with standard suspension
2449 kg
5400 lb
4WD with standard suspension
2449 kg
5400 lb
2WD with heavy-duty suspension, wide rear tire, and four-post ROPS
2841 kg
6264 lb
4WD with heavy-duty suspension, wide rear tire, and four-post ROPS
2841 kg
6264 lb

Base machine weight (no passenger, no operator, no loaded attachment, full fluids)
2WD with standard suspension
856 kg
1887 lb
4WD with standard suspension
915 kg
2017 lb
2WD with heavy-duty suspension, wide rear tire, and four-post ROPS
912 kg
2010 lb
4WD with heavy-duty suspension, wide rear tire, and four-post ROPS
971 kg
2140 lb

Payload capacity (includes 200-lb operator, 200-lb passenger, and loaded attachment)
2WD with standard suspension
1594 kg
3514 lb
4WD with standard suspension
1535 kg
3384 lb
2WD with heavy-duty suspension, wide rear tire, and four-post ROPS
1930 kg
4255 lb
4WD with heavy-duty suspension, wide rear tire, and four-post ROPS
1871 kg
4125 lb

Cargo box internal dimensions
Length
165 cm
65 in.
Width
128.3 cm
50.5 in.
Height
26.7 cm
10.5 in.

Towing capacity (rear hitch)
907 kg
2000 lb
Fuel capacity
30.3 L
8 U.S. gal.

Tires

Front standard
23x10.50-12 (4 PR)
Rear standard
26x12.00-12 (4 PR)
Wide rear tire option
26x14.00-12 (4 PR)

Suspension

Front
Dual leaf springs and shocks
Rear
Dual leaf springs and shocks

Brakes

Battery

Alternator

Sound level

At operator's ear
86 dBA
Measuring standard
ISO 11201
Attachments installed
Cargo box

Certifications

Additional information