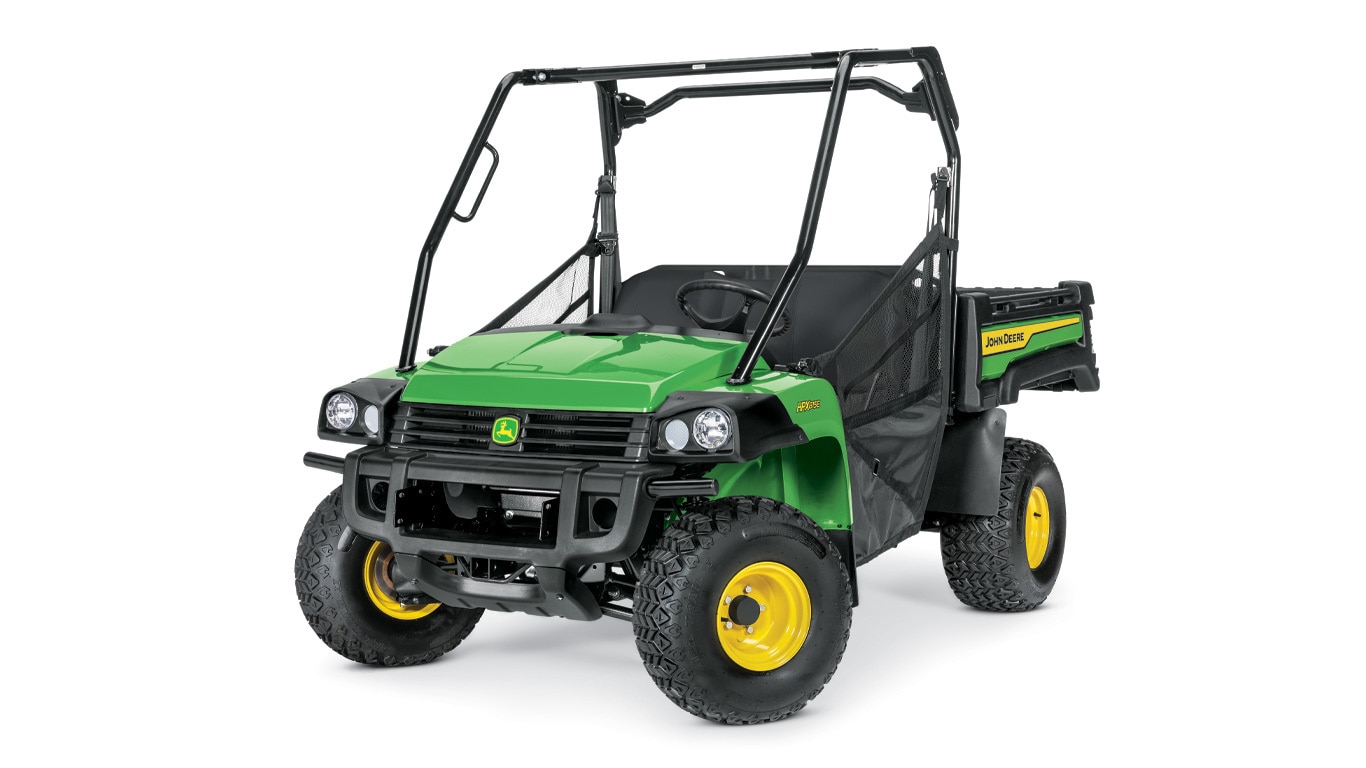 John Deere HPX815E
Work Series Utility Vehicle
Electronic switch for instant 4WD engagement
New dash display, including fuel gauge

16.4 cu ft (.46 cu m) cargo box with a 1,000 lb (450 kg) capacity
Powerful diesel engine system
Features
Precision-engineered drive system optimizes acceleration, hauling, towing, and hill-climbing capabilities
The Gator™ HPX Utility Vehicle has a precision-engineered drivetrain system to better utilize engine power and to improve acceleration, hauling, towing, and hill-climbing capabilities. Power is transmitted from the engine through a continuously variable clutch system to the transaxle.

Key elements of the drive system include:
Transaxle with high and low ranges, neutral, reverse, and park
Engine
Variable-speed drive
Variable-speed drive
The variable-speed drive consists of two clutches and a drive belt:
Drive clutch is attached to and rotated by the engine.
Driven clutch is attached to and drives the transaxle.
How variable-speed drive works:
As the engine speed increases, the spring-loaded drive clutch is closed by weights being forced out by centrifugal force.
As the drive clutch closes, the belt rides up to the largest diameter of the drive clutch and forces open the driven clutch.
With the belt running in the smallest diameter of the driven clutch, the speed being transferred to the transaxle is increased.
The driven clutch is designed to sense varying loads (inclines, mud, etc.) and constantly adjusts drive speed upward or downward so that engine rpm remains constant at constant throttle position.
Start in gear, neutral, or park position for quick starting. The service brake must be engaged to start when in gear or neutral.
To shift out of park, the service brake must be pressed to release the parking solenoid. An audible click will be heard and then the vehicle can shift out of park into the desired gear.
Transaxle and mechanical front-wheel drive (MFWD)
Two-speed, fully enclosed, oil bath transaxle allows superior pulling ability

Low range is 0 km/h to 19 km/h (0 mph to 12 mph)
High range is 0 km/h to 40 km/h (0 mph to 25 mph)

MFWD and rear transaxle are protected by skid plates
Helical forward and reverse gears are used for quiet operation
Selectable four-wheel drive (4WD) system with a limited slip front differential and dash-mounted electronic rocker switch

Provides exceptional traction in challenging conditions
More control descending hills with 4WD engaged – all four wheels help slow the vehicle down, and clutch engagement is still necessary to prevent free-coasting
Near instantaneous torque to the front wheels once electronic switch is engaged
Maintains turf-friendly operation in two-wheel drive (2WD mode)
Combined with rear traction assist - (differential lock) can provide excellent traction in challenging conditions
Features operator conveniences such as bench seat, cup holders, glove box, and 12-V outlet
The Gator™ HPX is equipped with many standard features that provide for comfortable and convenient operation:
Bench seating provides room for one operator and one passenger
Hip restraints serve as convenient and comfortable handholds
Occupant protective structure (OPS) with three-point seat belts and passenger side grab handles, located on the front post, front dash, and on the outside of the seats
Operator platform provides easy entry/exit for the operator and passenger
Cup holders are located within reach of the operator's station
Hour meter comes standard to assist in maintaining regular service intervals
Traction assist (differential lock) is operated by electronic switch and conveniently located on the dash
Glove box is located in the dash to provide a convenient storage area for small items
Standard 12-VDC outlet conveniently located on the instrument panel
Tank-mounted fuel gauge is easily viewed from the left side of operator's seat
Large, 76-mm (3-in.) diameter fuel tank fill opening allows easy fuel fill and helps to eliminate spillage
Storage compartment is located under the front hood for extra storage space
On-dash manual choke provides easy accessibility and convenient choke moderation for smooth engine warm-up (gas models only)
Display features include:

Speed
Fuel gauge
Mechanical front wheel drive (MFWD)/rear diff-lock
Gear position
Heavy-duty suspension delivers excellent heavy hauling capabilities
The Gator™ HPX is equipped with heavy-duty, coil-over shock, semi-independent rear suspension with 89 mm (3.5 in.) of suspension travel. This provides a comfortable ride with the cargo box unloaded while also minimizing suspension sag when the cargo box is loaded.
The Gator HPX is equipped with a MacPherson strut, independent front suspension, providing a comfortable ride and excellent work capability. The heavy-duty, ductile cast-iron, single A-arm provides 131 mm (5.15 in.) of suspension travel for excellent handling and ride quality.
Factory-installed occupant protective structure (OPS) or deluxe cab frame
The Gator™ HPX is configured from the factory with OPS and standard occupant side retention (OSR) nets or deluxe cab frame.
The OPS performance is certified to Society of Automotive Engineers (SAE) J219 standards.
Glass doors can be dealer installed to complete the cab enclosure.
OSR
Certified to American National Standards Institute (ANSI) B71.9 standards
Nets are standard equipment on the Gator HPX. Features of the nets include:
One-handed operation
Easy entry/exit
Great visibility
Durable, versatile cargo box for hard-working performance
Extra-durable deluxe cargo box ensures hard-working performance and longevity
The deluxe cargo box consists of a 15 percent glass-filled polypropylene composite material that eliminates rust and dents and reduces noise.
Deluxe cargo box tailgate
The tailgate can be opened or removed for easier cleanout and to carry longer items. The tailgate has been improved, features truck-like performance, and can be operated with one hand.

The standard-installed lanyards can also be removed to lower the tailgate 150 degrees for convenient loading and unloading tasks.
Deluxe cargo box tilt
The deluxe cargo box is easier to latch, unlatch, raise, and lower with the integrated handle design and gas assist. A prop rod is provided to hold the box in the upright position for operator convenience, as well as limit box pivot travel.
Integrated tie-down points
The deluxe cargo box offers integrated tie-down points for increased versatility. Tie-down points are located in the following areas:
Four corners inside the cargo box bed
Four points on the load guard directly behind the operator station (A)
Tie-down bars on either side of the cargo box (B)
Six points on the underside of the cargo box frame (circled)
Cargo box specifications
| | |
| --- | --- |
| Length | 1143 mm (45 in.) |
| Width | 1320 mm (52 in.) |
| Depth | 304 mm (11 in.) |
| Volume | 0.46 m3 (16.4 cu ft) |
| Weight capacity | 454 kg (1000 lb) |
| Dump angle | 47 degrees |
CAUTION: Carrying extra-long cargo that extends beyond the box can adversely affect stability.
Converting deluxe cargo box to a flat bed
The deluxe cargo box easily converts to a flat bed. The flatbed configuration allows operators to load larger cargo.
Specs & Compare
ADD MODEL

Key Specs

HPX815E
Current Model
Engine power
13.57* kW
18.2 hp
Cargo box dimensions
1143 x 304.8 x 1320 mm
45 x 12 x 52 in.
Cargo box capacity (weight)
454 kg
1000 lb
Towing capacity
590 kg
1300 lb
Front suspension
Independent with McPherson Strut
Rear suspension
Coil over shock
Final drive
Two speed, oil bath
Four wheel drive
Yes
Fuel capacity
20.1 L
5.3 U.S. gal.

Engine

Type
3-cylinder, 4-cycle diesel
Displacement
854 cc
Power
13.57* kW
18.2 hp
Cooling system
Liquid

Drivetrain

Transmission
Continuously Variable Transmission (CVT)
Final drive
Two speed, oil bath
Four wheel drive
Yes
Traction assist
Positive locking, mechanically actuated (hand-operated)
Descent control
No

Suspension

Front
Independent with McPherson Strut
Rear
Coil over shock

Brakes

Type
Hydraulic disc brakes
Park brake
Rear mechanical disk, hand operated

Tires / Wheels

Front
24 x 9.5-10
Rear
24 x 12.0-10

Dimensions / Capacities

Wheelbase
1910 mm
75.2 in.
Weight
681 kg
1526 lb
Length
3022 mm
119 in.
Width
1486 mm
58.5 in.
Height
1867 mm
73.5 in.
Tread centers
Front: 1257.3 mm
49.5 in.
Rear: 1219.3 mm
48 in.
Ground clearance
152.4 mm
6.0 in.
Fuel capacity
20.1 L
5.3 U.S. gal.
Cargo box dimensions
1143 x 304.8 x 1320 mm
45 x 12 x 52 in.
Cargo box capacity (weight)
454 kg
1000 lb
Payload capacity
635 kg
1400 lb
Towing capacity
590 kg
1300 lb
Hitch
Standard receiver, 5.1 cm
2 in.

Features

Color
Green/yellow
Power steering
No
Battery / Alternator / Power port
480 CCA
40 amp at 3200 rpm
Instrumentation
Storage
Cup holders, glove box
Seating
Bucket seats (bench available)

Additional information

Country of Manufacture
U.S.
Date collected
Reviews