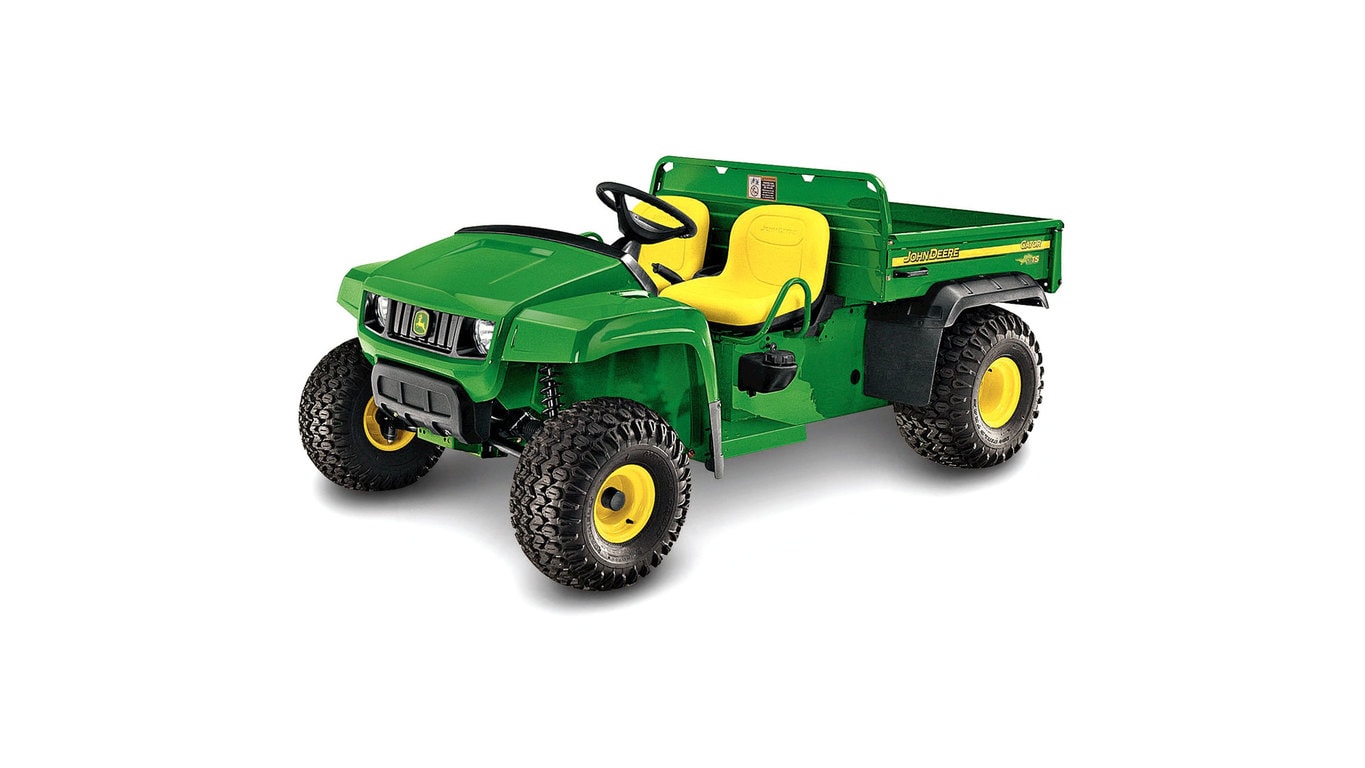 John Deere TS 4x2
Traditional Utility Vehicle
Best in class work capability
Enhanced stability for better performance in difficult terrain
Best in class durability
Freight not included in list price
Features
Large, durable cargo box for heavy hauling
The strong, 16-gauge cargo box allows hauling heavy and bulky cargo.
The load of the box is placed directly over the rear wheels, where the load is in the most stable position. The 64 cm (25-in.) load height for the Gator™ TS allows easy loading and unloading of material.
Box capacity
Gator TS

Volume

286 L3
(10.1 cu ft)

Weight

227 kg (500 lb)
The cargo box can be manually tilted up to allow access to the drive system or to assist in cleaning out the box.
A prop rod is provided to hold the box in the upright position for operator convenience.
Box dump angles (degrees)
| | |
| --- | --- |
| | Gator TS |
| Manual dump | 48.5 degrees |
| Power dump | 47.5 degrees |
The tailgate can be opened or removed for easier cleanout and to carry longer items.
The box design includes tie-downs on load guard and box sides.

CAUTION: Carrying extra-long cargo that extends beyond the box can adversely affect stability.
Precision-engineered drive system
Power is transmitted from the engine, through a continuously variable clutch system, to a transaxle. Power is transmitted from the transaxle directly to the rear axle.
Key elements of the drive system are as follows:
Variable-speed drive
The variable-speed drive consists of two clutches connected by a drive belt:
Drive clutch is attached to and rotated by the engine.
Driven clutch is attached to and drives the transaxle.
Infinite selection of speeds (0 kph to 32 kph [0 mph to 20 mph])
No shifting necessary as operator increases speed
Adjusts speed to the load to avoid bogging down when going up a hill or through challenging conditions because the wrong gear was selected
How the variable-speed drive works:
As the engine speed increases, the spring-loaded drive clutch is closed by weights being forced out by centrifugal force.
As the drive clutch closes, the belt rides up to the largest diameter of the drive clutch and forces open the driven clutch.
With the belt running in the smallest diameter of the driven clutch, the speed being transferred to the transaxle is increased.
The driven clutch is designed to sense varying loads (inclines, mud, etc.) and constantly adjusts the drive speed upward or downward, so the engine rpm remains constant at constant throttle position.
Transaxle
The transaxle is fully enclosed and runs in oil for reliability.
Helical gears are used for quiet operation.
Differential design reduces scuffing of the turf during turns because the inside wheels turn slower than the outside wheels (vehicles that have a solid axle shaft must skid the inside wheel when making a turn).
Traction assist (differential lock) is built into the transaxle:
Allows locking the rear drive wheels together
Provides increased traction in tough spots
A neutral start safety interlock is provided for the engine ignition system.
Heavy-duty rear axle housings
Gator TS 4X2
Bolt-on cast-aluminum rear axle housings provide an extremely strong supporting structure.
Large, sealed bearings are located inside the housing for better protection
Forged-splined shaft for increased torsional strength
Gator TX 4X2
One-piece forged axles are splined for maximum strength.
Large sealed bearings for better protection and load-carrying capabilities
Forged-splined shaft for increased torsional strength
Nodular cast-iron housing for increased durability
Features operating conveniences such as cushioned bucket seating, cup holders, 12-V outlet, glove box, and fuel gauge
Numerous features offer the operator and passenger a comfortable ride and provide many operating conveniences.
Side-by-side bucket seating provides room for one operator and one passenger
Hip restraints serve as a handhold and help keep the operator and passenger in their seats over rough terrain
Both seats tilt forward for dry storage and ease of service
Choice of adjustable driver's seat attachment
Hour-meter is standard to assist in maintaining regular service intervals
Integrated cupholders
12-V outlet is located on the instrument panel
The control location and walk-through platform provide easy entry/exit for the operator and passenger.
All models feature a park brake indicator light, hour-meter, and tank-mounted fuel gauge as standard equipment
Traction assist (differential lock) is hand operated and conveniently located between the operator and passenger seats
Traction assist indicator light (Gator™ TH 6X4 only)
Glove box is located in the dash to provide a convenient storage area for small tools and operator's manual
Grab bar is provided for the passenger
Center-mounted key switch
Additional storage is provided between the seats
Specs & Compare
Key Specs

TS 4x2
Current Model
Engine power
10.1 kW
13.5 hp
Cargo box dimensions
1003 x 1245 x 229 mm
39.5 x 49 x 9 in.
Cargo box capacity (weight)
227 kg
500 lb
Towing capacity
408 kg
900 lb
Front suspension
Independent spring-over-shock, single A-arm
Rear suspension
Two high-floatation, low pressure tires (solid axles)
Final drive
Fully enclosed; oil bath
Four wheel drive
No
Fuel capacity
18.9 L
5 U.S. gal.

Engine

Type
Four-cycle gas
Displacement
400 cc
24.4 cu in.
Power
10.1 kW
13.5 hp
Cooling system
Air

Drivetrain

Transmission
Continuously Variable Transmission (CVT)
Final drive
Fully enclosed; oil bath
Four wheel drive
No
Traction assist
Mechanically activated differential lock
Descent control
No

Suspension

Front
Independent spring-over-shock, single A-arm
Rear
Two high-floatation, low pressure tires (solid axles)

Brakes

Type
Wet disk in transaxle
Park brake
Wet disk, hand operated

Tires / Wheels

Front
Two 22.5x10-8 4PR all-terrain on steel wheels
Two 22.5x10-8 4PR turf on steel wheels
Rear
Two 25x13-9 4PR all-terrain on steel wheels
Two 25x12-9 4PR turf on steel wheels

Dimensions / Capacities

Wheelbase
1770 mm
69.7 in.
Weight
Dry: 415 kg
915 lb
Length
2642 mm
104 in.
Width
1525 mm
60 in.
Height
1108 mm
43.6 in.
Tread centers
Front: 1270 mm
50 in.
Rear: 1220 mm
48 in.
Ground clearance
Transaxle: 152 mm
6 in.
Foot platform: 249 mm
9.8 in.
Fuel capacity
18.9 L
5 U.S. gal.
Cargo box dimensions
1003 x 1245 x 229 mm
39.5 x 49 x 9 in.
Cargo box capacity (weight)
227 kg
500 lb
Payload capacity
408 kg
900 lb
Towing capacity
408 kg
900 lb
Hitch
Optional: 3.175 cm
1.25 in.

Features

Color
Green/yellow
Power steering
No
Battery / Alternator / Power port
Battery: 12 V 340 CCA
Alternator: 16.6 amp
DC outlet: 12 V
Instrumentation
Fuel gauge, hour meter
Storage
Cup holders, glove box
Seating
Bucket seats

Additional information

Country of Manufacture
U.S.
Date collected
8-Jun-22
Reviews
Angel
Location: Jefferson City
Length of Ownership: 3months
Usage: Weekly

Priced Right
I bought tis gator back in November and I am glad I did. Can't wait for spring to come around so i can drive it.
Tomas 37
Location: North Carolina
Length of Ownership: 1yearOrLonger
Usage: Yearly

Best machine over!!!
I have a John Deere Gator it does everything I wanted to do
Mark14876
Location: South Beloit, IL
Length of Ownership: 1yearOrLonger
Usage: Weekly

Tough machine
I purchased my TS 4x2 4 years ago. I had 3 acres of lawn and plenty of projects. It has paid for itself in saving time and my back! We have since down sized to 1 acre but still very useful. Always starts even at -10 below during the winter.
Joedoe
Location: Ennis, Tx
Length of Ownership: 1yearOrLonger
Usage: Daily

Wonderful
We bought a John Deere Gator in 1995. We are still driving it. We have nearly 100 acres and this old friend has been over every inch of it. We had cows for many years and it helped us feed and care for them. We still use it to harvest the garden and bring to the house. It still drives hubby around to check all the water sprinklers and get the mail every day. We've replaced most of the exterior parts more than once and they could use it again. We are getting older and so is the gator. Currently the starter is acting up but it's expected after 25 years. We frequently comment we would never have done all this without our gator. By the way, we were the 1st on our road to have a gator. Now everyone as something similar.
Pros:
Jesse
Location: Gainesville Ga
Length of Ownership:
Usage:

Great looking machine
I purchased this product in early April 2019. I needed this gator for my small farm and I purchased from my friends at Ag Pro in Carnescille Ga. I am looking forward to many years with my gator and Ibfeel it will serve me well in the years to come. John Deere makes a great product and I enjoy their tractors and gator products as well.
Pros:
very user friendly
good looking machine
Cons:
nothing not like about the ts
jjamer
Location: Alto,Ga
Length of Ownership: 1week
Usage: Weekly

Good Looking machine for my small farm
I purchased this gator after selling my 2004 CX back on 3-30-19. My CX cost 4850 new and I was offered 3850 and I decided to let it go because I always wanted the TS but in 2004 it was 6300 dollars and I thought that was too expensive for me. After I sold my CX I went straight to Ag Pro in Carnesville, Ga and they had a TS gator with my name on it! I purchased this gator and it runs and cranks so easy and is so ergonomically fit to use. This machine feels so solid and I feel it will serve me for many years to come. I like the easy to read gas gauge beside the seat because this a real handy feature. I have only 6 hrs.on this machine and I will post another post when I log a few more hours in the near future. I believe this machine is bullet prof and I look forward to using it on my small farm for many years to come. The only thing that worries me is changing oil. The filter seems like it will be a pain to get to but I will cross that bridge in a few more hours. Overall, I like the look and quality feel of this machine. I am very satisfied with my new purchase.
Pros:
very user friendly
quality built
Cons:
oil filter is hard to get to
Brad58
Location: Minnesota
Length of Ownership: 1yearOrLonger
Usage: Daily

It even Plows Snow!
I bought a used Gator 4x2 with 1400 hours on it and used it all summer with my business without any trouble. I put a UTV plow on the front with a winch to raise and lower. My Gator just keeps on working. I live north of the Twin Cities and have a huge drive and parking area. All I have to do is lock the differential and away we go. No need for chains just put some weight in the back and your good to go. My Gator sits in the unheated pole barn and the gas engine starts every time. This is a great machine.
jeff50
Location:
Length of Ownership:
Usage:

2003 4by2
bought our gator new in 2003,and it has been 100% reliable ever since, i have also restored 6 abused gators i find @ auctions , hedge rows, ypu name it! they are easy to work on, i have always enjoyed working on them,and they are always easy to sell. its a great retirement hobby! thanks jeff r.
gerardgolf
Location: orlando, fl
Length of Ownership: 1yearOrLonger
Usage: Daily

Ignore this review if you take yours to the dealer for service
After burning up every other brand of utility vehicle, I have bought at least 6 of these Gators in a row, and have used them all over 5,000 hours with very little maintenance other than regular schedule. With this many hours they need service at least monthly, so i can't have them down long enough to take to dealer. But the one i bought last year is awful. The oil filter is almost impossible to get to. ( I have tried 5 different oil filter tools and none of them work. i would love to know what tool the deere mechanics use. I have looked into a relocating kit because it is so bad. The oil filler neck is tucked under behind the seat in a place that is hard to get to even with a long funnel. The fuel filter is behind the oil filter, making it literally impossible to change without taking apart the entire cowling. On top of all that, this specific machine never idles quite right. I will research other utility machines before i buy another Gator.
Pros:
does the job
reliable at 2k hours
Cons:
mustangsally
Location: Townsend Ma
Length of Ownership: 1yearOrLonger
Usage: Daily

EXCELLENT!!!!!!!!!!!!!!!!!!!!!!!!!!!!!!!!!!!!!!!
I have had my TS Gator 9 yrs. bought brand new in 2005.I have done everything with this little buggy...clean horse stalls, haul wood, hay, loam, kids on hay ride and just all around an excellent machine!!!! I added the floor mat & bed liner when new..all the metal parts are rusting and paint falling off...I wish JD would do a make over on my machine!!!! all the work & fun and has 740 hrs which is nothing........original tires which are dry rotting now SO..pull out the compressor...I LOVE MY GATOR....Happy Trails John Deere......Nancy J.Loudon
Pros: