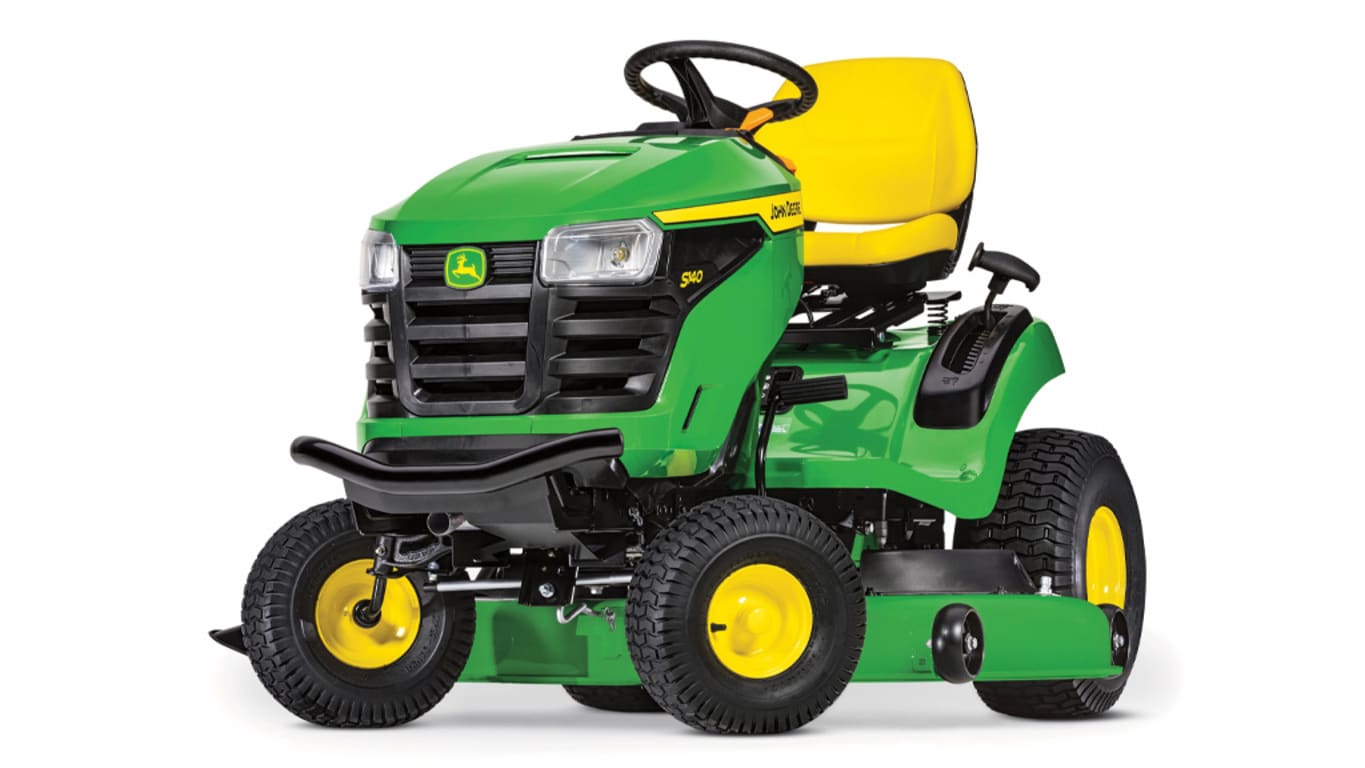 John Deere S140
Lawn Tractor
22 hp (16.4 kW)* V-Twin Engine
48-in. Edge™ Mower Deck
Electric PTO, Hydrostatic Transmission w/side-by-side pedals
Operator station is wide and comfortable
15-in Open-Back seat and standard front bumper
2 year/120 hour bumper-to-bumper warranty
Features
Engine is powerful and smooth-running V-twin design
A 22-hp (16.4-kW) V-twin engine provides plenty of power and torque to handle tough mowing, mulching, and bagging:
V-twin cylinder design for greater torque, lower vibration, and improved sound quality
Electronic ignition for fast starts
Spring-return feature to ensure the operator will not mistakenly leave the throttle lever in the choke position
Cast-iron cylinder liners for longer engine life
Overhead valves for excellent power and fuel economy
Full-pressure lubrication and oil filter for cleaner oil, prolonging engine life and extending the time between oil changes

More effective when operating the tractor on an incline

No-tools oil drain system for servicing convenience

Fuel tank
The capacity is 2.4 U.S. gal. (9.1 L).
The fuel filler opening is conveniently located under the seat.

Filling the tank without spilling is easy.
A tethered fuel tank cap is more convenient.
The sealed fuel cap helps keep vapors inside the tank.
Frame made of full-length welded steel for reliability
The solid one-piece frame is constructed of 12-gauge, 0.105-in. (2.66-mm) steel:
Full-length, robotically welded frame design has high-strength steel rails for added strength and long life.
One-piece, steel fender deck is bolted to the frame.
Cast-iron front axle will not bend
The front axle is constructed of solid cast iron that will not bend:
Automotive-like steering system with sector and pinion steering gears and single drag link with a tie rod provides a very strong, low-effort, and tight-turning system.
Three grease fittings, on both steering spindles and center pivot, allow for regular lubrication to help maintain easy steering and minimize wear.
Large, 0.75-in. (1.9-cm) diameter wheel spindles provide excellent durability.
Front bumper protects the tractor
The front bumper is included on the S130, S140, S160, S170, and S180. It is available as an optional attachment for the S100, S110, and S120.
Additional front-end protection
Attractive, bold style
CargO Mount™ system makes installation of rear bagger and other attachments easy
The CargO Mount system is a combination of front- and rear-mounting points providing convenient and easy installation of the sun canopy, rear bagger, and other attachments.
Snow removal is a strength of lawn tractors
An advantage of lawn tractors is their ability to use equipment for snow removal. Lawn tractor owners can add a John Deere snow blower or front blade to make quick work of moving snow whenever the need arises. Weather enclosure and tire-chain attachments add comfort and performance.

Equipment available for snow removal includes:
44-in. (112-cm) Snow Blower
46-in. (117-cm) Front Blade
Tire chains or TerraGrip traction belts
Weather enclosure
Weights
Hydrostatic transmission gives an infinite choice of ground speeds
A Kanzaki® Tuff Torq® hydrostatic transmission gives an infinite choice of speeds and makes changing the direction of travel easy. Side-by-side foot pedals control the speed and direction of travel:
Automotive-type accelerator controls ensure easy operation.
Operator can change direction without lifting foot off the platform.
Large pedal surface gives superior operator comfort.
Appropriate transmissions are used in each model, depending on rear tire size and tractor performance requirements, to ensure excellent performance and reliability:
Tuff Torq TLT200 – S100, S110, S120, S130, S140, and S160
Tuff Torq K46 - S170 and S180
Kanzaki and Tuff Torq are trademarks of Kanzaki Kokyukoki Mfg. Co., Ltd.
Operator station designed for operator comfort and convenience
The operator station is designed for operator comfort and easy operation:
Controls are positioned where they are easy to reach and use to control the tractor.
The steering wheel is positioned and angled to give the operator plenty of room and steering comfort.
The seat is positioned to provide the most comfortable operator position.
Controls are easy to see and use:
Large, three-spoke steering wheel for greater operator comfort and control
Ignition switch is on the dash for starting ease
Wide footrest areas with non-slip, anti-vibration floor mats are provided for operator comfort:
The wide footrest makes it easier to step over the mower deck while entering or exiting the seat.
Debris-removing channels help keep the footrest area clean and dry.
Operator comfort is enhanced with a 15-in. (38-cm) high-back, two-piece seat with an open back:
The open-back seat design keeps the operator cooler
Especially helpful when operating the tractor for extended periods of time
Easily adjusted forward or rearward while in the seat
Seat travel of 5.5 in. (14 cm) and 10 different positions to adjust for operator height
Two long seat springs give plenty of seat travel to smooth out the ride, keeping the operator comfortable while operating the tractor.

The seat can be tilted forward for protection from the elements and to provide easy access to the fuel tank.
Storage compartment and beverage holder, located on the right-side fender, are conveniently located and easy to use.

NOTE: A storage compartment cover is standard on S120, S130, S160, S170, and S180 Tractors and optional on the S100, S110, and S140.
Fender flares included on the S130 Tractor cover the tires more completely and add style to the tractor.
Instruments and controls are easy to find and convenient to use
Instruments and controls
The contoured dash has clean, attractive styling:
Controls are color-coded and labeled for easy identification.
Controls are logically placed and easy to reach.
The hour meter makes it easy to tell when oil changes and other maintenance should be performed.
Functional design of the controls provides good appearance and a comfortable feel.
Side-by-side transmission control pedals
Side-by-side foot pedals control the speed and direction of travel:
Automotive-type accelerator controls ensure easy operation.
Operator can change direction without lifting foot off the platform.
Large pedal surface gives superior operator comfort.
Cruise control (S120, S130, S160, S170, and S180)
Cruise control is available on the S120, S130, S160, S170, and the S180:
To engage, lift the cruise lever and hold until the foot is removed from the forward pedal.
The cruise control can be released by pushing on the brake pedal or the forward pedal.
Mower deck height adjustment
A spring-assisted, ergonomically designed lift lever simplifies adjusting the mower cut height:
Increments of 1/4 in. (0.64 cm) allow fine-tuning the cut height.

Cut height is adjustable from 1 to 4 in. (2.5 to 10.2 cm).

The lift handle is shaped for easy use and is out of the way of entering or exiting operators.
Parking brake control
The parking brake control is conveniently located for easy access. It holds the brake pedal securely in the locked position.
Electric power take-off (PTO) clutch is easy and convenient
The heavy-duty electric PTO clutch is operated with a convenient dash-mounted switch.
Reverse implement option (RIO)
Using RIO
CAUTION: Children or bystanders may be injured by rotating blades. Before traveling forward or rearward:
Carefully check the area around the machine.
Disengage the mower before backing up.
NOTE: Backing up while the mower is engaged is strongly discouraged. RIO should be used only when operating another attachment or when the operator deems it necessary to reposition the machine with the mower engaged.
Stop forward travel.
Look behind the machine to be sure there are no bystanders.
Push and hold in the RIO switch while depressing the reverse pedal slightly for a hydrostatic transmission or moving the transmission shift lever to the rear slot (reverse) for a continuously variable transmission (CVT)/automatic transmission.
NOTE: If the engine and mower or other attachment stops while repositioning the machine, return the attachment engagement lever/switch to the off position. Start the engine and engage mower or other attachment. Begin again with step 2.
Release the RIO switch and reposition the machine as the machine begins to move rearward.
Resume forward travel. The mower or other attachment should continue operating.
Repeat procedure to position the machine again.
Fuel tank gauge shows fuel level from the operator's seat
The fuel tank gauge shows how much fuel is in the tank and can be seen without leaving the operator's seat:
Easy to check fuel level
Convenient location
Serviceability is convenient with an easy-open hood
The one-piece hood opens easily to permit checking and servicing the engine:
Important service points are located within easy reach.
A service interval decal is provided inside the tractor hood for convenience when servicing the tractor.
The engine fuel and oil filters, the oil check/fill tube, and the oil drain tube are exposed for serviceability when the hood is opened.

The seat tilts up and out of the way to make adding fuel easy.
Quick response (QR) codes link to owner information web pages
John Deere riding lawn mowers are supported by owner information web pages that include links to:
Safety and how-to videos
Operator's manuals
Parts catalog
Maintenance reminder sheets
Attachments
Warranty registration
To speed access to owner information web pages, a QR code is printed onto a PIN label located near the fuel fill. Since each vehicle model has its own web page, the links are specific to the owner's model. The QR code also includes the vehicle's unique PIN, which enables warranty registration without the need to manually enter the vehicle's PIN.
Hood will not rust or dent, and includes quality headlights
Molded-in color material reduces sound and will not rust or dent.
Same quality hood material as on larger John Deere tractors provides good resilience and UV resistance for an extended time
Openings on the side let in plenty of cooling air while keeping the sound level low.
Two headlights provide good lighting for nighttime operation.
Help maintain your mower and lawn with the MowerPlus™ app and connector
Overview
Keep a mower running its best and know how it mows with the John Deere MowerPlus app. Simply scan the mower's barcode to get custom information about the mower.
Benefits
Engine hours, fuel level, and battery health (as compatible)
Mowing history with time, distance, area, and speed
Current day and five-day weather forecast based on location
Walk-through setup guides
Expert mowing tips
Useful attachments for future purchase
Periodic maintenance reminders
Safety instructions
To download the free MowerPlus app, visit the Apple® App Store® or Google Play™ store.
Additional details
MowerPlus connectors (sold separately)
Three MowerPlus connectors are available to transmit vehicle information to the MowerPlus app.
BUC10510 MowerPlus Hour Meter Connector is for use with:
Model year 2003 to 2020 100 Series Tractors, including all models with an E, D, LA, or L prefix
Model year 2015 to 2020 S240 Tractors (serial number -880,000)
S100, S110, S140, and S220 Tractors
BUC10929 MowerPlus Deluxe Smart Connector is for use with:
All S120, S130, S160, S170, and S180 Tractors
Model year 2021 and newer S240 Tractors (serial number 880,001-)
Model year 2021 and newer Z515E, Z530M, Z530R, and Z545R (serial number 010,001-)
BUC10537 MowerPlus Smart Connector is for use with:
Model year 2016 and newer Select Series X300 and X500 Tractors
All the MowerPlus connectors transmit engine hour information to the app, making it easy to track maintenance intervals. The MowerPlus Smart Connector and MowerPlus Deluxe Smart Connector also transmit the fuel level.
MowerPlus connectors require the MowerPlus app on a mobile device to use. The John Deere MowerPlus app and operating system requirements can be found in the mobile device's app store. The MowerPlus app is only available in the English language, and it is not available in all countries. BUC10510 MowerPlus Hour Meter Connector requires iOS® version 10 or higher and is not compatible with Android™ operating systems.
Apple and App Store are trademarks of Apple, Inc. Google Play and Android are trademarks of Google LLC. iOS is a trademark of Cisco Technology, Inc. used under license by Apple Inc.
The Edge™ cutting system gives superior performance
The Edge cutting system has been trademarked to emphasize the advantages of the John Deere mower deck designs. They give superior mowing performance, convenience, and reliability:
The deep deck design lifts grass for a clean, even cut.
The smooth underside has no nooks and crannies, preventing grass buildup and evenly dispersing grass clippings.
The rolled outer edge of the deck provides extra strength and protection.
Dual-stage E-coat and powder paint coatings provide extra protection from rust.
Flexible discharge chute minimizes property and mower deck damage.
The 48-in. (122-cm) Edge Mower Deck is a three-spindle design with heavy-duty characteristics:
The 12-gauge, 0.105-in. (2.7-mm) steel deck provides years of dependable mowing.
Included three-in-one blades work well for side-discharge, mulching, or bagging.
The blade-to-spindle design provides a unique mounting system for the mower blade that gives extra safety and convenience.
Four mower deck wheels are standard equipment for a smooth mowing job in rolling terrain.
No tools are required to switch from mulching to side discharge to rear bagging.
A mulching cover is an optional attachment that can be installed without the use of tools.
High-performance mulching blades are available to enhance mulching performance.
Mower wash port
A wash port is provided to make cleaning the underside of the mower deck easy:
A hose connector is included with mower deck.
StarLock™ blade design
The StarLock blade design keeps the blade bolt at the correct torque for easy removal.

Optional blades for difficult mulching or bagging conditions are available.
Optional bagger
A cut-and-throw, 6.5-bu (229-L) bagger is sold separately and comes with bagging blades. Special bagging blades are not required but they can enhance performance.

The bagger kit provides an efficient means of collecting grass clippings and leaves. It can be set up without tools in minutes and has easy-to-empty bags.
Two-year or 120-hour bumper-to-bumper warranty is included
An exclusive 2-year or 120-hour single-source, bumper-to-bumper warranty* is included for all John Deere 100 Series Tractors.
The warranty is hassle free, with John Deere handling the service and paperwork.
*Term limited to years or hours used, whichever comes first, and varies by model. See the LIMITED WARRANTY FOR NEW JOHN DEERE TURF AND UTILITY EQUIPMENT at JohnDeere.com or JohnDeere.ca/TUWarranty for details.
Specs & Compare
ADD MODEL

Key Specs

S140
Current Model
Engine power
22 hp
16.4 kW
Oil change
No-tools oil drain with replaceable filter
Engine manufacturer/model
44N677 (M44)
Transaxle type
TLT200 hydrostatic, two-wheel drive
Transaxle control
Side-by-side pedals
Rear tires
20x8-8
Lift system type
Spring-assisted hand-grip lever
Cutting width
Edge™ mower deck, 48 in.
122 cm
U.S. warranty
2 year/120 hour bumper-to-bumper* (*Term limited to years or hours used, whichever comes first, and varies by model. See the LIMITED WARRANTY FOR NEW JOHN DEERE TURF AND UTILITY EQUIPMENT at JohnDeere.com or JohnDeere.ca/TUWarranty for details.)

Engine

Power
22 hp
16.4 kW
Displacement
44.2 cu in.
724 cc
Manufacturer/model
44N677 (M44)
Type
Overhead valve, full-pressure lube, oil filter
Cylinders
V-twin
Governor
Mechanical
Choke/speed control
Single lever with spring-return on choke
Cooling method
Air
Air cleaner
Cartridge
Oil change
No-tools oil drain with replaceable filter

Fuel system

Type
Gasoline
Fuel delivery
Pulse pump and carburetor
Fuel gauge
Mechanical, viewable from seat
Fuel tank location
Rear
Fuel fill opening
Center, 1.75 in.
4.45 cm
Fuel tank capacity
2.4 U.S. gal.
9.1 L

Electrical system

Battery
12 V
300 CCA
Charging system
Regulated, 8 amp
Engine starter
Bendix type
Hour meter
Yes
Headlights
Two standard, incandescent
Taillights or reflector
No
Backup lights
No
Rear work lights
No
12-V outlet
No

Transaxle

Type
Hydrostatic, 2-wheel drive
Control
Side-by-side pedals
Cruise control
No
Oil cooler
Fins and fan on transaxle
Oil filter
Yes, not serviceable
Differential lock
No
Forward speed
0-5.5 mph
0-8.9 km/h
Reverse speed
0-3.2 mph
0-5.2 km/h
Brakes
Internal wet disk

Chassis

Frame
Full-length welded steel
Primer/paint
E-coat/powder
Weight bracket
Optional rear
Receiver hitch
No
Front axle
Cast-iron front axle, powdered-metal front wheel bushings
Spindle bushings
No
Front tires
15x6-6
Rear tires
20x8-8
Hood material
Molded-in color material reduces sound, will not rust or dent
Fender deck material
Stamped steel
Floor mats
Yes, with debris removing channels
Storage
Storage tray with optional cover
Service interval decal
Yes
Fender handles/grips
No
Cup holder
Yes
Equipment mounting
CargO Mount™ system
Maximum towing capacity
500 lb
227 kg

Steering

Type
Sector and pinion with single drag link and tie rod
Four-wheel steer
Not available on this model
Steering wheel
Standard, diameter - 12 in.
30.5 cm
Tilt steering wheel
No
Turning radius
18 in.
45.7 cm
Uncut circle radius
20 in.
50.8 cm

Seat

Type
Two piece with open-back
Seat back height
15 in.
38 cm
Armrests
No
Fore-aft adjustment
While seated, 5.5 in.
14 cm
Seat suspension
Tilt, two coil springs

Lift system

Type
Spring-assisted hand-grip lever
Hydraulic outlets
No
Mower cut height
13 positions, 1-4 in.
2.5-10.2 cm
Cut height increments
0.25 in.
0.64 cm
Preset cut height
No

Mower deck

Type
Side discharge
Cutting width
Edge™ mower deck, 48 in.
122 cm
Construction
Stamped steel deck shell
Mower deck material
Steel, 12 gauge
0.105 in.
2.7 mm
Mower wash port
Yes
Mower drive system
Electric power take-off (PTO) clutch
Mower wheels
Four
Mower wheel adjustment
One bolt
Mower level adjustment
Easy-level deck

Mower attachability

Type
Slide under tractor
Front draft arms
One spring clip
Rear draft arms
Two spring clips
Mower wheels rotate
No
Drive system
Single belt

Safety

Meets ANSI standard
Yes
Meets OPEI standard
Yes
Backup protection
Reverse Implement Option (RIO)
Safety video
Yes

Buyer's notes

Notes
Molded-in color material reduces sound, will not rust or dent
Durable primer and powder paint finish
Full-length welded steel frame
Warranty
2 year/120 hour bumper-to-bumper* (*Term limited to years or hours used, whichever comes first, and varies by model. See the LIMITED WARRANTY FOR NEW JOHN DEERE TURF AND UTILITY EQUIPMENT at JohnDeere.com or JohnDeere.ca/TUWarranty for details.)

Optional equipment

Mowers
Rear bagger
2-bag, 6.5 bu
229 L
Powered material collection
Mulching system
Mulch cover
Front thatcher
Front blade
46 in.
116.8 cm
Mid-mount blade
Snow blower
Two-stage, 44 in.
111.8 cm
Rotary broom
Rotary tiller
Sleeve hitch
3-point hitch
Rear power take-off (PTO)
Plow, moldboard
Box scraper
Cultivator
Rear blade
Disk harrow
Landscape rake
Sprayer
Tow-behind, 15 U.S. gal.
56.8 L
Mounted, 15 U.S. gal.
Tow-behind only, 25 U.S. gal.
94.6 L
Spreader
Tow-behind only, 125-175 lb
57.7-80 kg
Front bumper
Included
Brush guard
Weather protection
Weather enclosure
Sun canopy
Sun canopy
Rear receiver hitch
Bucket holder
Yes, single bucket
Grass striping
Lawn striping kit
Tractor shovel
Front loader
Other equipment
Tow-behind tools
16

Dimensions

Height
44 in.
1118 mm
Overall length
69.7 in.
1770 mm
Wheelbase
48.9 in.
1242 mm
Width with mower
60.8 in.
1544 mm
Width with mower (deflector raised for storage)
51.7 in.
1313 mm
Width without mower
39.2 in.
996 mm
Weight
Mower, no fuel, 468 lb
212 kg

Additional information

Manufacturing location
Greeneville, Tennessee, USA
Date collected
1-Dec-21
Reviews
Roger1
Location: North Carolina
Length of Ownership: 1yearOrLonger
Usage:

S140 Smoking after 20 hours
Bought my s140 April 2021 and now for the first 2 minutes after start it is smoking. Smoked my whole shed out. Trying to figure the warranty out now. Might be going to a Husqvarna for now on.
S140
Location: North Carolina
Length of Ownership: 1yearOrLonger
Usage: Weekly

John Deere s140 bolts
Purchased this mower 2021 summer. Nice to look at but the bolts shear off after several mowing, destroying the bolts and belt which is costly to repair and leaves you with out a mower weeks at a time! Third time for it to be repaired.
Buggs
Location: Northeast Texas
Length of Ownership: 6months
Usage: Weekly

Strong mower
I bought this John Deere S-140 mower at the start of mowing season 2022. My satisfaction is tempered by the 20 inch tires. Coming off of a 2014 TroyBilt Super Bronco XP 50 that had the larger wheels, I find more difficulty in getting across above ground tree roots and rough terrain. I also dislike the left handed lift for the deck. The spring assist isn't as much help as I needed with my arthritic shoulder so I added 2 rubber straps to help out. It's a Lawn Mower not a garden tractor and does a fine job mowing with plenty of power.
SoSalty
Location: Alabama
Length of Ownership: 1yearOrLonger
Usage: Weekly

Reliable Well Past Warranty
I've used this mower for my rough and hilly 3 acres for 6 yrs. Other than seasonal maintenance, the plastic steering bushings and recently, the spindle bearings are all that have been replaced. The motor doesn't smoke or use oil after 480 hrs. I keep it under a lawn mower port; the tires and seat still look good. It uses a gallon per hour of mowing. The mower belt needs replacing annually, (60 hrs) and the drive belt semiannually. At 5 years the John Deere dealership replaced the steering bushings. They said that was timely as other problems may have developed if I had waited. This year 2 mower belts came apart. Discovered the spindles were worn out which allowed the belt to rub against the mower platform supports. I could run it for years more but 3 acres deserves a John Deere zero turn.
Navy Retired
Location: Clinton, TN
Length of Ownership: 1yearOrLonger
Usage: Weekly

Lost power
I used to be able to mow the incline on my front lawn the first year. Second year it could no longer had the power to go up the hill. I find it totally annoying that the John Deere operators manual does not have the words, muffler or exhaust. Would have been nice had John Deere chose to put a link for the manual along with description of the product.
Hmmm 45
Location: Mid-Michigan
Length of Ownership: 1month
Usage: Weekly

S140 -with 5.4 hrs
Have had my S140 lawn tractor for 5.4 hrs. Of run time.
No mulch
Location: Petersburg, VA
Length of Ownership: 1week
Usage: Weekly

Mulch kit
New tractor just over a week old. Pretty much like everything about it with the exception of the mulch kit. Impossible to install! Must not be holding my tongue, or don't know the right curse words. Gotta be a trick to it, please share!
Br549
Location:
Length of Ownership: 1yearOrLonger
Usage: Weekly

Does not run like a Deer
I got this mower last year. Deck belt came off 3 times. Now it's broken. Mower has good power just will not cut grass well. Little tires lose traction and spin tearing up the yard on hills.
Evolutionman
Location: Houston
Length of Ownership: 1yearOrLonger
Usage: Weekly

S140 for all my yard needs; 1.33 acres
Bought this S140 one year ago. Changed air, oil/ filter, lubed all fittings. Runs great, quick start