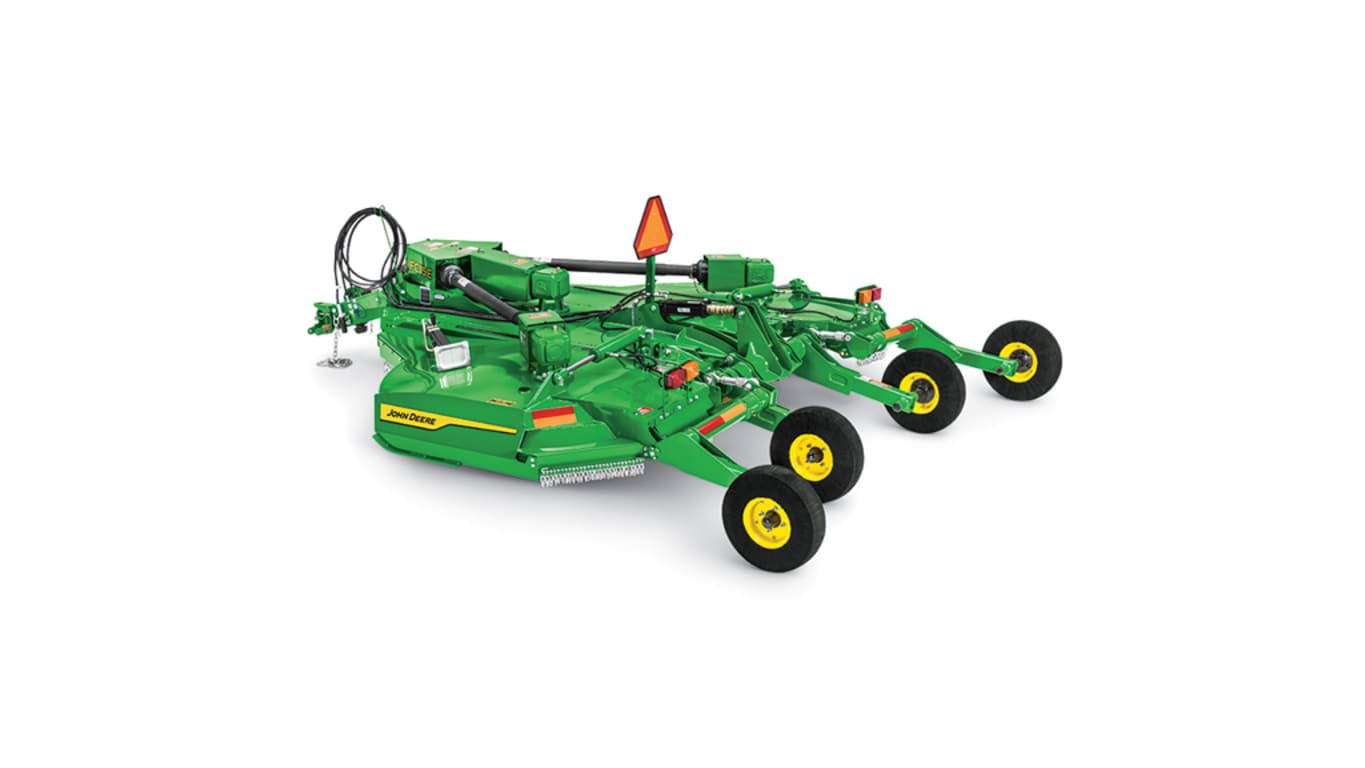 John Deere FC15E
Flex Wing Rotary Cutter
15 ft. cutting width
540 or 1000 PTO RPM
50-plus HP tractor PTO compatibility

Laminated or pneumatic 4-bolt tires

Features
What is the best cutter for your job?
NOTE: Only for E, M, and R flex-wing models.
John Deere flex-wing rotary cutters lead the way with innovative design, superior durability, and proven performance. Valuable features are included such as a dome-shaped smooth deck, which prevent water and debris from accumulating on the top of the machine and makes it easy to clean up.
Built with a superior structural design that will satisfy different applications and segment desires, the single deck on the flex-wing cutters adds volume on the cutting chamber, allowing the machine to process more material and translating into an improvement in cut quality. The cutting chamber design allows the material to flow through the area and be discharged evenly throughout the width of the machine.
To help promote safe operation, John Deere rotary cutters are equipped with front and rear safety-chain shields and lighting kits to comply with U.S. regulations. John Deere rotary cutters continue to advance in value with larger, more powerful gearboxes, and updated constant-velocity (CV) drivelines.
Here are situations when a rotary cutter provides value:
Clipping pastures encourages grass growth, optimizing on valuable pasture acreage.
Cutting grass and stalks helps control insects.
Routine cutting keeps weeds from reseeding.
It is the most cost-efficient way to cut roadsides, parks, cemeteries, airport fields, hydro, gas, and telephone easements, and all other types of open properties.
Cutting grass waterways encourages root development and helps prevent erosion.
Knocking down stalks such as cotton, corn, or milo speeds up decomposition. This is essential in no-till and minimum-till fields.
Clearing out brush is easy.
Control undergrowth and grass in orchards, vineyards, and groves.
Decide what model to use based on:
The size of the area to mow versus the size of the machine – the bigger the area to mow, the bigger the mower needs to be to perform efficiently during mowing hours.
The amount of time and frequency it will be used – for longer hours and more frequency, choose a heavier duty machine.
Tractor compatibility – if there is a tractor the operator will be using, look for the tractor compatibility sheet to identify appropriate options.
Choose the right features to satisfy specific needs – check out the value and benefits for each option to determine which one is the best fit for the work
John Deere flex-wing rotary cutters are available in three duty-level categories and four width sizes.
E-Series Flex-Wing Cutters are designed for your utility tractor to increase efficiency in each pass. They are ideal for making short work of grass, weeds, small bushes, and light shrubs.
The E Series is a rotary cutter that targets small farm owners and large homesteads, but with its 5.1-cm (2-in.) diameter cut capacity, it is applicable for all types of livestock pastures, as well as general mid-duty property maintenance applications. Improved pasture maintenance results in better growth of edible plant material. The E Series allows flex-wing operators to use a smaller tractor with a minimum 29.8 power take-off (PTO) kW (40 PTO hp), which means fuel savings. It is available both in 4.6-m (15-ft) and 3.6-m (12-ft) sizes, providing increases productivity and terrain coverage.
The E Series is equipped with a 540-rpm Category 5 driveline, rigid axles with four puncture-proof laminated tires, and round pan-type blade holders. The E Series shares many design features of the M and R Series, such as the easy-clean deck, round blade pans, and a cast self-leveling clevis hitch.
M-Series Flex-Wing Cutters are suited for larger property owners and ag producers.
A flex-wing rotary cutter is the best way to go when dealing with large areas and uneven terrain. Get a lot done on the job and then fold up the wings for easy transport. Choices include 540 PTO rpm or 1000 PTO rpm, laminated or severe-duty ag tires, and round stump jumper or bar-type blade holder. Put these M-Series Rotary Cutters to work reclaiming overgrown pastures, mowing rights-of-way, and chopping row-crop residue. With the redesigned cutting chamber, you are ready with great capacity and better crop flow. That means an unrestricted airflow, which translates into cleaner cutting and more uniform distribution of cut material.
A tractor with a minimum of 41 PTO kW (55 PTO hp) is required. The type and volume of material being cut will affect horsepower requirements.
R-Series Cutters are designed to multi-task in tough conditions, from cleaning roadside ditches to cutting under power line easements, recovering Conservation Reserve Program (CRP) land, airfield mowing, and road-rail verges. The R-Series range is ideal for contractors and government users requiring an industrial-strength machine with a narrow road transport width.
The R-Series Flex-Wing Rotary Cutter was engineered for the toughest roadside mowing and commercial applications. It comes in the standard 4.6-m (15-ft) and 6.1-m (20-ft) dual-wing configurations and in a right-wing-only weight-box configuration.
The 3.1-m (10-ft) FC10R Weight-Box Rotary Cutter is designed from the FC15R base model and incorporates many of the same features, but it is specifically enhanced for roadside cutting. The left wing of the cutter is removed and replaced with a weight box to provide stability for the unit. This allows the tractor to be operated alongside the road for mowing. Municipalities and commercial mowing operators utilize these units for roadside mowing where a full-sized unit is too wide and where the desired roadside cutting width is less. It is available in 540 rpm only.
The main difference between the R-spec and M-spec models is that the R-spec is a heavier, more durable rotary cutter that can handle more challenging conditions and terrains for longer working times. A thicker deck, standard deck rings, ball hitch, independent wing hydraulics, and larger tires.
The terrain and type and volume of material being cut affect horsepower requirements.
E-spec

Sizes: 3.7-m (12-ft) and 4.6-m (15-ft)
E-spec models cut brush up to 50.8 mm (2 in.) in diameter
Two tire options to choose from
One selective control valve (SCV) hydraulic connection
Available in 540 rpm
Tractor compatibility – see chart
Great choice for the property owners with light-duty applications

M-spec

Sizes: 4.6-m (15-ft) and 6.1-m (20-ft)
M-spec models cut brush up to 76.2 mm (3 in.) in diameter
Additional options may be included to suit specific needs
Optional availability to increase drivetrain capacity
Two SCV hydraulic connections
Available in 540 or 1000 rpm
Good match for medium-duty customers and their versatile jobs

R-spec

Sizes: 3.05-m (10-ft), 4.6-m (15-ft), and 6.1-m (20-ft)
Three SCV hydraulic connections
R-spec models cut brush up to 101.6 mm (4 in.) in diameter
Available in 540 or 1000 rpm (FC10R only available in 540 rpm)
Excellent for roadside mowing and more demanding applications
Area cut with John Deere rotary cutters
| | | |
| --- | --- | --- |
| Rotary cutter width | Acres per hour | Minutes per acre |
| 1.2 m (4 ft) | 2 | 29 |
| 1.5 m (5 ft) | 2.5 | 23 |
| 1.8 m (6 ft) | 3 | 20 |
| 2.1 m (7 ft) | 3.5 | 16 |
| 2.4 m (8 ft) | 4 | 14 |
| 3.05 m (10 ft) | 5 | 12 |
| 3.7 m (12 ft) | 6 | 10 |
| 4.3 m (14 ft) | 7 | 8 |
| 4.6 m (15 ft) | 7.5 | 8 |
| 6.1 m (20 ft) | 10 | 6 |
NOTE:
Tractor speed of 8 km/h (5 mph) used in calculations.
Values are an approximation, and speeds and time will vary based on terrain, tractor, rotary cutter, vegetation, and weather.
Reduced by 17 percent allowing for overlaps, turns, and stops.
Safety
John Deere flex-wing rotary cutters are equipped with chains and lights as standard in all models.
Front and rear safety chains
Chain shields offer protection to the operator and the area surrounding the cutter yet allow uncut material to pass into the cutting chamber with minimal restriction.
An extra row of chain shields for the front, back or both sides can be added for increased protection against debris coming from the cutting chamber.
Lighting kit
Lights are required for U.S. regulations on implements wider than 3.05 m (10 ft). All cutters come standard from the factory with lights.
Transport lock
The center axle can be locked easily for transport or service by flipping the lock over the cylinder rod. Wing locks use a pin that can be conveniently stored when not in use. Additionally, on M and R Series, the wing locks are spring-loaded so they can unfold against gravity on slopes up to 5 degrees. Always use the transport lock on the wings and center axle while transporting or moving the machine.
Warranty
Five-year limited gearbox warranty provided on every John Deere rotary cutter
John Deere is so confident in the reliability of the gearbox that rotary cutters come with a 5-year limited gearbox warranty.
There is also 1-year warranty on the complete machine, including drivelines, clutches, and many other components.
Maintenance
John Deere flex-wing rotary cutters are equipped with an easy-clean, smooth-top single deck that allows material, debris, and water to be easily removed from the top of the machine.
Specs & Compare
Key Specs

FC15E
Current Model
Cutting width
4.6 m
15 ft
Cutting capacity (diameter)
50.8 mm
2 in.
Tractor PTO HP range
37 kW
50 hp
Transport width
At wing wheels: 2.8 m 9.1 ft
Deck thickness
11 gauge - 3 mm
0.12 in.
Side skirt thickness
3 gauge - 6 mm
0.24 in.
Approx. weight
2049 kg
4519 lb
Drivelines - Size - Main
CV ASAE Category 4, splined telescoping profiles
Blade tip speed - 540 rpm - 1000 rpm
540 rpm: 87.8 m/s
288 fps
Gearboxes
5-year warranty

Capacity

Cutting width
4.6 m
15 ft
Cutting height
25.4-406.4 mm
1-16 in.
Cutting capacity (diameter)
50.8 mm
2 in.
Cutting chamber depth
254 mm
10 in.

Tractor compatibility

Tractor PTO HP range
37 kW
50 hp
Tractor PTO
540 rpm
Static Vert Drawbar Load Rating

Hitch

Type
Standard self-level hitch clevis with 57.2-cm (22.5-in.) narrow-profile width
Category
Hitch width
Jack stand
Mechanical jack stand in base for all machines with hydraulically operated height, stays vertical while raising/lowering

Dimensions

Transport width
At wing wheels: 2.8 m 9.1 ft
Overall width
4.7 m
15.4 ft
Overall length
5.3 m
17.3 ft
Deck shape
Easy-clean smooth top deck
Deck type
Single
Deck thickness
11 gauge - 3 mm
0.12 in.
Side skirt thickness
3 gauge - 6 mm
0.24 in.
Hinges
Intermittent cast steel segments - greaseable single 2.5-cm (1-in.) diameter full-length hinge pin
Approx. weight
1623 kg
3580 lb

Drivelines

Size
Main
CV ASAE Category 4, splined telescoping profiles
Connecting
ASAE Category 4, splined telescoping profiles

Protection
Connecting
No-seize, slip-clutch driveline


Gearcases

Number
Four
HP rating
Transfer
Continuous: 186 kW
250 hp
Peak: 224 kW
300 hp
Center
Continuous: 56 kW
75 hp
Peak: 75 kW
100 hp
Outer
Continuous: 56 kW
75 hp
Peak: 75 kW
100 hp


Blades

Thickness
13 mm
0.5 in.
Width
102 mm
4 in.
Type
Suction
Overlap
152 mm
6 in.
Blade rotation
Blade tip speed
540 rpm
86.6 m/s
284.1 fps

Material flow system
Blade holder
Type
Round stump jumper for maximum protection for blade carrier against obstruction damage


Hydraulics

Wing lift
Simultaneous
Wing flex
For transport: upward 90 degree (angle)
Upward working angle: 45 degree (angle)
Downward working angle: 22 degree (angle)

Wheels

Type
Option 1
4-bolt, laminated: 21x5.25x9
Option 2
4-bolt, 16PR severe-duty ag: 21x7x12

Suspension
No suspension - rigid back axle
Row width adjustment
No
Wing-leveling adjustment
Easy adjust turnbuckle with bearing

Shielding

Front
Single-row chain guard
Rear
Single-row chain guard

Warranty

Additional information