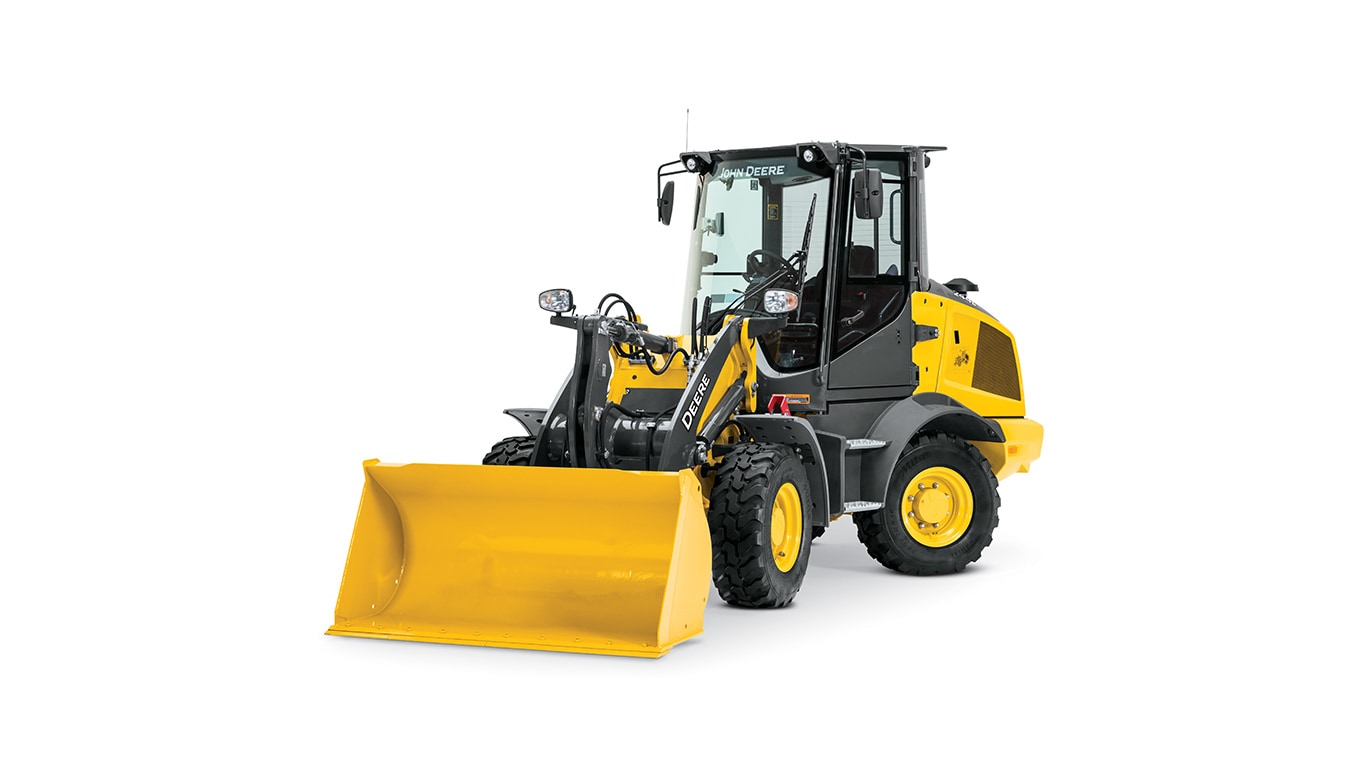 John Deere 244L
Compact Wheel Loader
Net Power: 52 kW (71 hp) at 2,400 rpm
Operating Weight: 5560 kg (12,258 lb.)
Bucket Capacity: 0.8–1.1 m3 (1.0–1.4 cu. yd.)
Features
Tighter Turning Radius and Increased Stability with Articulation Plus™ Steering
L-series compact wheel loaders feature industry exclusive Articulation Plus™ that adds rear wheel steer to increase full turn tipping load and overall maneuverability
This steering system combines 30 degrees of articulation with an additional 10degrees of rear-wheel steering.
Articulation Plus enables a significantly higher full turn tipping load than machines without this feature because the machine does not need to articulate as much to turn as other loaders
This feature results in a significantly tighter turning radius than comparatively sized loaders without Articulation Plus™
Increase your machine's versatility with John Deere's wide array of attachment offerings
With over 100 attachments offered in the John Deere attachment portfolio you can make the most out of your compact wheel loader by equipping it with many popular attachments.
Skid Steer Quik-Tatch coupler and ISO Style Couplers allow increased optionality to utilize a range of attachments and the common interface means previous series attachments will be able to be used on these new series of machines as well.
The Attachment Assist Package makes it easier for operators to get the most out of attachments by combining throttle lock and creep control to maintain full power at a set ground speed.
Optional three function hydraulics includes joystick with integrated FNR switch and 3rd function mini-joystick control for ease of operation.
Standard auxiliary hydraulics and optional High Flow hydraulics allows the use of attachments like snow blowers or augers. By simply pressing a switch in the cab, operators can easily connect and disconnect attachments and enable them to have full function flow without having to manually press buttons throughout the day
Optimized forks for compact wheel loaders offer improved visibility, increased capacity, and better durability. Designed specifically for compact loaders, they enable operators to load the far side of a trailer with ease
Optional 14 pin connector enables additional attachments to be compatible with the machines
Enjoy all day comfort with the spacious and ergonomically friendly cab
The operator focused designs found within John Deere Compact Wheel loaders ensure operators are comfortable and productive all day.
L-series wheel loaders feature an overall larger cab that is both wider and longer compared to previous series
To help keep operators more comfortable during a long shift, an improved air conditioning system with additional adjustable louvers has been included. The optimized duct work and additional operator louvers provide increased airflow and allow the operator to direct airflow where it is needed.
Ergonomic, low effort controls all on the right side, allow operators to work comfortably and more efficient.
Machine display is redesigned and mounted to the cab A-frame and is height adjustable
Ample storage within the cab allows operators to keep personal items close and secure
Adjustable steering column in enclosed cab units allows operators to easily move the steering wheel to a desired position to help increase productivity and allow easy ingress and egress.
Optional premium high-back, air suspension heated seat provides top of the line comfort for operators in off road conditions and colder climates
The left pedal acts as a brake and inching pedal. If the operator pushes all the way down, the machine comes to a complete stop. If the operator presses the pedal without going all the way down, the machine will proportionally move slower and continue at that speed
Productivity enhancements that can benefit you regardless of the machine's application
Compact Wheel Loaders come with features that result in higher productivity in applications like V-pattern truck loading, bale handling, and landscaping
The Yanmar 4TNV98CT Engine features a high pressure common rail fuel system and a turbocharger. Both machines meet Final Tier 4 emissions regulations through the use of cooled exhaust gas recirculation (EGR), a diesel oxidation catalyst (DOC), and a diesel particulate filter (DPF). Because the 244L and 324L are under 75 gross horse power, diesel exhaust fluid is not needed.
Based off of customer and dealer feedback, the 244L and 324L have an increased maximum travel speed of 38 km/h (23 mph).
Automatic shift logic has been internally developed specifically for this machine to allow the operator to focus on their work instead of shifting gears. This allows the machine to seamlessly transition from loading to transport. The system senses the machine speed and load and will adjust the hydrostatic pumps, motors, and gearbox automatically without operator input to best match the conditions.
Manual low-speed 100-percent differential lock delivers the ground gripping tractive effort necessary to dive deep into the pile and help heap the bucket.
Optional ride control reduces material spillage from the bucket when traveling over rough and uneven terrain by cushioning the boom. This will help in getting the material being moved to where it is intended to go, and will reduce site cleanup that may result from spilled material.
High lift linkage option on the 324L adds additional height to hinge pin to increase things like dump height and reach
The 244L and 324L include rim pull control that allows adjustment of tractive effort for better operation in loose underfoot conditions. It allows customers to adjust the machine to the operating conditions to help prevent the tires from spinning and therefore improve tire life and powertrain life.
Ease of serviceability allows you to spend more time completing the tasks at hand
Enhanced serviceability features and ease of access to daily and preventative maintenance points ensures that these tasks do not significantly cut into working hours
Ground level service simplifies daily maintenance, keeping machine in good working condition without cutting into working hours. This also enables operators to change fluids quickly and cleanly to keep equipment running smoothly
A redesigned cooling package optimizes efficiency and cleanout. The unique diagonal flow through design is efficient because it minimizes contamination from debris build up. This significantly reduces material buildup on the coolers. The coolers are also spaced to allow ease of access for cleanout from ground level.
To maximize time spent on the job instead of in the shop, compact wheel loaders feature extended service intervals for engine oil and filter, final drive oil, and hydraulic oil.
Compact wheel loaders are supported by one of the largest dealer networks in the industry meaning more technicians in the shop and field and more parts on the shelf to keep machines up and running.
The automatic spring-applied hydraulically released park brakes help maximize uptime and are a safer and more reliable feature than most competitor's cable operated park brakes.
Excellent visibility for increased situational and jobsite awareness
Compact Wheel Loaders are built with operator visibility in mind. From the tapered boom to the rear sloping hood and everything in between, operators will have best in class visibility to all sides of the machine.
Single boom and bucket cylinder in line with each other helps ensure the operator is able to efficiently change out between attachments
Tapered boom design has been optimized for improved parallel lifting capabilities especially when forks are being used in applications like landscaping. The design also provides excellent viewing of attachments and material.
Sloped rear hood and rear-view mirrors allow superior views to the rear of the machine when backing up
Compact wheel loaders offer great visibility for the operator by positioning them higher up in the cab compared with other compact construction equipment.
Optional LED lighting package that offers two different styles of LED lights, results in increased productivity in low light conditions due to significantly better illumination of the machine surroundings. It will also result in a more durable and reliable light source over time when compared to standard halogen bulbs.
Specs & Compare
ADD MODEL

DRIVELINE

244L
Current Model
Engine Manufacturer
Yanmar
Engine Model
4TNV98CT
Emission Rating
EPA Tier 4
Displacement, ltr (Inches³)
3.3 (203)
Rated Speed, rpm
2400
Engine Output - Net, kW (hp)
52 (71)
Torque, Nm (lbf / ft)
280 (206)
Transmission Type
Hydrostatic
Front Differential Type
Locking
Rear Differential Type
Open
Tire size - Standard
365 / 70 R18
Service Brake - Type
Wet Disc & Drum
Service Brake - Actuation
Hydraulic
Parking Brake - Type
Wet Disc

DIMENSIONS

Height - Over Cab, mm (ft/in)
2750 (9 ft )
Wheelbase, mm (ft/in)
2150 (7 ft 1 in)
Ground clearance, mm (inches)
285 (11)
Width Over tires - Std, mm (ft/in)
1920 (6 ft 4 in)
Height - Pivot Pin, mm (ft/in)
3220 (10 ft 7 in)
Reach - At 2130mm 45° Dump, mm (ft/in)
1520 (5 ft )

CAPACITIES

Fuel Tank, ltr (gallons (US))
90 (23.8)
Hydraulic Tank, ltr (gallons (US))
66 (17.4)
Heaped Capacity, m³ (yd³)
0.8 (1)
Breakout - Bucket, kgf (lbf)
4895 (10792)
Ride Control System
Optional
Pump Type
Gear
Pump Flow - 1, lt/min (gallons (US) / min)
70 (18)
System Pressure, bar (PSI)
230 (3335)

WEIGHTS