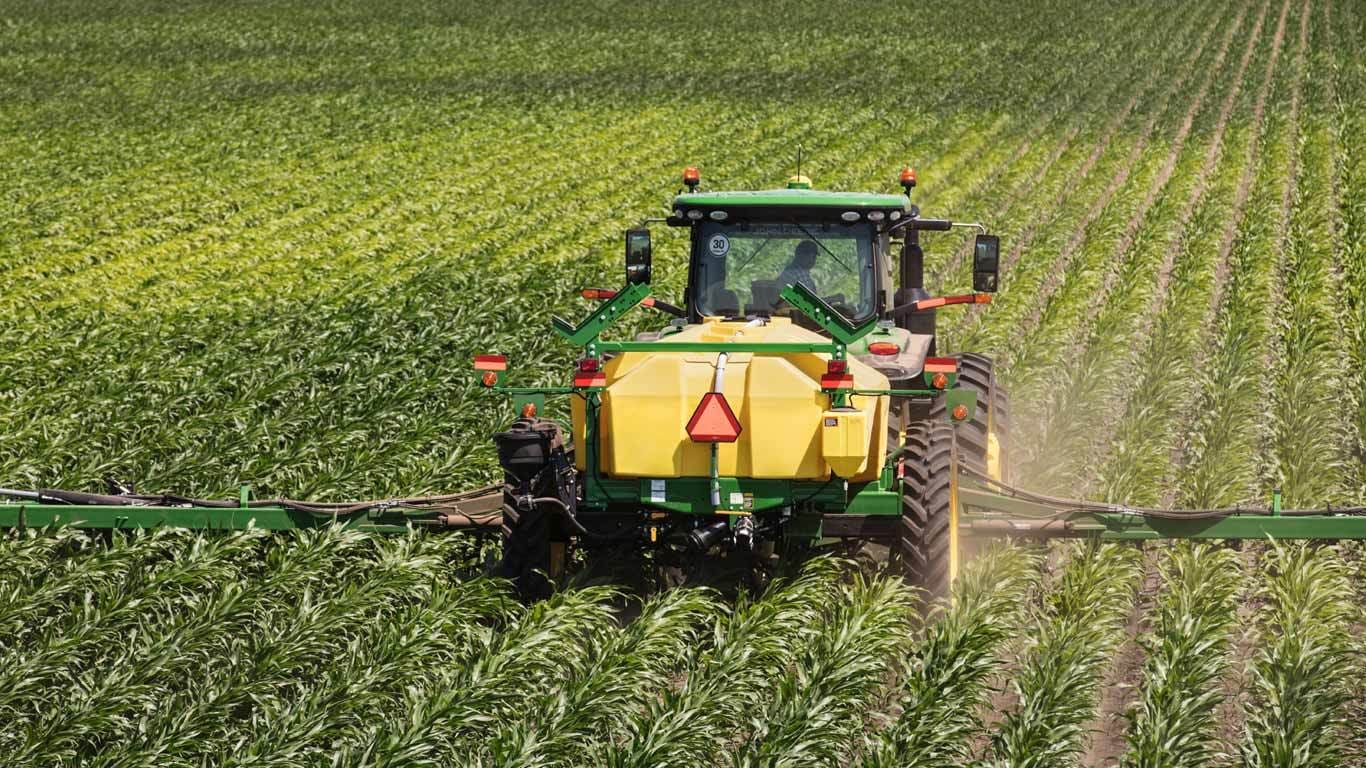 John Deere 2530L
Nutrient Applicator
Reduce crop damage with hydraulic wing kick, high-clearance
Narrow transport width, less than 12 feet
Heavy-duty coulters with knife or injector
Hydraulic wing down pressure, flex-hinge design
Features
Market-leading narrow transport width provides superior productivity
Simplify time-consuming transport logistics by easily moving from field to field in the 2530L Liquid Applicator, regardless of road size or quality. Easier machine movement enhances the daily acreage potential which is a critical need in tight application windows, delivering greater operator productivity. Logistical challenges with narrow roadways and bridges are also reduced with these compact transport dimensions.
This innovative toolbar design has a transport width of 3.6 m (11 ft, 10 in.) with optional hydraulically controlled gauge wheels. This folding geometry allows for the reduced transport width. The hydraulic gauge wheels are tied into the hydraulic folding circuit.
Various sizes and configurations available to fit the right machine to any size operation
The John Deere 2530L offers two larger configurations to fit any size operation, with working widths of 18.3 m (60 ft) or 20.1 m (66 ft) and side-fold function. The 2530L comes with either a 6814-L or 9842-L (1800-gal. or 2600-gal.) tank and has a working speed ranging from 8-12.9 km/h (5-8 mph). This speed ensures high productivity with low residue disturbances and accurate placement with effective sealing.
| | |
| --- | --- |
| Code | Description |
| 7001XF | 2530L NT – 6814-L (1800-gal.) side-fold liquid applicator |
| 7002XF | 2530L NT – 9842-L (2600-gal.) side-fold liquid applicator |
There are eight different spacing options available on the 2530L, providing operators with a 17- to 49-row application. This versatility allows for machine customization to meet the operator's needs.
| | |
| --- | --- |
| Code | Description |
| 5289 | 23 coulters on 76.2-cm (30-in.) spacing |
| 5291 | 25 coulters on 76.2-cm (30-in.) spacing |
| 529D | 47 coulters on 38.1-cm (15-in.) spacing |
| 529E | 49 coulters on 38.1-cm (15-in.) spacing |
| 5292 | 35 coulters on 50.8-cm (20-in.) spacing |
| 5294 | 37 coulters on 50.8-cm (20-in.) spacing |
| 5293 | 35 coulters on 55.9-cm (22-in.) spacing |
| 5295 | 37 coulters on 50.8-cm (20-in.) spacing |
| 529F | 17 coulters on 91.4-cm (36-in.) spacing |
| 529G | 19 coulters on 91.4-cm (36-in.) spacing |
| 529H | 17 coulters on 96.5-cm (38-in.) spacing |
| 529J | 19 coulters on 96.5-cm (38-in.) spacing |
| 529C | 17 coulters on 101.6-cm (40-in.) spacing |
| 529K | 19 coulters on 101.6-cm (40-in.) spacing |
Low-profile compact stealth tank improves machine stability
The low-profile stealth tank of the 2530L offers both 6814-L and 9842-L (1800-gal. and 2600-gal.) capacities with more even weight distribution on the trailer. The low-profile design gives the operator even more visibility from the cab. The compact design also allows the toolbar to fold over the top of the tank, providing the narrow transport dimensions.
This industry-exclusive tank design gives the operator increased productivity and versatility. This patented tank offers:
Low center of gravity for increased stability
Large trough-sloped sump for maximum cleanout
Unique design that allows for operating in various row spacing from 38.1 cm to 101.6 cm (15 in. to 40 in.) depending on coulter spacing, tires, and wheels selection
Tank capacity
The large tank capacities and quick cleanout allows the operator to spend more time in the field and less time rinsing.
Model
2530L NT Side-Folding Liquid Applicator
Tank sizes
6814 L (1800 gal.)
9842 L (2600 gal.)
Tank fill
In order to reduce filling time, the 2530L offers a 7.62-cm (3-in.) fill on 6814-L and 9842-L (1800-gal. and 2600-gal.) tanks.
Premium John Deere solution system with GreenStar™ Rate Controller
The 2530L comes standard with a GreenStar Rate Controller enabling full one-step integration of the GreenStar Display with the 2530L liquid system. This integration enables:
Automatic rate control
Field documentation
Map-based prescriptions
John Deere Section Control*
*NOTE: John Deere Section Control activation required.
System pressure is monitored directly on the GreenStar Display for easy adjustment as well as a secondary standard visual gauge for initial setup or troubleshooting.
John Deere Section Control reduces overlap, thus lowering input costs. The John Deere 2530L has up to five sections of control depending on size and configuration of the machine.
The Premium John Deere solution system consists of the following components:
Five-section valve stack
KZCO actuators
Rate control valve
Flowmeter
Hypro® 9036 pump
GreenStar Rate Controller
Hypro is a trademark of Pentair Flow Technologies, LLC.
Dual-wing hydraulic down pressure and flex-hinge design ensures accurate fertilizer placement
Accurate fertilizer application is vital to increase fertilizer efficiency and effectiveness, which will help a producer reach their yield goals. In addition to mainframe down pressure, the 2530L offers dual-wing hydraulic down pressure in base and a flex-hinged design that ensures accurate fertilizer placement by keeping all coulters in the ground. This hydraulic down pressure will give the coulters even better ground penetration for harder soil conditions, providing a more consistent application.
There is an option for additional hydraulic down pressure on the outer flip wings, providing the same consistency and quality of application in uneven ground conditions.
| | |
| --- | --- |
| Code | Description |
| 5170 | Locking outer wing tip |
| 5171 | Hydraulic down pressure on outer wing tip |
Hydraulic wing down pressure
The 2530L features hydraulic wing down pressure that applies constant down pressure on the wings to maintain constant depth and application. With up to 4.14 bar (600 psi), it maintains a consistent depth for accurate fertilizer placement.
Flex-wing hinge design
All 2530L Liquid Applicators are designed to have flex for much better ground penetration and even depth control in uneven terrain. This design allows for below-level travel on the toolbar, which ensures the coulter is always in contact with the ground for the most accurate fertilizer placement.
The flex hinge allows for 15-degree below-level and 10-degree above-level travel:
Ensures constant contact with the ground
Increases performance in uneven terrain
Maintains even working depth across the entire working width
Provides accurate fertilizer placement
Utilize hydraulic wing kick and high-clearance toolbar frame to reduce crop damage
When using side-dress application, an operator's ability to minimize crop damage during application is paramount. The 2530L comes in base with features such as hydraulic wing kick, single-reach tongue, and higher operating clearances that allow operators to reduce that damage and expand that application window.
Hydraulic wing kick

Hydraulic wing kick is a key feature that helps reduce crop damage. No more dipping into the crop and damaging corn when turning. When the operator lifts the toolbar during the turn, the wings will automatically kick up in order to increase its distance from ground to toolbar. This action allows the operator to have increased clearance on the wings, minimizing crop damage.
Single-reach tongue
Unlike some fertilizer applicators with an A-frame tongue, the 2530L features a single-reach tongue that is a single tube from the main cart frame to the hitch point. This allows:
Sharper turning radius
Reduced crop damage
Better tractor to implement tracking
Operating toolbar frame clearance
A 74.9-cm (29.5-in.) operating clearance allows the operator to maneuver in the field while minimizing crop damage.
Heavy-duty Accurate Placement (AP) coulter
The heavy-duty 50.8-cm (20-in.) AP coulter is made of three castings designed for long-term durability. This coulter ensures that nitrogen is placed in the ground at a consistent depth. It also provides greater flexibility in adjusting and attaching the coulter to the toolbar. The AP coulter features a hardened hex shaft that can easily be adjusted for 7.6-cm (3-in.) or 12.7-cm (5-in.) offsets. There are two options, the knife coulter or injector coulter, depending on soil conditions.
AP coulters slice through residue instead of dragging it or moving it out of the way.
Knife coulter
The knife coulter is recommended in non-rocky soil conditions. This option allows for the most efficient application of fertilizer by knifing directly into the soil.
Injector coulter
The injector coulter is recommended in rocky soil conditions. The injector is stainless steel and features non-drip tips that produce constant solid streams up to 45.7-cm (18-in.) long.